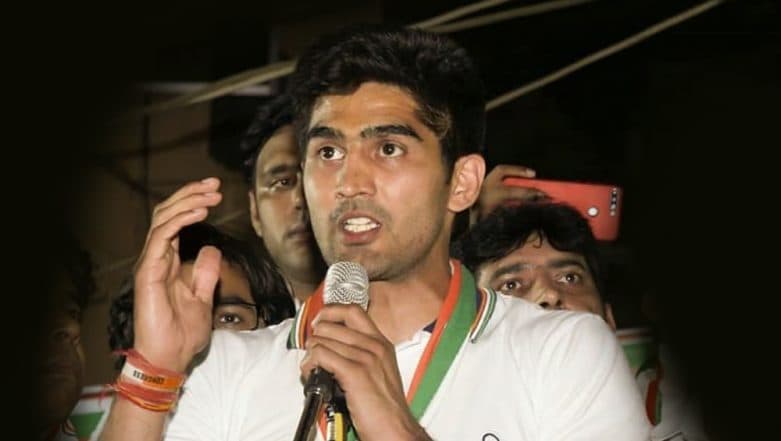 The 17th Lok Sabha Polls took place throughout India from April 11 to May 19, 2019. The polling was done in 7 phases, where the last phase was held on May 19. Indian professional Boxer turned politician Vijender Singh contested election from South Delhi constituency where he got the ticket from Indian National Congress (INC) party.PM Narendra Modi Congratulates BJP Workers For Thumping Victory in Lok Sabha Elections 2019, Thanks India For Filling 'Fakir Ki Jholi'
Vijender Singh contested the election against Bhartiya Janata Party (BJP) candidate Ramesh Bidhuri and Aam Aadmi Party (AAP) contestant Raghav Chadha. He lost to both the candidate as he finished third by bagging 1,56,550 votes. Vijender has indeed achieved the great feat in his sports career where he has bagged a bronze medal for India in Beijing Summer Olympics 2008, however his political career has started on a bad note. South Delhi Lok Sabha Constituency Live Results 2019: Leading Candidates From The Seat, 2014 Winning MP And More.
His victory was predicted to be difficult considering the popularity of AAP and BJP candidates.  Ramesh Bidhuri of Bhartiya Janata Party is already the current MP of South Delhi constituency. He has a good political experience behind him, as he has also been 3 times MLA from Tuglakabad constituency in Delhi state.
In a press conference today evening, Rahul Gandhi congratulated Narendra Modi and his allies for the massive victory. BJP has repeated the same feat in 17th Lok Sabha polls which they achieved during General Election 2014. BJP has yet again emerged out as a single largest party.