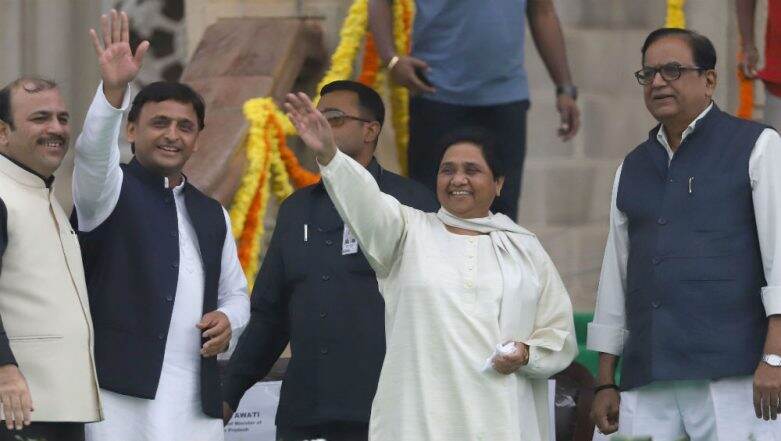 Deoband, April 7: With the rising election fever across the nation, political leaders are reigning fire and fury with rivals and opposition parties. In the first joint rally of the Samajwadi Party, BSP and Rashtriya Lok Dal (RLD) alliance in Deoband, Bahujan Samaj Party supremo Mayawati said, the Congress party cannot fight the Bharatiya Janata Party (BJP) in UP, only 'gathbandhan' can. "I'm warning, especially people of Muslim community, that Congress isn't in a position to fight BJP in UP. Only 'gathbandhan' can fight BJP", Mayawati said.  Mayawati Rejects Congress Seat Offer, Says 'Don't Need Your 7 Seats, You're Free To Fight on All 80 Lok Sabha Constituencies in Uttar Pradesh'. 
The BSP supremo had predicted imminent defeat for the BJP in the Lok Sabha election 2019, mainly due to their policies. During her address, Mayawati said BJP will go out of power because of their wrong doings and policies and added saying that 'Chowkidari' and 'jumlebaji' will not help them to win votes.
Adding further, the BSP supremo said, "Congress knows this but they're going by mantra 'Hum jeete ya na jeete, gathbandhan nahi jeetna chahiye' and therefore Congress party has fielded candidates from such castes & religion which will benefit BJP. Lok Sabha Elections 2019: Akhilesh Yadav's Wife Dimple Files Nomination for Kannauj Seat.
Polling for all the 80 parliamentary seats in Uttar Pradesh will take place in seven phases which are slated to begin from April 11 to May 19. The counting of votes will be done on May 23. According to reports, the SP and the BSP, which announced their alliance in January, will contest on 37 and 38 seats respectively. The RLD will fight on three seats.  The alliance has decided not to field candidates from Rae Bareli and Amethi, the constituencies held by Congress leaders Sonia Gandhi and Rahul Gandhi, respectively.