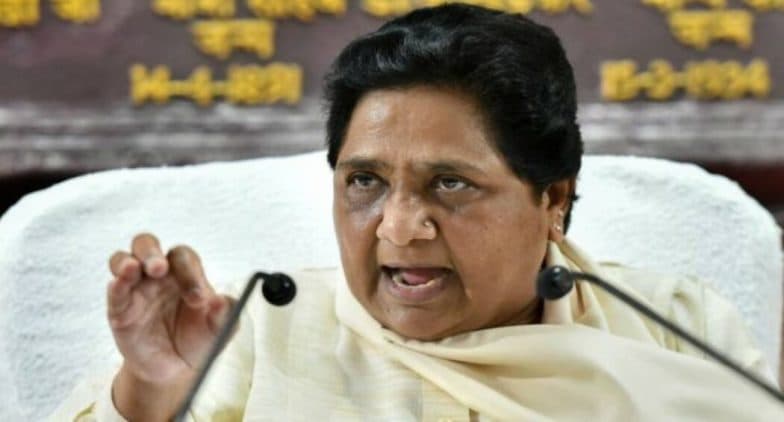 Lucknow, March 18: The BSP supremo Mayawati, in a veiled attack on Indian National Congress, said on Monday that the Bahujan Samaj Party and Samajwadi Party alliance is strong enough to defeat Bharatiya Janata party in Uttar Pradesh in the upcoming Lok Sabha elections 2019. After the Congress left seven seats for SP-BSP alliance, the 63-year-old leader said that Congress is independent to contest in all 80 Lok Sabha seats. Lok Sabha Elections 2019: Congress Leaves 7 Seats for SP, BSP and RLD in Uttar Pradesh; Gives Gonda and Pilibhit to Apna Dal.
In a tweet, Mayawati said, "Congress party is absolutely free to contest the Lok Sabha Elections 2019 on all 80 seats independently in Uttar Pradesh. Our alliance formed here (with SP) is strong enough to defeat BJP. Congress must not spread the wrong impression by leaving 7 seats vacant in UP for SP, BSP and RLD." Check All Dates For General Elections.
कांग्रेस यूपी में भी पूरी तरह से स्वतंत्र है कि वह यहाँ की सभी 80 सीटों पर अपने उम्मीदवार खड़ा करके अकेले चुनाव लड़े आर्थात हमारा यहाँ बना गठबंधन अकेले बीजेपी को पराजित करने में पूरी तरह से सक्षम है। कांग्रेस जबर्दस्ती यूपी में गठबंधन हेतु 7 सीटें छोड़ने की भ्रान्ति ना फैलाये।

— Mayawati (@Mayawati) March 18, 2019
Reacting to Congress' move, Samajwadi Party Chief Akhilesh Yadav also tweeted, "SP-BSP- RLD alliance in Uttar Pradesh is capable of defeating BJP. Congress should not create any confusion."
उत्तर प्रदेश में एस॰पी॰, बी॰एस॰पी॰ और आर॰एल॰डी॰ का गठबंधन भाजपा को हराने में सक्षम है। कांग्रेस पार्टी किसी तरह का कन्फ़्यूज़न ना पैदा करे! https://t.co/ekKcIlbc50

— Akhilesh Yadav (@yadavakhilesh) March 18, 2019
Mayawati made it clear that BSP-SP combine had no election understanding with Congress anywhere in the country. "Our supporters should not fall for doubts being created by the Congress," she said. Mayawati Should be Next Prime Minister of India, Says Pawan Kalyan.
Mayawati's statement comes a day after the Congress said that that it was leaving seven of the 80 seats in UP for the SP-BSP, who formed an alliance before the elections and left Rae Bareli and Amethi for Congress.
Meanwhile, the Lok Sabha elections in the country will be held in seven phases from April 11, 2019, to May 23, 2019. Elections in Uttar Pradesh will take place in seven phases while the counting of votes will take place on May 23, 2019.