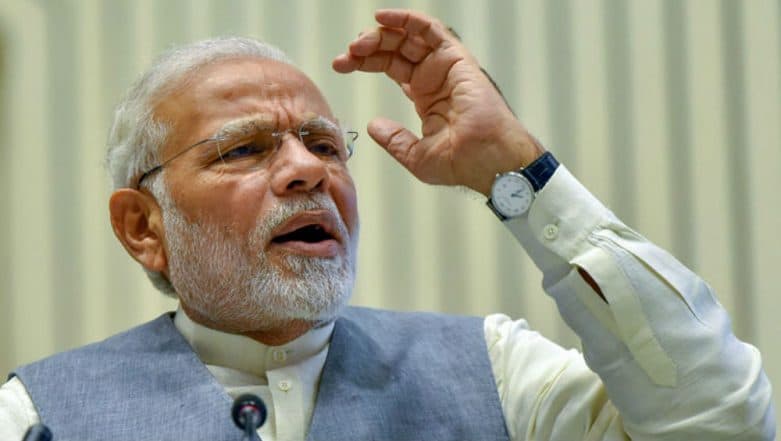 New Delhi, May 12: Prime Minister Narendra Modi has drawn flak after he claimed in a televised interview on Saturday that he had advised the Indian Air Force (IAF) to execute the strikes in Pakistan's Balakot on February 27, "despite the rough weather". The BJP Twitter handles, which had posted the statements of PM Modi, deleted the same after being lambasted online.
"The weather was not good on the day of airstrikes. There was a thought that crept in the minds of experts that day of strike should be changed. However, I suggested that the clouds could actually help our planes escape the radars," the social media handles of BJP India and BJP Gujarat quoted the Prime Minister as saying. 'Modi Govt Took Credit For Balakot, Should Also Take Responsibility For Pulwama'
The tweets were taken down within a short span after uploading them. They were likely deleted due to the negative reaction drawn from social media users.
Below Are Screenshots of the Deleted Tweets:
Here is archive link just in case @BJP4Gujarat deletes it just like @BJP4India did. Link : 👇 https://t.co/OCGWIkpb6w pic.twitter.com/pNkRpFbvNy

— Mohammed Zubair (@zoo_bear) May 11, 2019
Scores of Twitter users took jibe at PM Modi for allegedly attempting to dwarf the valour shown by IAF in striking the largest JeM camp in Pakistan's Balakot on February 27. The social media users questioned the expertise of Modi vis-a-vis the highly-trained technocrat Air Force officers
Here Are Some Reactions:
Thank God Modi ji didn't tell Air Force to "Fly in reverse gear. Pakistan samjhega ke aa nahin rahe. Ja rahe hain."#ChamatkariBaba pic.twitter.com/lbvVrAH80K

— Ankur Bhardwaj (@Bhayankur) May 11, 2019
Tongue-In-Cheek Barb:
Modi : Clouds could help our planes escape Radars.

Air Force Official : Sir , it doesn't work that way ...

Modi : You don't teach me about flying .. during the past 5 years I flew around more than what you did in your entire life.

— Satish Chaganti (@SatishChaganti5) May 12, 2019
'All Wars in Monsoons Henceforth?'
Great!! So India will fight all wars in rainy season henceforth... No radar can catch our planes.. All Air Force Officers should resign and start selling pakodas now.. Modi the genius can handle it..

— Gautam (@gautamshetty) May 12, 2019
And More Sarcastic Jibes:
Lesser known fact, he trained for 56 seconds and then personally flew one of the jets along with the Air Force and pew pew pew shot them all down!

He isn't saying it out loud because he doesn't want to take credit away from the armed forces. Who does that right!

Jai Modest Modi! pic.twitter.com/0fEDft4lf4

— Aiyshwarya Mahadev | ಐಶ್ವರ್ಯ ಮಂಚನಹಳ್ಳಿ ಮಹದೇವ (@AiyshwaryaM) May 11, 2019
In video of the full interview with News Nation shared below, the Prime Minister begins speaking on the Balakot airstrike subject from 26:00. Here how Modi claims to have suggested the Air Force to use clouds to their advantage.
Watch Video of PM Modi's Interview to News Nation Below:
Modi's controversial statements is likely to evoke a sharp reaction from the Opposition camp, which has already charged him of using the Balakot strikes as a poll plank in the Lok Sabha elections 2019.
"National security is not something to be trifled with. Such an irresponsible statement from Modi is highly damaging. Somebody like this can't remain India's PM," said CPI(M) general secretary Sitaram Yechury.