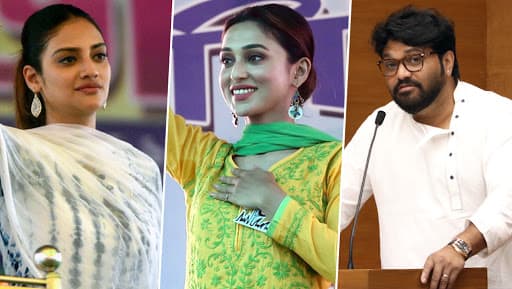 Kolkata, May 23: With the counting for 42 Lok Sabha constituencies in West Bengal underway, the initial trends show that people of the state have chosen popular cine actor over hard-core politicians. As per the latest trends, all the major Tollywood actors and cine stars have outshined and are leading in their respective constituencies.
Nusrat Jahan from Basirhat is leading with 73247 votes, while Satabdi Roy is leading in Birbhum with 30624 votes. Along with this, Mimi Chakraborty is leading the front with 82893 votes in Jadavpur and Deepak Adhikari from Ghatal is leading with 16065 votes. All these actors have been fielded by the state Chief Minister Mamata Banerjee-led Trinamool Congress. West Bengal Lok Sabha Elections 2019 Results: TMC Leads in 25 Seats, BJP Gains Momentum in 16 Constituencies
Apart from this, BJP had fielded it sitting parliamentarian from Asansol this time too, and Babul Supriyo is leading in the Lok Sabha seat by a margin of 66629 votes over TMC's Moon Moon Sen. Even BJP Locket Chatterjee, contesting from Hooghly, is leading with 46519 votes. West Bengal Election Results 2019 Live News Updates
Along with this, the most shocking outcome coming from the eastern state is that Kolkata Dakshin's TMC candidate Mala Roy is leading from her seat with 257166 votes. As per the initial survey, TMC is leading in 24 seats, BJP in 14 and Congress in 1 seat.