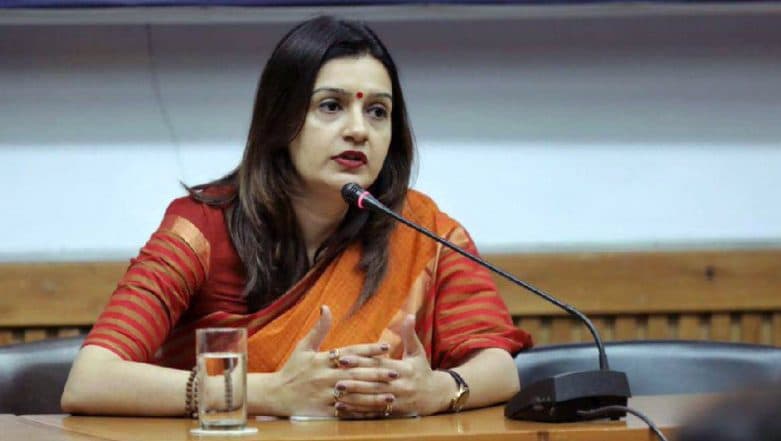 Mumbai, April 19: In a big blow to the Congress amid Lok Sabha Elections 2019, Priyanka Chaturvedi has resigned from the party and is set to join the Shiv Sena today. "Priyanka Chaturvedi will join Shiv Sena today," said Sena leader Sanjay Raut. Sena chief Uddhav Thackeray has called a press briefing at 2 pm today. According to reports, Chaturvedi has quit from all posts of the party and has also resigned from the primary membership of the Congress. Reports say that Chaturvedi sent her resignation to the Congress party late on Thursday night. This comes at a time when the Lok Sabha Elections 2019 are underway and is likely to become an embarrassment for the Congress with the Bharatiya Janata Party (BJP) looking to blow this up.  Priyanka Chaturvedi Removes 'INC Spokesperson' Designation From Twitter Bio.
Priyanka Chaturvedi had removed the 'AICC Spokesperson' designation from her Twitter bio and had also quit the Congress media groups on WhatsApp. Following this, there was speculation that she may have quit the party. These speculations have been confirmed with news coming in that Chaturvedi resigned formally from the party last night. Priyanka Chaturvedi Fumes After Congress Revokes Suspension of Workers Who Misbehaved With Her.
This comes two days after Chaturvedi lashed out at the Congress party for reinstating people who harassed her and misbehaved with her during a press conference in Mathura. On April 17, Chaturvedi had tweeted, "Deeply saddened that lumpen goons get preference in Congress over those who have given their sweat&blood. Having faced brickbats and abuse across the board for the party but yet those who threatened me within the party getting away with not even a rap on their knuckles is unfortunate."
According to a letter issued by the Congress Uttar Pradesh unit, some party workers were suspended as disciplinary action for their unruly behaviour with Chaturvedi during a press conference in Mathura. The letter said the workers expressed regret and requested that they be reinstated. "On Congress General Secretary Jyotiraditya Scindia's intervention, action taken against you all is suspended," the letter added.