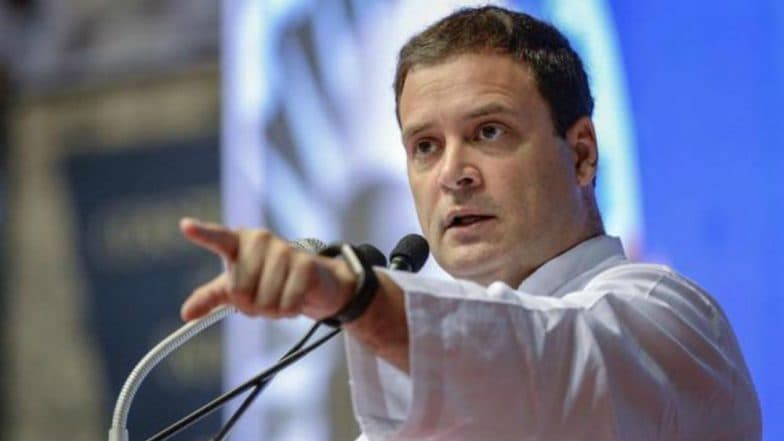 New Delhi, September 17: Congress leader Rahul Gandhi on Tuesday alleged that the Narendra Modi led NDA government is arresting the established and nationalist leaders in the valley like Farooq Abdullah to create a political vacuum in Jammu and Kashmir. Gandhi tweeted and said that the current dispensation's aim is to make Kashmir a perpetual case of conflict zone that can be used to polarise voters for long years. "The Government should stop creating space for terrorists in Jammu & Kashmir and release all nationalist leaders ASAP," demanded Gandhi. Farooq Abdullah Detained Under Public Safety Law; Former Jammu and Kashmir CM Had Been in House Arrest Since Article 370 Abrogation.
"It's obvious that the Government is trying to remove nationalist 🇮🇳 leaders like Farooq Abdullah Ji to create a political vacuum in Jammu & Kashmir that will be filled by terrorists," tweeted Gandhi. The 81-year-old Abdullah has been under preventive detention since August 5 when the Centre announced abrogation of special status given to the state under Article 370 and its bifurcation into Union territories Jammu and Kashmir, and Ladakh. The stringent law was slapped on him early Monday. Farooq Abdullah Upheld Unity, Integrity of Country, Unjust to Arrest Him: Khurshid.
"Kashmir can then permanently be used as a political instrument to polarise the rest of India," he added.
The Congress on Monday condemned the detention of former Jammu and Kashmir chief minister Farooq Abdullah under the Public Safety Act, saying injustice has been done and it's the country's "misfortune" that leaders who fought for its unity are behind bars.
The party said it stands in solidarity with Abdullah and if there is "no militancy today" in the state, it was because of the Congress, the National Conference and the PDP, and not the BJP. The Congress' reaction came after officials sources on Monday said Abdullah has now been detained under the stringent PSA, which enables authorities to detain any individual for two years without trial.