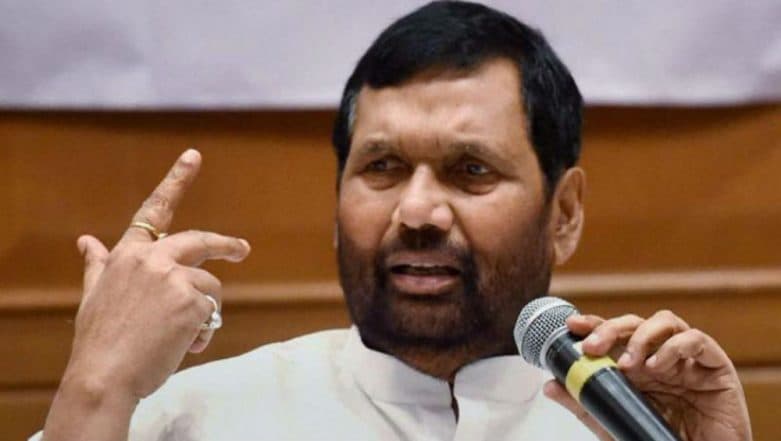 New Delhi, June 28: Union Minister and Lok Janshakti Party (LJP) chief Ram Vilas Paswan was elected to the upper house of parliament, Rajya Sabha unopposed from Bihar on Friday. The Union Minister for Consumer Affairs and Public Distribution was declared elected after the deadline for the withdrawal of nomination papers concluded at 3 p.m. today in the absence of any other candidate.
Paswan was declared elected and certificate for the same was handed over to him, said the Returning Officer and secretary to Bihar Legislative Assembly (BLA), Bateshwar Nath Pandey. The certificate was given in presence of Deputy Chief Minister Sushil Kumar Modi. Ram Vilas Paswan: Master Political Craftsman Who Has Worked Under 6 PMs.
The by-polls were necessitiated as Ravi Shankar Prasad was elected to Lok Sabha from Patna Sahib in the 2019 Lok Sabha Elections. Notably, this is second time that Paswan is elected to Rajya Sabha in his political career spanning over 50 years. Paswan's previous election to the upper house was in 2010 when he entered Parliament after losing his seat in Hajipur Lok Sabha seat.
A law graduate and MA, he was elected as a legislator in Bihar in 1969 after emerging as a student leader in the company of Sharad Yadav and Lalu Prasad. In 1977, Paswan entered the book of Guinness World Records after he won the Hajipur Lok Sabha seat in Bihar by 4.24 lakh votes -- even while he was in prison after having been arrested during the 1975-77 Emergency. He has contested 10 parliamentary elections and won eight times from Hajipur.
(With Agency Inputs)