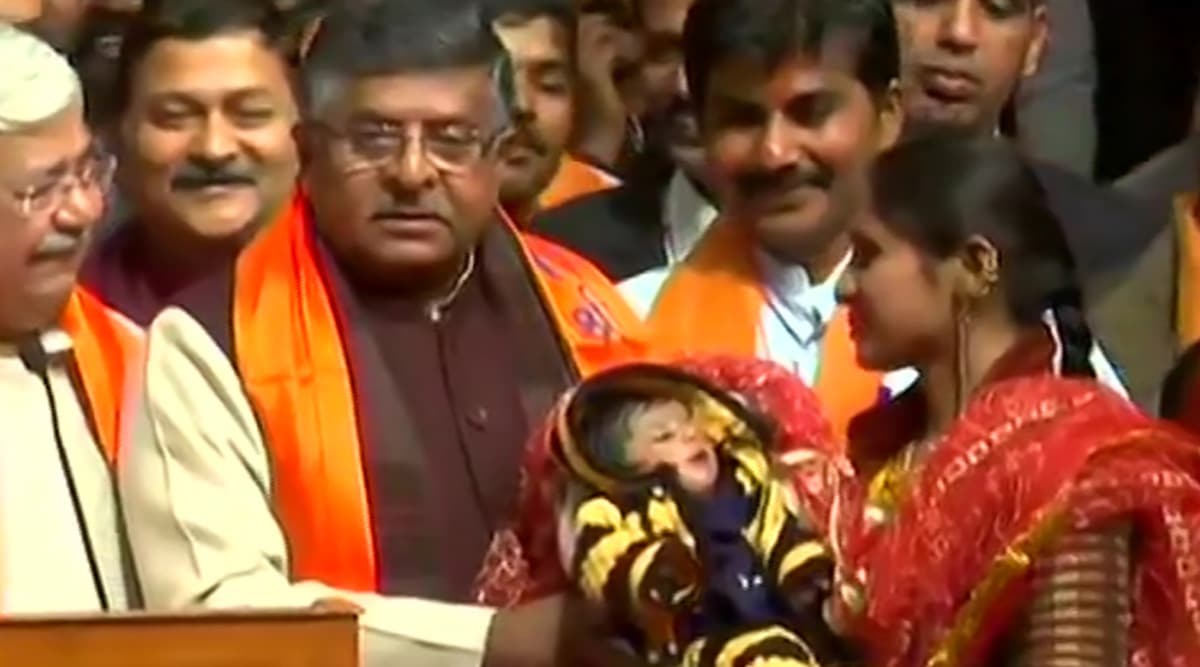 New Delhi, January 5: Union Law Minister Ravi Shankar Prasad, during an awareness campaign held by the Bharatiya Janata Party (BJP) on the Citizenship Amendment Act (CAA), met a Pakistani refugee woman who has named her daughter "Nagrikta" which means citizenship. Ravi Shankar Prasad was with other BJP leaders during the support drive for CAA when he met the woman, her daughter and family. After Netflix, Sex and Data Tweets, Amit Shah Re-Confirms Support For CAA Toll Free Number 8866288662 Belongs To BJP and Not Netflix!
The Hindu refugee family was in news in December last year when they had named their new born 'Nagrikta' to celebrate the Citizenship (Amendment) Bill 2019. The family resides at Delhi's Majnu-ka-tilla (MT) colony. They had migrated from Pakistan in hope that they will get citizenship with the new Citizenship law. Citizenship Amendment Bill 2019 Passed in Rajya Sabha, 125 MPs Support Law to Naturalise Non-Muslim Refugees, 105 Vote Against CAB.
See Pictures in the Tweet Below
Delhi: Union Minister Ravi Shankar Prasad during an awareness campaign on #CitizenshipAmendementAct, met the daughter of a Pakistani Hindu refugee woman, today. The woman has named her daughter 'Nagarikta'. pic.twitter.com/zdW527uwo4

— ANI (@ANI) January 5, 2020
The BJP has been on an overdrive to garner support for the controversial Citizenship Amendment Act (CAA) after the controversial act saw vociferous protests in various parts of the country. The protestors have alleged that the CAA violates Constitution of India by extending citizenship to people on basis of religion from the neighbouring countries of Pakistan, Afghanistan and Bangladesh. The BJP also recently launched the "Missed call 8866288662" campaign to get support for the Citizenship Amendment Act 2019.