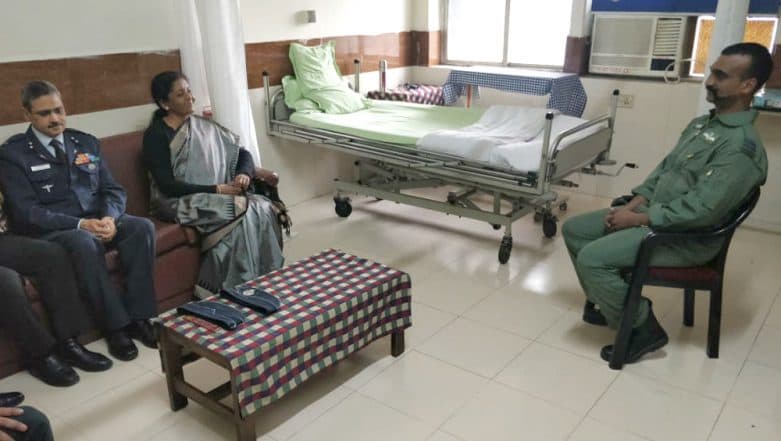 New Delhi, March 2: The Indian Air Force (IAF) Wing Commander Abhinandan Varthaman was visited by Defence Minister of India Nirmala Sitharaman at the Delhi hospital on Saturday. The IAF officer Abhinandan, who received a hero's welcome on Friday after Pakistan released him is undergoing medical treatment at the Delhi hospital. The IAF is making the pilot undergo medical tests to assure he is healthy and has not sustained any threatening injury. IAF Wing Commander Abhinandan Varthaman's Return Hailed by PM Narendra Modi.
IAF Wing Commander Abhinandan Varthaman Returns From Pakistan, Celebrations at Attari Wagah Border (Watch Video):
Wing Commander Abhinandan Varthaman, who was brought to Delhi after Pakistan released him through the Attari-Wagah border late Friday night, underwent a series of medical tests as part of a "cooling down" process, officials said.
Early Saturday morning, Varthaman met his immediate family members as well as several top officials of the Indian Air Force, they said.
Varthaman arrived in the national capital around 11:45 PM Friday and soon after he was taken to the Air Force Central Medical Establishment (AFCME), a compact and specialised medical evaluation centre for aircrew of all the three services.
He was captured by Pakistani authorities on February 27 after his MiG 21 Bison went down during a dogfight with Pakistani jets. But before his plane was hit, Varthaman shot down an F-16 of Pakistan air force.
Wing Commander Varthaman is undergoing a series of medical tests as part of the "cooling down" process and it is expected to continue till Sunday. Once, the health check up phase is over, debriefing sessions will be arranged for him, the officials said. (With Agency Input)