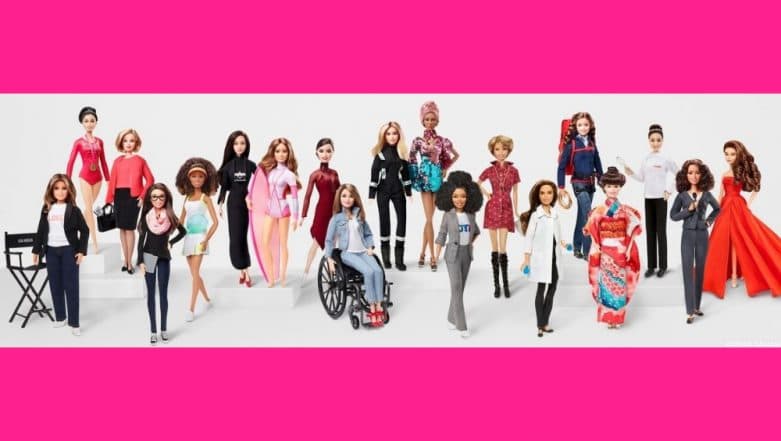 Barbie, every little girl's dream doll, turned 60 on March 9, 2019, just one day after International Women's Day. Mattel's best-selling toy of all time with an impossibly slender waistline was first introduced in 1959. Ever since then, Barbie went on to become a name synonymous with beauty and perfection. She broke stereotypes by becoming the first fully-grown adult doll in a world of baby dolls. But it hasn't been an easy ride for Barbie since she was constantly criticised for the lack of diversity and promoting unrealistic bodily expectations among its young consumers. To redeem Barbie from these accusations and to encourage diversity, Mattel added three new body types (tall, petite and curvy) and different skin shades. In the latest news, the toy company has honoured 19 different women achievers or role models with dolls made in their likeness for Barbie's 60th birthday. Among them is Indian gymnast Dipa Karmakar, who is inarguably the first lady of Indian artistic gymnastics.
The tweet by Barbie's Twitter handle:
As part of our ongoing commitment to #CloseTheDreamGap, we are honoring #MoreRoleModels from around the world than ever before. These women are breaking boundaries to inspire the next generation of girls. 🌍 Learn more: https://t.co/dDN166naY4. #YouCanBeAnything #Barbie60 pic.twitter.com/giiaPkvSS5

— Barbie (@Barbie) March 6, 2019
Before Karmarkar, India hadn't made a significant mark in the field of gymnastics at international arenas. She first blazed into the scene when she won bronze at the 2014 Commonwealth Games in Glasgow, Scotland. 11 Powerful Lines from The Most Inspirational Women in the World Today.
Here's the entire range of 19 dolls made in the women's likeness:
More accolades followed with Asian Gymnastics Championship and World Artistic Championships. She successfully performed the highly-risky move the Produnova, becoming one of five women in the world to do so. For her achievements, the Indian government conferred the Padma Shri and the Khel Ratna awards.
Apart from Dipa, other women achievers from across the world have been honoured with dolls of their own. These include Naomi Osaka, who was in the news in September for pummelling 23-time champion Serena Williams in the US Open. 'Barbie Feet' Is the Latest Instagram Trend! Celebs from Kendall Jenner to Bella Hadid Can't Stop Sharing Their Pictures. 
Others in the list comprise US actress Yara Shahidi, US country pop singer Kelsea Ballerini, model and feminist Adwoa Aboah, German former track cyclist Kristina Vogel, New Zealand sports journalist Melodie Robinson, Peruvian businesswoman and the founder of Laboratoria Mariana Costa, Aussie journalist Ita Buttrose, and French filmmaker and producer Lisa Azuelos.