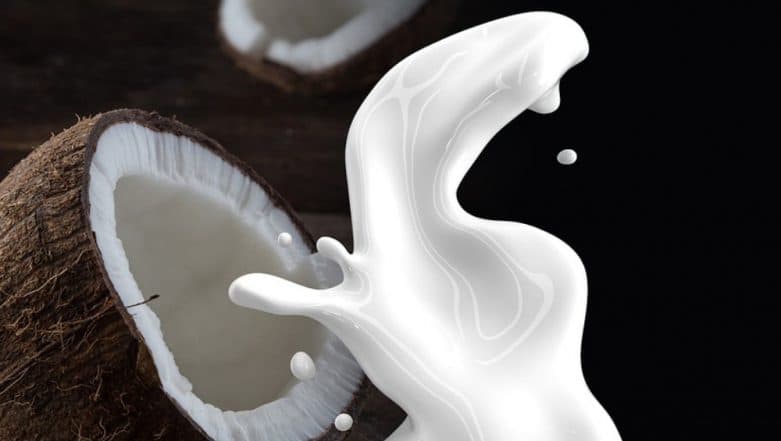 Hong Kong, Feb 14: A Hainan-based beverage brand, known for its sexist advertorials is at it again. A new ad by the Chinese brand of coconut milk has managed to scandalise customers with an advertisement, that implies drinking the beverage will help increase bosom size of women. The new packaging on cans of Coconut Palm presents a busty woman alongside the words, "I drank from small to big," reported Shanghaiist.
According to the report, other adverts portray a similar picture with busty ladies along with the slogan, "drinking more coconut milk every day will make your breasts fuller."However, this is not the first time that Coconut Palm has tried out a sexist sales approach. The company is known to promote posters with images of cleavage and claim that its products work to enlarge breast size naturally. Can Food Make Breast Bigger? Australian Model Claims That This Superfood Increased the Size of Her Boobs Two Cups Bigger.
In 2017, the company whipped up a controversy with a commercial that showcased a group of beautiful ladies on the beach in low-cut tops, listing 'health benefits' of the drink with the promise, "A can a day and you'll be white, tender, and busty."However, facing backlash, a staff member of the company told reporters that the slogan 'I drank from small to big' means that the women started drinking Coconut Palm when they were youngsters. Is Coconut Oil Really 'Pure Poison'? Expert Reveals The Truth About The Controversial Superfood.
Notably, the company first introduced the drink in 1988. On Wednesday, the industrial and commercial bureau of Longhua district in the city of Haikou announced that it has opened up an investigation into Coconut Palm over suspected false advertising. Coconut Palm, on its part has said that past data proves that its beverage can increase bust size, so it uses this as a selling point. Tamil Nadu is Offering Free Breast Implant for Poor.
However, the company admitted that opinions vary on the matter and so it is up to local authorities to take the final call. When the issue had first cropped up in 2017, Beijing News had interviewed nutritionists who were shocked at company's claims of breast enhancements.
A Coconut Palm employee had told the outlet then that they were basing their claims on a 1997 report in a Hong Kong newspaper which said that drinking coconut milk could help to enlarge woman's breasts. The company has, apparently, yet to undertake any tests to authenticate the report, even though it has not stopped using it as a basis to promote their products.