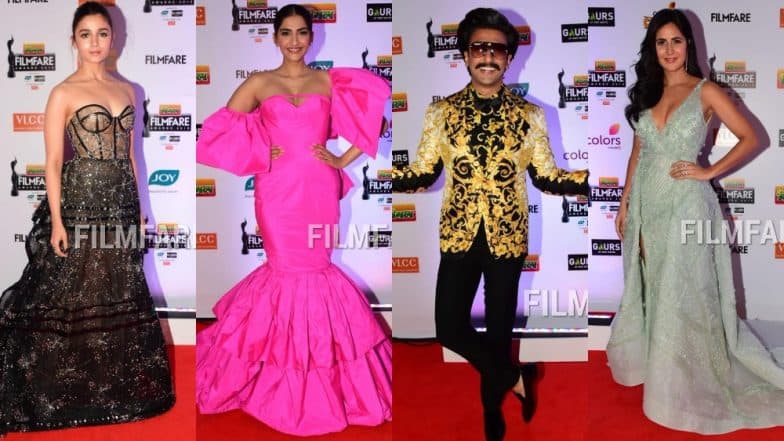 The 64th Filmfare Awards had a dazzling red carpet. Celebrities such as Deepika Padukone, Vicky Kaushal, Ayushmann Khurrana, Mouni Roy, to name a few, were at their fashionable best. While Deepika, Vicky and Mouni maintained black as their colour for the night, their OTT gowns and suits sure sparked the red carpet splendour. Clearly, they did their homework very well before attending the awards show as they became the best-dressed celebrities at the 64th Filmfare Awards.
However, there were quite a few celebrities who did not match up to the likes of fashion gurus. Sadly, some of the big names who are known for their sartorial choices let us down! Hard to believe? For us too! Don't be surprised to read names like Sonam Kapoor, Alia Bhatt, Katrina Kaif and Ranveer Singh pop up when discussing the worst dressed celebrities at the Filmfare Awards red carpet. They literally had the most sombre looks that only made the red carpet a dull space. Katrina Kaif's unimaginative gown with lack of flair or spunk was sad and banal.
Katrina Kaif 
Alia Bhatt, everyone's favourite fashionista, also didn't live up to the mark with her choice for the night. She wore a really questionable shimmery tube gown that had ribbons enhancing a sort of corset. Even the absence of the ribbon wouldn't have saved the gown. Sonam Kapoor, who is Bollywood's style inspiration, wore something so drab that it put a black spot on the image she curated. The pink gown was dull, creased and not interesting. Kajol too, strutted in a black gown without anything fashionable to give to the red carpet or fans.
Alia Bhatt 
Sonam Kapoor 
Kajol 
Usually, we'd support Ranveer Singh's outlandish fashion choices because they always have something quirky but cool to portray. However, the whole Liberace look with the excessive gold prints on his blazer was just too flashy and kitschy in a repulsive way.
Ranveer Singh
Alia Bhatt, Ranveer Singh may not have been on the best-dressed list but they sure were on the winners' list as they took home top honours. Among the other big wins from the awards night were Ranbir Kapoor, Ayushmann Khurrana, Neena Gupta, Vicky Kaushal, to name a few. Stay tuned to this space for the complete list of the winners' list.