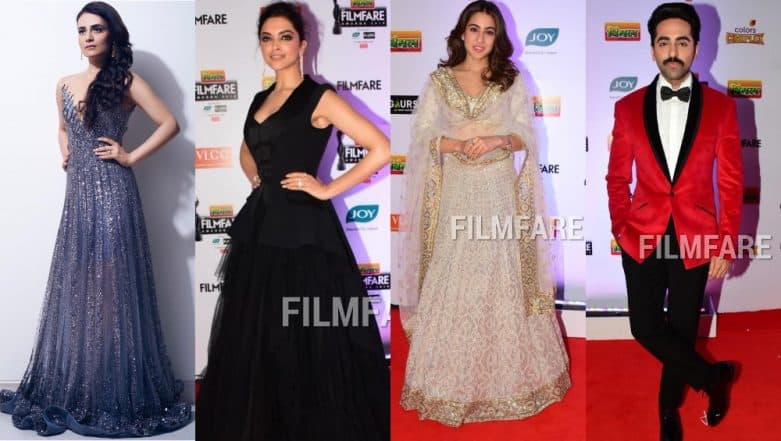 The 64th Vimal Filmfare Awards is currently taking place in Mumbai and gathered over are some of the biggest celebrities from Bollywood industry. Well, it is considered to be one of the most favourite award shows by celebrities so it wouldn't be surprising to see so many of them attending the show. From Deepika Padukone - Ranveer Singh to Ranbir Kapoor - Alia Bhatt, you name the celebrity and they are present at the party! Of course, with so many in attendance, it is quite obvious that we will be rating them based on their fashion and style. Needless to say, some of them have done a pretty good job.
With that, we will focus on all the best-dressed celebrities who attended the red carpet of Filmfare Awards. To name a few, Deepika Padukone was a clear winner in a gorgeous black gown with her hair tied up in a messy bun. Sara Ali Khan chose to keep things traditional as she rocked an ethereal number. Also, she won Best Debutant too, just saying!
Deepika Padukone 
Sara Ali Khan
Anyway, back to our list, Ayushmann Khurrana kept things rather bold and edgy with a bright red blazer and a black and white pantsuit. Hee tried the handlebar moustache, which kind of worked wonders on the look he was trying to showcase. Joining Deepika in the 'black magic woman' title, Mouni Roy also donned a sizzling black gown and kept her hair on one side. Unlike Ayushmann's daring appearance, Vicky Kaushal kept it classy and debonair.
Ayushmann Khurrana 
Mouni Roy
Vicky Kaushal 
Radhika Madan 
The awards show had some big winners in Alia Bhatt and Ranveer Singh. No surprises there considering how they did shine brightly with their phenomenal performances in films. Stay tuned to this space for all updates on the full winners' list from the awards show.