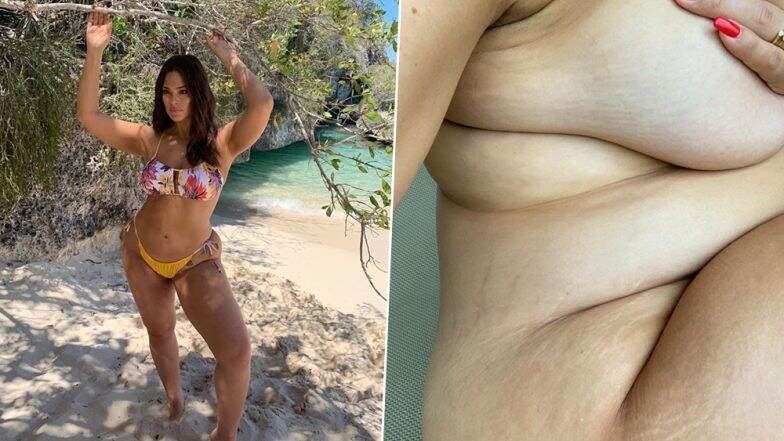 Ashley Graham recently announced on her social media about her family growing. The supermodel and her husband were ecstatic to announce their pregnancy through a small Instagram clip of them flaunting her growing bump. The couple seemed happy as they surprised Ashley's Instagram followers with their adorable clip. Ashley Graham has uploaded a couple more posts of her pregnancy since the announcement. From normalising stretch marks to empowering millions, here are four times Ashley Graham inspired change in the beauty industry. Ashley Graham Is Pregnant! Supermodel's Big Reveal Comes via an Adorable Instagram Video And It Is a Must-Watch.
Ashley Graham has been a fan favourite plus-sized model for all the right reasons. She has used her platform to bring changes in the idea of beauty and the beauty industry. Ashley was the voice of millions of people and spoke up against the fatphobia. Here are four times she promoted body positivity in the best way possible. Ashley Graham Gets Body Shamed on Instagram: 'You Are FAT! Get a Brain & Marry a White Man'.
When She Flaunted Her Stretch Marks with a Pregnancy Post
 

 

 

View this post on Instagram

 

 
Ashley Graham's recent Instagram post tops the list. She posted a naked picture of her pregnant self, flaunting her stretch marks in all their glory. Stretch marks are a controversial topic, and people with stretch marks get shamed. Beauty products have been invented to diminish and hide them. While they are natural and everyone gets them in puberty and pregnancy, the normalisation of stretch marks is still a struggle. Natural is not ugly.
When She Launched Her Own brand
View this post on Instagram
Ashley Graham has been vocal about what an actual bikini body is. You take a bikini and put it on; that's a bikini body. In 2015, Ashley Graham became a permanent partner of Swimsuit for All after their #CurvesInBikinis campaign with the model went viral. The supermodel is now the face of the brand. Not only is she the face of an inclusive brand, but she also reposts and adds pictures of plus-sized women rocking bikinis from her collab. What a Kween!
When She Became the First Plus-Sized Model for Sports Illustrated
View this post on Instagram
Ashley Graham was the first plus-size model to be featured on sports illustrated magazine. In 2016, Ashley, size 14 was the first woman to be on the magazine as a plus-sized model. For the magazine's interview, she talked about how people didn't consider her a model because of her size.
When She Slammed Victoria's Secret
Victoria's Secret has always been criticised for only hiring models of specific body type. After the 2017 show, Ashley posted a picture of herself in some sexy lingerie with wings and captioned it "got my wings". People loved the attack on Victoria's Secret for being a brand that has been time and again slammed for their lack of inclusivity.
Congrats to Ashley and her hubby for the little one on the way. We wish everything goes well and Ashley continues to inspire us with her confidence and grace.