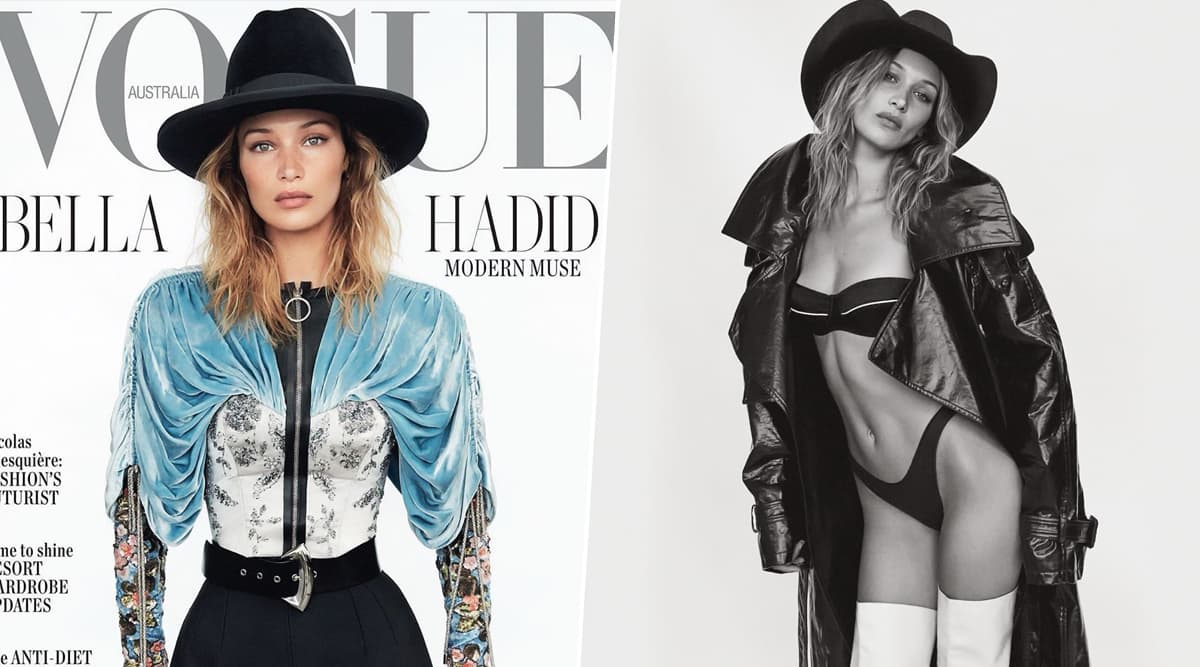 Bella Hadid has landed another feature on Vogue magazine. The supermodel has been on several Vogue covers and at this point it' no biggie for her but it's surely a big deal! For this Vogue Australia feature, Bella is seen in multiple avatars and each is equally stunning. For the cover picture, Bella has her gold blonde hair but the one thing we can't stop staring at is her waist! How is it so tiny? Bella has a different look for almost every picture but one thing that remains is her fedora. Bella Hadid Makes Her Fans Cringe As She Strikes Sexy Poses With Her Terrified Pet Horse.
For the cover, Bella Hadid is channelling some cowboy/country fashion with and beautifully bronzed skin. Her base is so light, she's letting her freckles shine and we're in awe! Her eyes are standing out with the white background and everything about this picture is gorgeous. Bella Hadid Has The Perfect Face According to Scientific Beauty Standards, Making Supermodel Most Beautiful Woman in The World.
Bella Hadid's Vogue Australia Cover
View this post on Instagram
In the second picture, she's it's a strange pose. She's wearing a denim dress and thigh-high boots. The dress looks incomplete and the boots are bulky and unflattering. Even though Bella has the grace to make everything work, this picture is questionable.
The Second Picture Uploaded by Bella
View this post on Instagram
In the last picture uploaded by the model, she's showing us herself with a picture and style that's totally her. The lace corset and pants are something we can expect Bella to wear at any outing. And as usual, she looks gorgeous in it!
The Third Picture on Bella's Instagram
View this post on Instagram
In the pictures uploaded y Daniel Jackson, the photographer of her shoot uploaded several pictures of her. Bella looks beautiful in each photo and we are asking the same question again: how is her waist so tiny?!
Pictures by the Photographer
View this post on Instagram
#2
View this post on Instagram
#3
View this post on Instagram
#4
View this post on Instagram
#5
View this post on Instagram
Bella Hadid was recently named the most beautiful woman according to science. Whether you like her or no, you have to agree she is one of the most beautiful, if not the prettiest. Her Vogue Australia pictures are jaw-dropping and we can't wait for more pictures to be out.