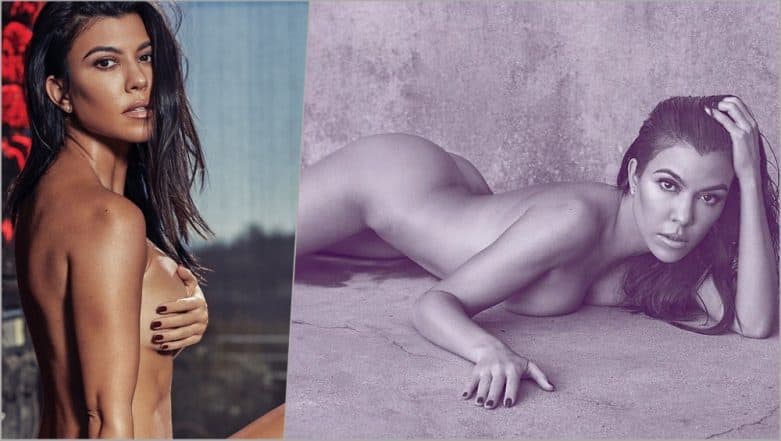 Kourtney Kardashian is the 'most boring' of all the Jenner and Kardashian sisters! This is what Kim has had to say about her elder sister while trying to defend a bitchy comment made earlier this year. The 38-year-old had told Kourtney to be the "least exciting to look at". Bitchy, right? We suggest Kim should look at Kourtney Kardashian's recent bold photo shoot with GQ Mexico. The 39-year-old is killing it with her attitude as she has gone fully naked for the pics. Fans are loving the Keeping Up With The Kardashians (KUWTK) star's dare to bare avatar. Kim Kardashian Gives an Eyeful of Her Bosom in Daringly Low-Cut Outfit by Off-White, See Her Hot Instagram Pic.
We saw Kourtney completely take over our heart and mind posing seductively in the boudoir photo shoot. She rocked everything from black lace bodysuit to Calvin Klein lingerie. And now few more pics from the same shoot has surfaced and oh boy, the mum of three has gone fully naked to start a smoke storm on Instagram. Kourtney Kardashian Does a Dare Bare for GQ Mexico And The Photoshoot Pics Are Ultra Hot!
One of those very naked pics fans are losing their calm over was posted by Kourtney. It shows her sitting without a piece of cloth covering her hot bod. She is flaunting her all-bronzed curves, especially the derriere - going the Kim way. However, Kourtney chooses not to follow her half-sister and model Kendall Jenner who is famous for showing off bosom and nipples. Instead, Kourtney covers her breasts with hand. Kendall Jenner Frees Her Nipples Yet Again! Fully Topless Photos and Video of Model for Love Magazine Are NSFW.
See Kourtney Kardashian Bare it All for GQ Mexico
View this post on Instagram
The other pic that has the hottie naked was posted by Kourtney's younger sister and the KUWTK star, Khloe on her Instagram handle. It shows Kourtney lying naked on the floor, giving an eyeful of her desirable body. Showering praises on her sister's latest sexy show, Khloe writes, "♔ How do you look this fire Queen @kourtneykardash ?!?! You are stunning sister, especially in @gqmexico ♔".
Khloe Posts Nude Pic of Sister, Kourtney From Her GQ Photo Shoot
And not only Khloe, but Kourtney's ex Scott Disick, 35, seem to be very impressed with her hot pics. "Scott was very impressed with how hot Kourtney looked in her GQ pics," according to HollywoodLife reports. The source further told the publication, "He gave her credit and was very complimentary of how she owned the shoot. Of course, Scott being Scott he also took it as a chance to get in some digs at Kourtney about how she looks better now than when they were together." Well, it looks like Kim would be regretting her words about Kourtney.