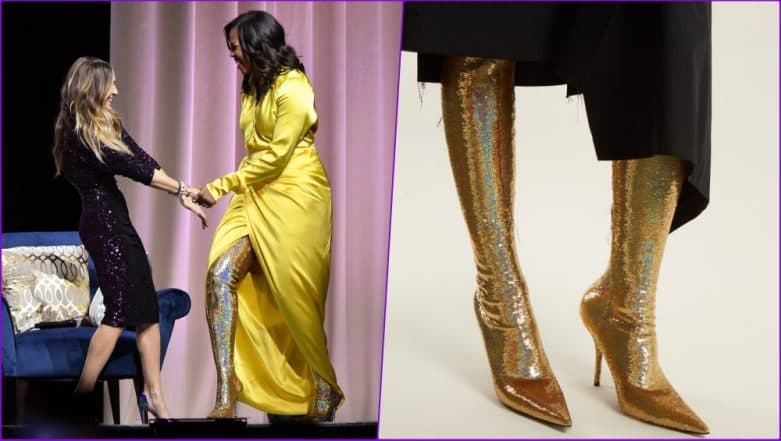 Former FLOTUS Michelle Obama knows how to make heads turn with her fashion statement. She did as a two-term first lady, and she continues to rule the fashion world. The difference, however, is Michelle going bolder and glamorous with her choices. Her latest outing in thigh-high glittery Balenciaga boots on the promotional book tour of her memoir, Becoming. Michelle was speaking to the Sex and the City star Sarah Jessica Parker in front of New York audience, while wearing a USD 3900 pair of gold sequinned Balenciaga thigh-high boots. The pictures and video from the session have gone viral, with internet collectively losing their calm over Michelle Obama's daring style statement. Michelle Obama Graces The Cover Of Elle Magazine With A Leather Corset And A Powerful Interview!
Let us first begin with telling you that the thigh-high Balenciaga boots in question have nearly been sold out in a day after Michelle's pic went viral. Honestly, her outfits regularly sold out during her days as the first lady of the US. But the 54-year-old dressed subtly, be it during the foreign tours or hosting international guests at the White House. Well, now we see a new side of the mother of two, and experimenting is the fundamental change.
Michelle Obama's stylist Meredith Koop in her conversation with the NYTimes said that the former first lady would not be wearing dresses on the Becoming tour since she no longer wants to associate with the first-lady status anymore.
In fact, while speaking to Sarah, she said of wearing the footwear because she liked it and not because it had any message, unlike her earlier appearances as the first lady. "Now, I'm free to do whatever," she told Parker, according to the Vox. "They were just really cute," she continued as per the report. "I was like, 'Those some nice boots!"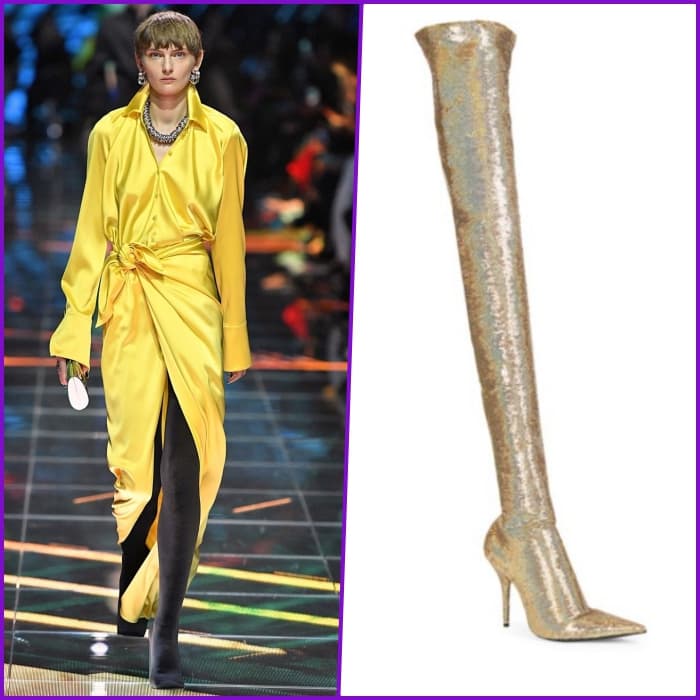 During the event, Obama discussed the decisions behind her most memorable outfits during her time in the White House. "I did know that my clothes were making a statement, I knew that was the case," she told Parker.
Michelle continued by stating her discussion with her long-time stylist Meredith Koop behind using the platform to promote new designers. "So, decided why don't we use this platform to uplift some young new designers who normally wouldn't get this kind of attention, because you can change their lives, which is one of the reasons why we chose Jason Wu for my inaugural gown."
Watch Video of Michelle Obama in USD 3900 Thigh-High Gold Balenciaga Boots
One of the most influential figures worldwide, Michelle may consider her outfit, the recent Balenciaga to not carry any message, but that's not the case. Fashion critics and admirers are loving her for trying to break the shackles associated with a certain type of personality. She showed one could be feminists and still indulge in dressing up. Her thigh-high fire boots over thigh-slit outfit's message was "she can wear whatever she wants wherever she wants!"