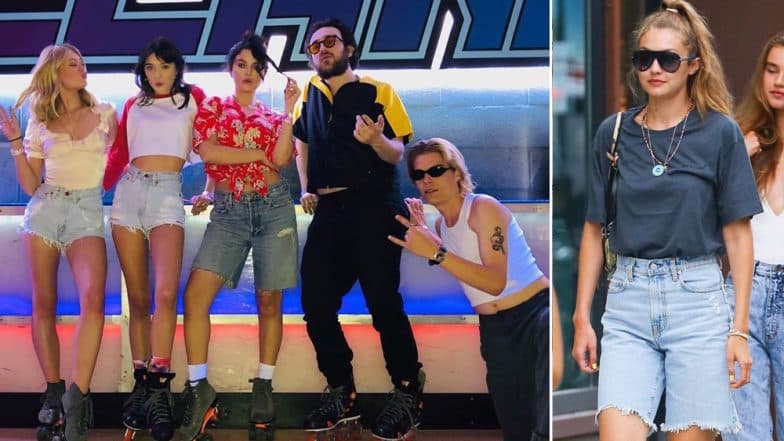 Selena Gomez recently uploaded a picture on her Instagram of her and her friends going skating. As always, Selena fans went wild the moment they saw this post. Just 12 hours after the post was uploaded, it garnered three million likes and 19 thousand comments! The Disney actress has been in a lot of drama lately, and this looks like a well-timed break for her. She wore a red printed top with a knot in the front and denim golf shorts. The shorts are very similar to what Gigi Hadid was spotted wearing a few days ago. Biker Shorts Are Overstaying Their Visit! From Sophie Turner to Kylie Jenner, Celebs Who Are Obsessed with This Hideous Trend.
Selena Gomez had a fun night with her friends and shared pictures of them at Skateland with the caption, "Siri play I wanna be your lover." She's dressed casually like she just wants to go have fun. But the shorts she chose for her outing with friends were once considered a big fashion no-no. From the looks of it, denim golf shorts seem to be making a come back after Gigi Hadid and Sel were seen wearing them. After all, nothing ever dies in fashion; it only takes a nap and comes back. Tiny Shorts That Barely Cover the Butt Is the Latest Trend Everyone from Bella Hadid to Miley Cyrus Is Going Crazy About (View Pics).
Selena Gomez in Denim Golf Shorts
View this post on Instagram
Gigi Hadid was spotted leaving her New York home, moments after Tyler Cameron left her place. She walked out in a dark blue T-shirt and denim golf shorts.
Gigi Hadid in Denim Golf Shorts
View this post on Instagram
Selena and Gigi both kept their look pretty laid back as they were spotted wearing these shorts. Gigi Hadid had her hair tied in her usual high ponytail style and Selena Gomez went for a messy bun with a few strands of her hair pulled out in the front. Her wavy bangs framed her face and added more definition to the look. We truly hope the comfiest shorts trend makes a comeback.