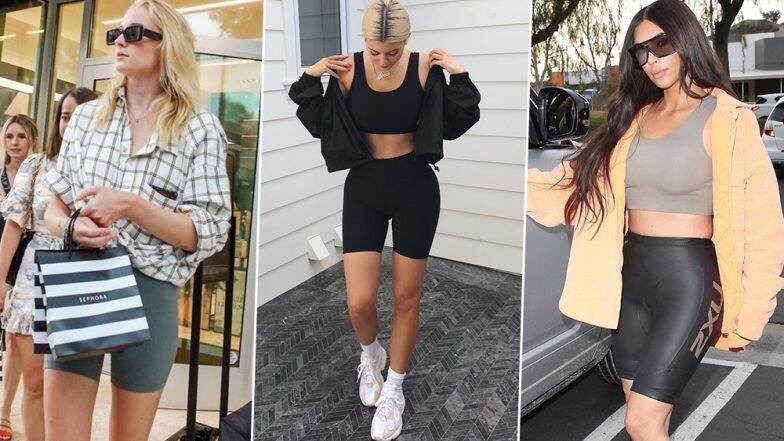 The newest trend in Hollywood is comfort. Celebrities have been rocking bicycle shorts with their favourite top as fashion. Though snug outfits are essential, are biker shorts really the way to do it? Stars have been pairing it with their crop tops for clubbing. Biker shorts are mainly famous in the KarJenner clan and the supermodel clique. From Sophie Turner to the Jenners, everyone is wearing their favourite bicycle shorts! Celebs could wear anything and call it "fashion". Psst! This Denim Thong That Shows Your Whole Bum Is the Latest in Nearly-Naked Bizarre Denim Fashion (See Pics).
Over the years, trends have come and gone that we hardly remember. While the denim trend was wild, and had everyone wearing jeans this way or that way, for the longest time, the style has been put to rest. Kim Kardashian started the trend of biker shorts with sweatshirts when Yeezy came out with the style. And now, it's everywhere. Not only casually, but people are also wearing these for parties and events. Here are some celebrities loving the bicycle or biker shorts trend. Tiny Shorts That Barely Cover the Butt Is the Latest Trend Everyone from Bella Hadid to Miley Cyrus Is Going Crazy About (View Pics).
The Pioneer, Kim Kardashian
Why?
View this post on Instagram
Little Sister, Kylie Jenner
View this post on Instagram
Biker Shorts, Blazer and Fanny Pack..? Wut??
View this post on Instagram
Sophie Turner for Makeup Shopping
View this post on Instagram
She Loves her Biker Shorts with Shirts
View this post on Instagram
Is It a Party or?
View this post on Instagram
So, All You Gotta Do is Add a Blazer to ANYTHING?
View this post on Instagram
Kendall Jenner Actually Making This Look Good
View this post on Instagram
Now we're not saying this trend is hideous but maybe a little questionable. What happened to mom jeans and dresses for comfort? The trend started a while ago but shows no hints of slowing down, however, we hope it does.