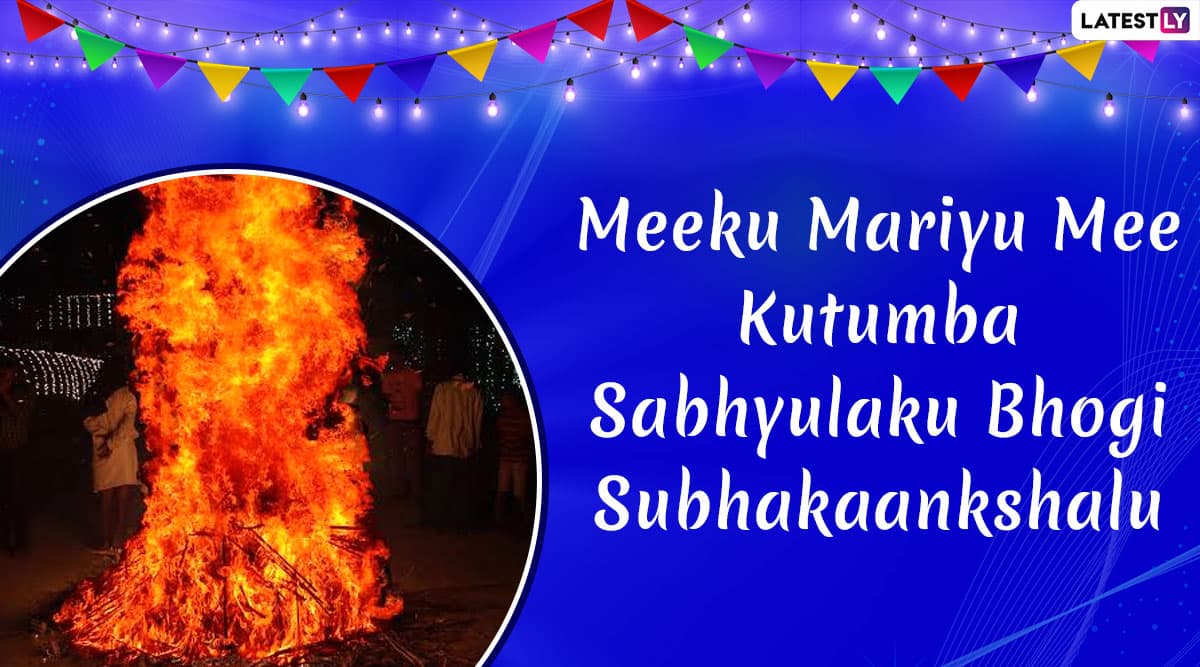 Many harvest festivals are celebrated pan India, Bhogi being one of them. Bhogi 2020 falls on January 13, the same day Lohri is celebrated in the state of Punjab. Bhogi takes place in the states of Karnataka, Maharashtra, Andhra Pradesh and Telangana. Meanwhile, Bhogi Pandigai is celebrated as the first day of Pongal, a popular festival in Tamil Nadu. People wish each other on the festival day with beautiful greetings and images online. Therefore, we bring you a collection of Bhogi 2020 wishes in Telugu, Bhogi WhatsApp Stickers, Bhogi GIF images, Bhogi messages, Bhogi images for free download, and more. You can download them for free online. Happy Bhogi 2020 Wishes: WhatsApp Stickers, Hike Image Messages, Telegram GIFs, Quotes, SMS to Send Greetings on First Day of Pongal.
One celebrates the festival of Bhogi as a mark of respect to Lord Indra, the God of Rain. Farmers observe this festival, as they seek blessings from the Rain God for a good harvesting season, which eventually results in wealth and prosperity. On the occasion of Bhogi, people usually discard old stuff and get rid of items which are derelict marking the beginning of something new. This practice brings in new fortune and prosperity in life. People decorate their house, bringing in new items and decorating it with flowers and leaves. Women and men buy new clothes and ornaments after taking a holy bath early in the morning. Bhogi 2020 HD Images and Wallpapers for Free Download Online: WhatsApp Stickers, GIFs and Wishes to Send Greetings on the First Day of Pongal.
If you are searching for top and trending Bhogi 2020 wishes and greetings to send to your friends, family, relatives, employees, colleagues, peers etc. on this festival, then you need not worry, as we have your back. We at LatestLY, bring you some of the most amazing 2020 Bhogi wishes, greetings, and messages, for you to celebrate and spread happiness on this auspicious occasion.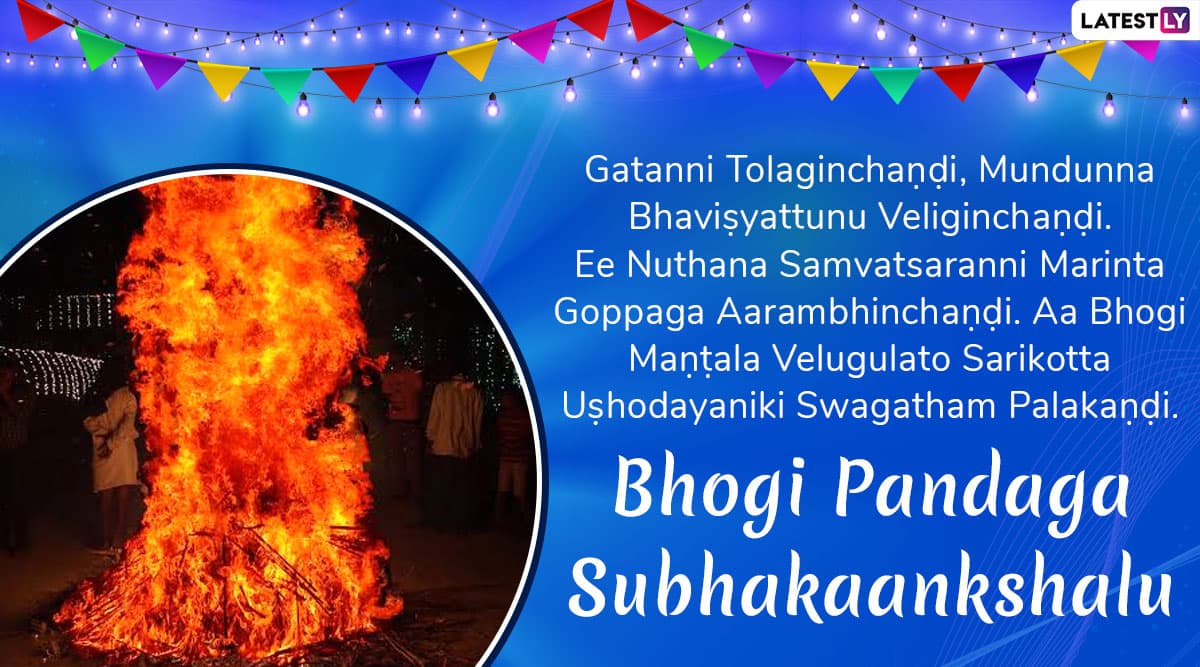 WhatsApp Message Reads: Gatanni Tolaginchaṇḍi, Mundunna Bhaviṣyattunu Veliginchaṇḍi. Ee Nuthana Samvatsaranni Marinta Goppaga Aarambhinchaṇḍi. AA Bhogi Maṇṭala Velugulato Sarikotta Uṣhodayaniki Swagatham Palakaṇḍi. Bhogi Paṇḍaga Subhakaankshalu.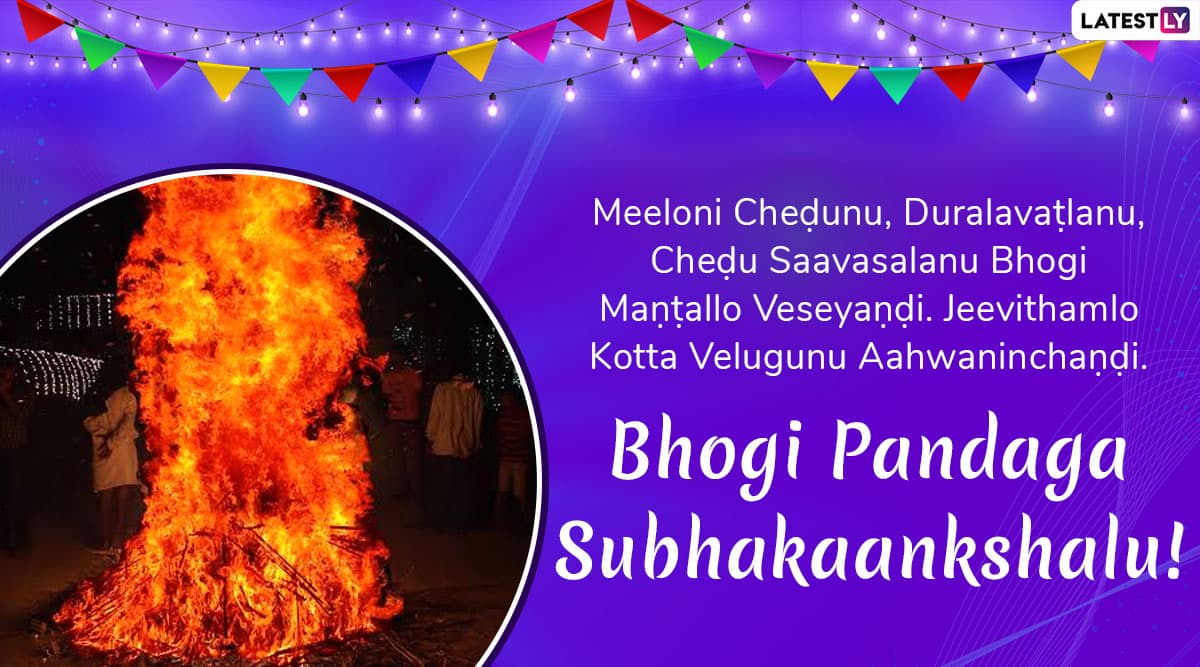 WhatsApp Message Reads: Meeloni Cheḍunu, Duralavaṭlanu, Cheḍu Saavasalanu Bhogi Maṇṭallo Veseyaṇḍi. Jeevithamlo Kotta Velugunu Aahwaninchaṇḍi. Bhogi Paṇḍaga Subhakaankshalu!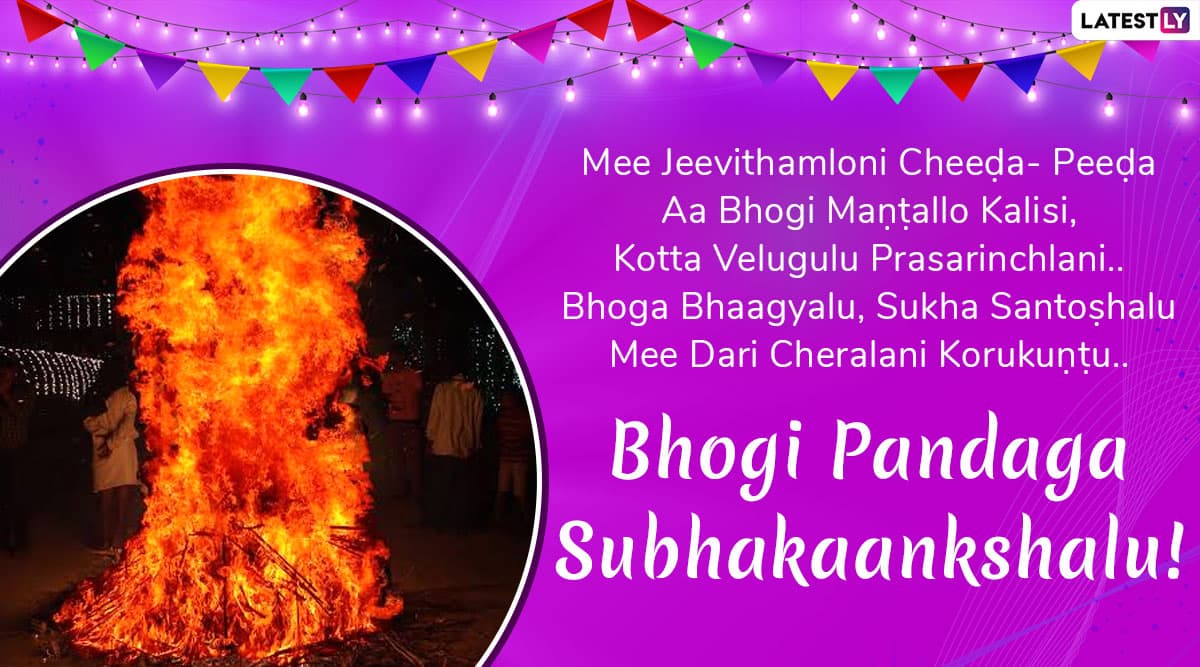 WhatsApp Message Reads: Mee Jeevithamloni Cheeḍa- Peeḍa AA Bhogi Maṇṭallo Kalisi, Kotta Velugulu Prasarinchlani.. Bhoga Bhaagyalu, Sukha Santoṣhalu Mee Dari Cheralani Korukuṇṭu..Bhogi Paṇḍaga Subhakaankshalu!
WhatsApp Message Reads: Bhaagyalanicche Bhogi, Saradalanicche Sankranti, Kammadanam Panche Kanuma. Ee Utsavam Nimpali Mee Iṇṭlo Sirula Paṇṭa. Meeku, Mee Kuṭumba Sabhyulaku Bhogi Subhakaankshalu.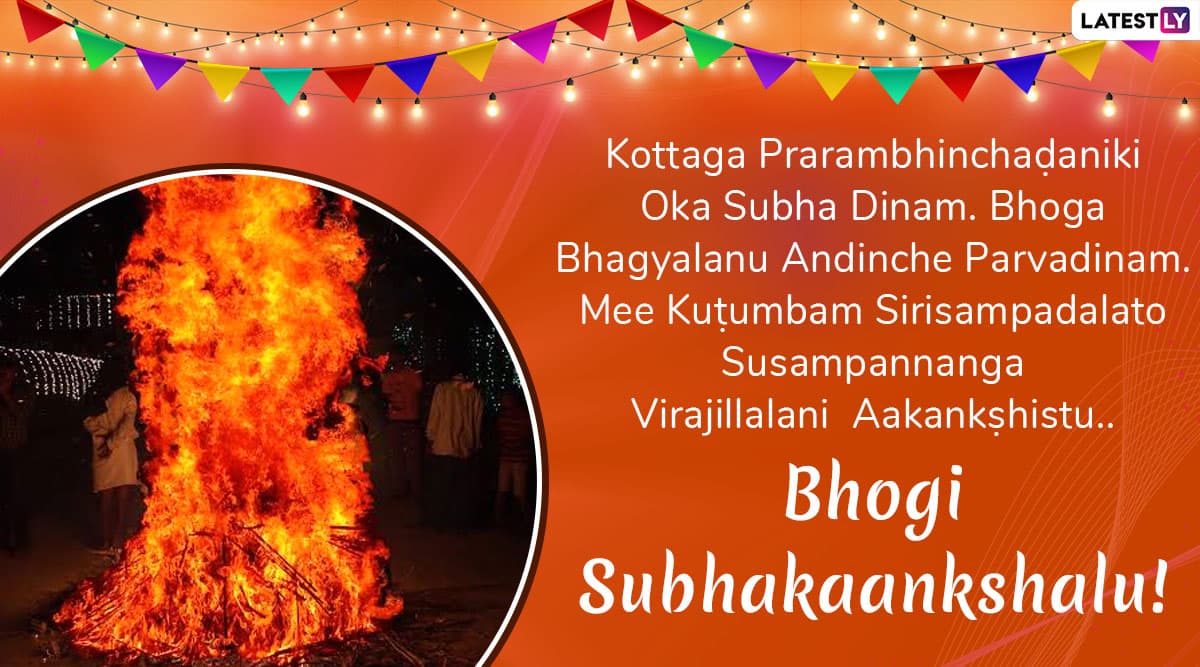 WhatsApp Message Reads: Kottaga Prarambhinchaḍaniki Oka Subha Dinam. Bhoga Bhagyalanu Andinche Parvadinam. Mee Kuṭumbam Sirisampadalato Susampannanga Virajillalani Aakankṣhistu. Bhogi Subhakaankshalu!
Bhogi 2020 Wishes: WhatsApp Messages, Images, Quotes, SMS To Send Greetings On First Day Of Pongal
How to Download Bhogi 2020 WhatsApp Stickers Online?
People can also send newest 2020 Bhogi festive wishes and greetings through text messages, picture messages, GIFs, videos, and SMSes etc. WhatsApp had launched a new feature, 'Stickers' on its platform, which is widely used to send such jolly wishes. Even Hike has a variety of creative and funny 'Stickers' which can be shared with the loved ones.