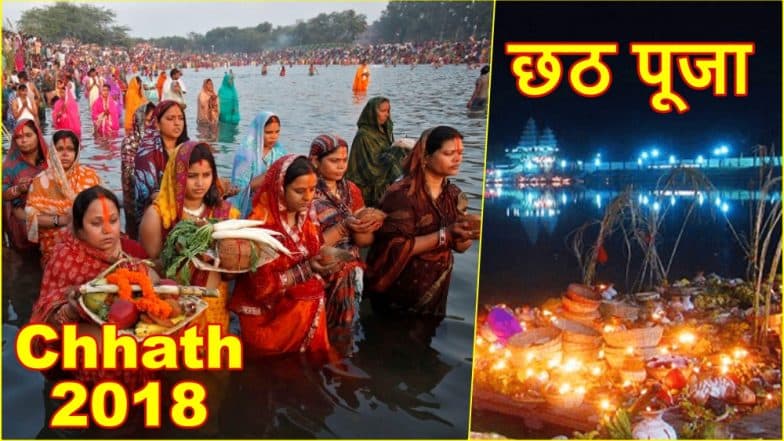 The Hindu festival of lights, Diwali, or Deepavali 2018 concluded on November 9 with Bhai Dooj. But the festivities will continue especially in states of Bihar, Uttar Pradesh and Jharkhand as their biggest festival, Chhath Puja is all set to take place from November 11 onwards. Chhath Puja 2018 will begin with Nahay Khay on Saturday and conclude with Suryoday or Usha Argh, sunrise on November 14. Considered the only ancient Hindu Vedic Festival, Chhath Puja is celebrated in honour of the Chhathi Maiya and the Sun God. We will look at everything related to Chhath Puja 2018 dates in the Indian calendar. Devotees who observe the strenuous fast known as Vratins must know about the schedule and dates of Nahay Khay, Lohanda and Kharna, Sandhya and Usha Argh. It is important to know about sunset and sunrise puja timing in advance to reach Chhath Ghat on time. Chhath Puja 2018: What Are The Health Benefits of Fasting and Worshipping Surya Bhagwan?
Chhath Puja is celebrated twice a year, once during Chaitra month (corresponding to March-April) some days after Holi. It is called Chaiti Chhath Puja. The second time, and considered more significant is celebrated on Kartika Shukla Shashthi, which is the sixth day of the month of Kartika in the Vikram Samvat Hindu Calendar (October-November). The festival also gets its name from the fact that 'Chhath' means 'six' and is celebrated on the sixth day of the month of Karthika. Also, Chhath Puja traditionally falls six days after Diwali. Chhath Puja Recipe 2018: How to Prepare Delicious Thekuas for Worshipping the Sun God and Chhathi Maiya.
Chhath Puja 2018 Dates in Indian Calendar
We celebrated Deepavali 2018 on November 7, Wednesday. The four-day festival will begin with Nahay Khay on November 11 (Sunday). It will be followed up by Lohanda and Kharna on November 12 (Monday). After this, the 36-hour long fast will begin in which devotees are not allowed even to have a sip of water. The first offering of prasad to the Sun God will be made during Sandhya Arghya or the sunset time on November 13th evening. The second offering will be made during Usha Arghya or the sunrise time of November 14th early morning.
Chhath 2018 Schedule At A Glance
| | | |
| --- | --- | --- |
| Date | Day | Ritual |
| November 11 | Sunday | Nahay Khay |
| November 12 | Monday | Lohanda and Kharna |
| November 13 | Tuesday | Sandhya Arghya/Sunset |
| November 14 | Wednesday | Usha Arghya/Sunrise |
Who is Chhathi Maiya?
During Chhath Puja, the goddess invoked by devotees is known as Chhathi Maiya. She is believed to be the consort of Surya, the Hindu God Sun. In Vedas, Chhathi Maiya is known as Usha, a Vedic goddess of dawn in Hinduism. The iconography depicts her as a beautiful Devi riding hundreds of golden chariots, drawn by golden red horses or cows, on her path across the sky, making way for the Surya.
Watch Video of Bihar Tourism Ad Explaining About Chhath Puja Celebrations at Home
Chhath Puja Significance
Chhath Puja is believed to be extremely special as it does not involve idol worship, unlike most Hindu festivals. The significance of Chhath Puja is to pay tribute to the Sun as he is the provider and support of life. Sun is necessary for the life of possibly every creature be it human, animals, insects or plants on the earth and this festival is a way to pay tribute to him. Despite a large number of female worshippers, Chhath Puja is not gender-specific as many men also observe this strict fast. The main worshippers are called Parvaitins. Contrary to the popular belief of worshipping only the rising sun, Chhath Puja is the only festival which signifies both the rising and setting sun.