Dussehra 2019 is celebrated with fun and fervour countrywide. One state that commemorates the popular Hindu festival is Andhra Pradesh where its commonly known as Dasara or Vijayadashami. Now, the traditional Dussehra greeting in Telugu is Dasara Subhakankshalu. The phrase "Dasara Subhakankshalu" when translated means "Happy Dussehra Greeting". In the time and age when people exchange wishes and blessings online, it is important to have latest festival messages and images online. To honour the special occasion of Dussehra or Dasara 2019, we present to you a collection of Happy Dussehra 2019 wishes in Telugu, Dasara Subhakankshalu images, Dasara Subhakankshalu in Telugu images, WhatsApp Stickers, GIFs, SMS, photos, quotes, messages, greetings and more. And all this can be download for free. Happy Dussehra 2019 Wishes & Vijayadashami Images: WhatsApp Stickers, Ravan Dahan GIF Images, Telugu Messages, Facebook Photos, SMS and Wishes to Send on Dasara.
Dussehra celebration is an important time of the year. As mentioned above, it is popular by the name Vijayadashami or Dasara. People remember and worship mother goddess Durga in her Mahishasura Mardini avatar in which she had killed the buffalo demon, Mahishasura. By killing the demon, she restored Dharma in the universe. Goddess Durga had also blessed Lord Rama ahead of his battle with demon king, Ravana of Lanka. On Vijayadashami day, good prevails over evil and people celebrate this victory. On Dussehra or Dasara, huge effigies of Ravana representing evil in the world is burnt on the occasion. It is epitome of the goodness existing in the world.
The major Hindu festival witnesses massive celebration. And as is the case with every festive occasion, people exchange good wishes with their family and friends. And wishes and messages feel more personal and connected if they are sent in regional language. Yeah, nothing is better than wishing in the mother tongue. This is why, you will find a lovely collection of Dussehra wishes in Telugu. And there is a good search for such kind of wishes and greetings. Some of the most looked for terms are Dasara Subhakankshalu, Dasara Subhakankshalu Telugu HD images, Dussehra wishes in Telugu language, Dasara Subhakankshalu Telugu SMS, Dasara Subhakankshalu videos download, Dasara Subhakankshalu GIF, Dasara Subhakankshalu pics, Dasara wishes in Telugu, Dasara wishes photos, Dussehra wishes in Telugu HD images, and more.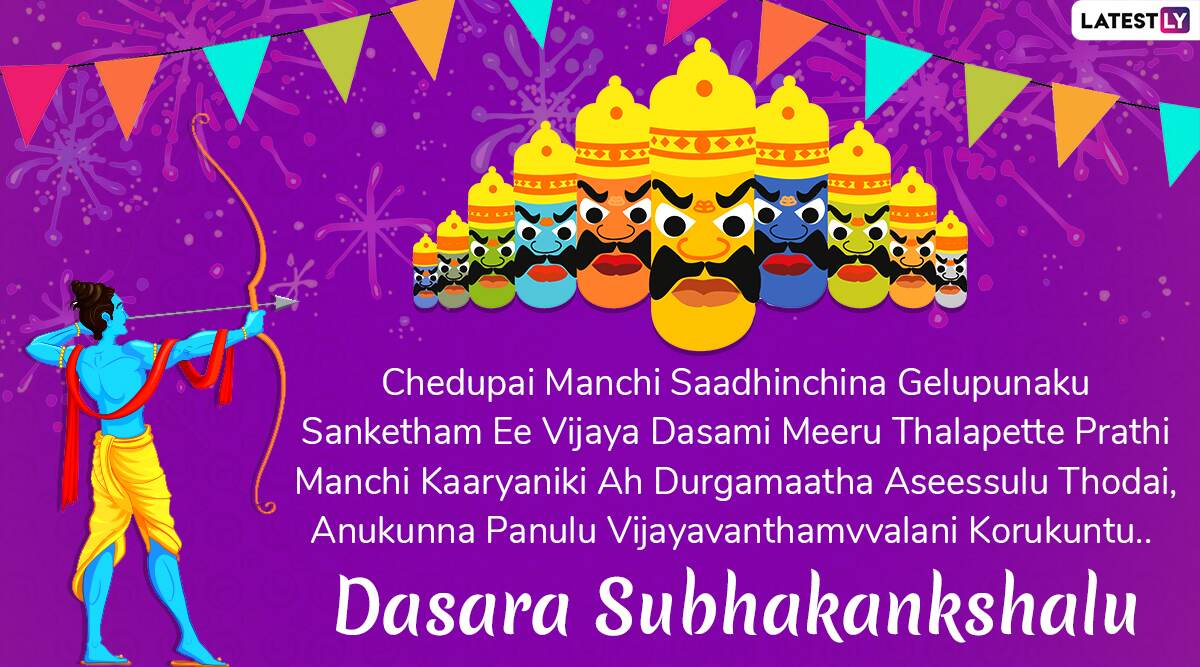 WhatsApp Message Reads: Chedupai Manchi Saadhinchina Gelupunaku Sanketham Ee Vijaya Dasami, Meeru Thalapette Prathi Manchi Kaaryaniki Ah Durgamaatha Aseessulu Thodai, Anukunna Panulu Vijayavanthamvvalani Korukuntu..Dasara Subhakankshalu
🙏 .. Andhariki Dasara Subhakankshalu pic.twitter.com/XTNeFLhSGC

— Sirisha Yarlagadda (@SirishaYarlaga3) October 7, 2019
WhatsApp Message Reads: Dasara Subhakankshalu 2019!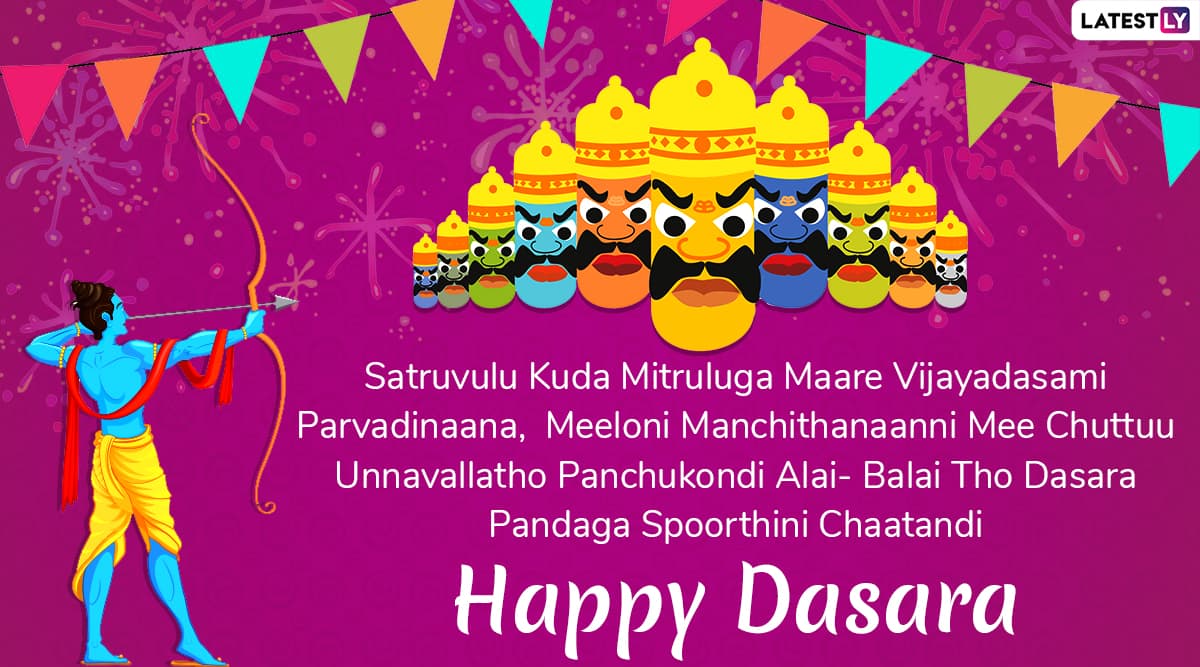 WhatsApp Message Reads: Satruvulu Kuda Mitruluga Maare Vijayadasami Parvadinaana, Meeloni Manchithanaanni Mee Chuttuu Unnavallatho Panchukondi, Alai- Balai Tho Dasara Pandaga Spoorthini Chaatandi. Happy Dasara.
DASARA SUBHAKANKSHALU JAI BHAVANI pic.twitter.com/Rsqi65P5u4

— KUNASANTOSHKUMAR (@kunasantoshmee1) October 7, 2019
WhatsApp Message Reads: Dasara Subhakankshalu 2019!
Dussehra 2019 Wishes in Telugu Send Dasara Subhakankshalu Greetings, SMS & Quotes on Vijayadashami
How to Download Dusshera WhatsApp Stickers Online?
You can download Dussehra stickers for WhatsApp from the Play Store. You will find a massive range of apps providing Dasara images, Dussehra 2019 WhatsApp Stickers, Happy Dasara Images, Dussehra status video, Happy Dussehra 2019 WhatsApp Stickers and more. Here's the link to download all of these beautiful greetings, stickers and images online. We wish you a very Happy Dasara 2019! Dasara Subhakankshalu.
(The above story first appeared on LatestLY on Oct 08, 2019 01:11 PM IST. For more news and updates on politics, world, sports, entertainment and lifestyle, log on to our website latestly.com).