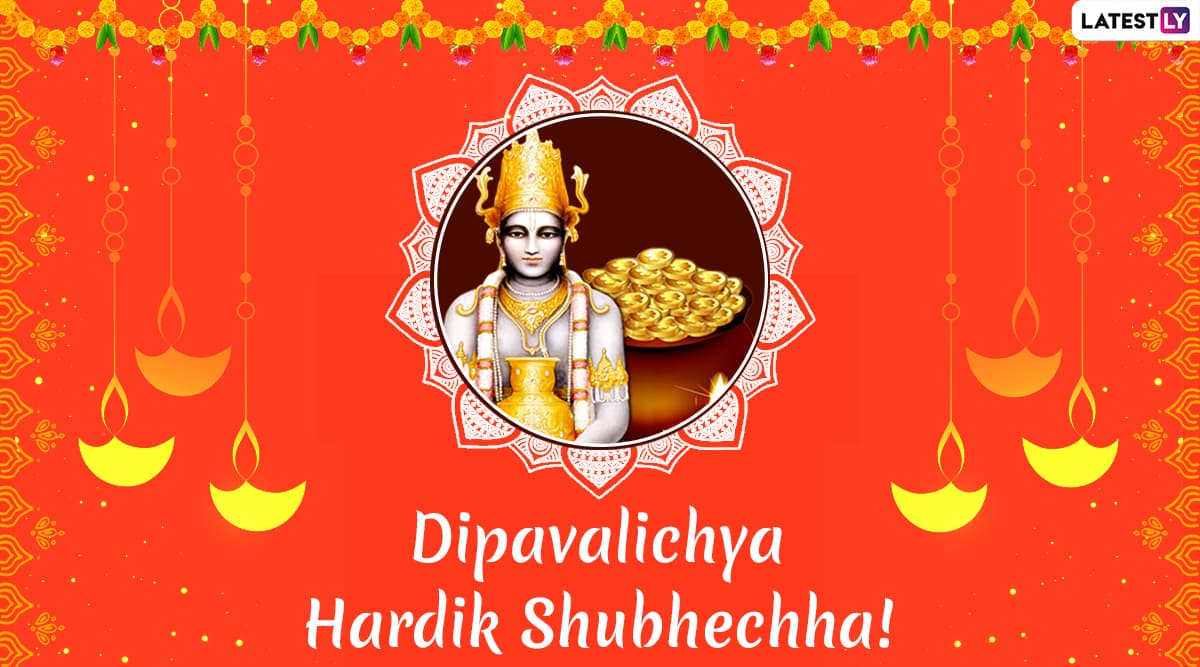 The festival of Diwali is finally here. The first day of festival of lights, Dhanteras 2019 will be celebrated on October 25, Friday, i.e. today. Dhanteras is celebrated with great fervour among communities across India. It is celebrated with huge festivities,  especially in Maharashtra. And if you are searching for Dhanteras 2019 greetings in Marathi, your search ends here. LatestLY, presents some of the choicest #Diwali2019 greetings and the best of Dhanteras messages. You will get Dhanteras wishes in Marathi, Dhanteras messages in Marathi, Dhanteras Images, Dhanteras 2019 wishes, Dhanteras WhatsApp Stickers, Dhanteras 2019 HD wallpapers, Hike GIF images, WhatsApp status in Marathi and a lot more for free download online. Dhanteras 2019 Images & HD Wallpapers for Free Download Online: Wish Happy Dhantrayodashi With Beautiful Lines, WhatsApp Stickers and Hike GIF Greetings on First Day of Diwali.
The festival of Dhanteras is considered to be an auspicious one. People clean their houses and decorate them with flowers, earthen lamps and fancy lights. A lot of people buy gold and silver, and utensils on this auspicious day. People send Marathi wishes and greetings to their loved ones on the occasion of Dhanteras. They send Marathi Dhanteras 2019 WhatsApp messages, set Facebook statuses, send posts on Instagram, and set stories on Snapchat during the festivities of this grand festival. Happy Dhanteras Images & Diwali 2019 Wishes in Advance: WhatsApp Stickers, SMS, Quotes, Hike GIF Messages, Greetings and Status For Deepavali Festival.
Well, Dhanteras 2019 greetings and wishes are sent through Marathi text messages, SMSes, picture messages, GIFs, greeting cards etc. this Dhanteras festival. Also, people use WhatsApp, 'Stickers' extensively these days to wish too.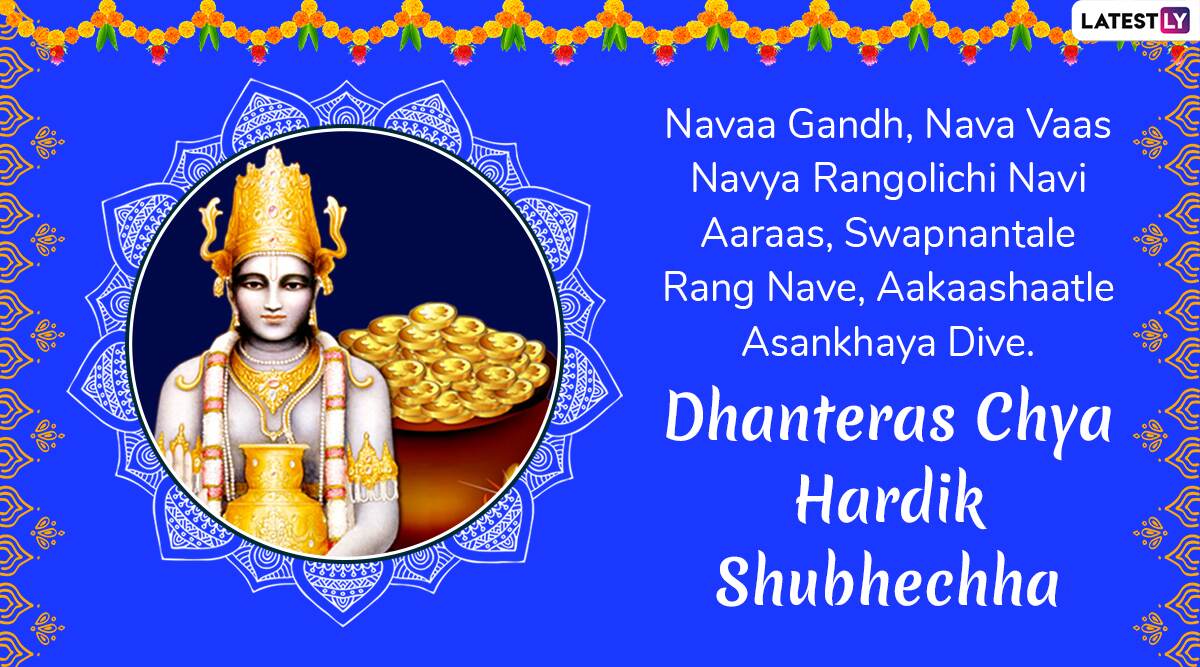 WhatsApp Message Reads: Navaa Gandh, Nava Vaas, Navya Rangolichi Navi Aaraas, Swapnantale Rang Nave, Aakaashaatle Asankhaya Dive. Dhanteras Chya Hardik Shubhechha!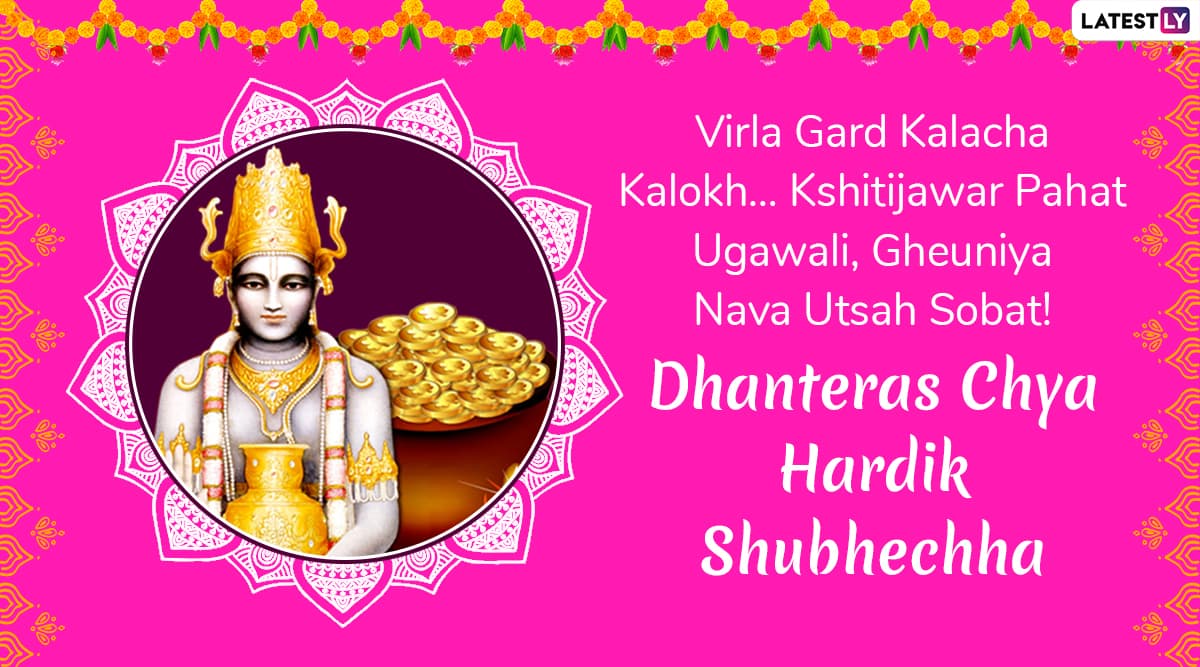 Happy Dhanteras (File Image)WhatsApp Message Reads: Virla Gard Kalacha Kalokh…Kshitijawar Pahat Ugawali, Gheuniya Nava Utsah Sobat! Dhanteras Chya Hardik Shubhechha!
WhatsApp Message Reads: Rangolichya Saptarangaat Sukhache Deep Ujadu De, Laxmichya Paavalanni Ghar Sukh Samruddhi Ne Bharu De.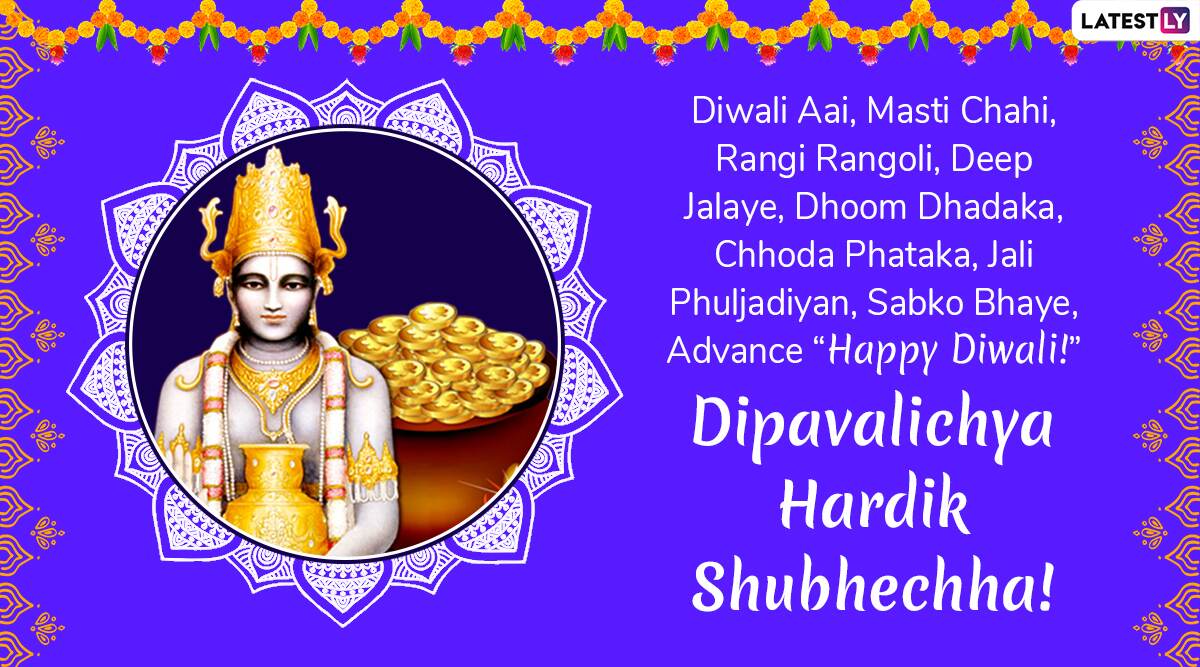 WhatsApp Message Reads: Diwali Aai, Masti Chahi, Rangi Rangoli, Deep Jalaye, Dhoom Dhadaka, Chhoda Phataka, Jali Phuljadiyan, Sabko Bhaye, Advance "Happy Diwali!" Dipavalichya Hardik Shubhechha!
Dhanteras 2019 Wishes in Hindi: WhatsApp Messages, Hike Images, SMS to Send Dhantrayodashi Greetings
How to Download Dhanteras WhatsApp Stickers Online?
You can download Dhanteras WhatsApp Stickers along with greetings and messages from the Play Store App. Here's the link to download Happy Dhanteras 2019 WhatsApp Stickers. After Dhanteras, people will gear up to celebrate Naraka Chaturdashi or Choti Diwali on Saturday. We wish all our readers a very Happy Dhanteras 2019 and Shubh Deepavali!