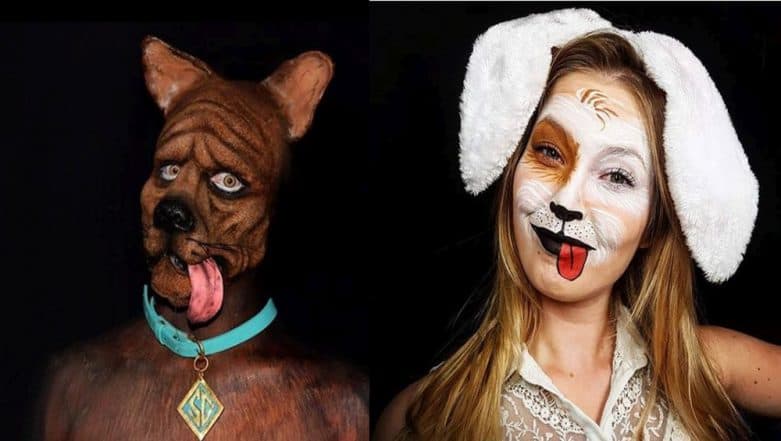 The bells of Halloween 2018 have rung. Time has come to unleash the best Halloween look you can pull of this year. And if you are thinking that October's just begun, then you must know that Halloween is already in the air and people aren't keeping calm. But are you one of those who believes in last minute costume ideas? I don't think there is anything easier or better than becoming your furry companion- your dog! Or any dog for that matter, because, duh, dogs are awesome! Dog Halloween Costume Ideas 2018: Easy an Quick Costume Inspiration for Your Furry Good Boy!
Similar to the various dog filters on Snapchat dog makeup and costumes are becoming popular. In fact, the doggo look never goes out of fashion I believe. Here are a few ways you can look like a dog this Halloween.
With simple use of body colours and a head gear, here's how your look can complete the look.
While you can always buy a scooby-doo costume, this effective use of body paint can also give an amazing scooby doo look.
Perfect use of body paint and dog costume to look like a cutie!
If you don't wanna go overboard you can just paint your face. Here's how.
How about this sexy yet scary puppy?
You may go for this absolutely subtle yet glam look!
Love huskies? Here's how you can be one!
Remember 101 Dalmations? Here's how to get the sexy Cruela look!
Aren't these just amazing? You can try it yourself or ask an expert to get it done on you. Which one is your favourite doggo look? Let us know in the comments section below!