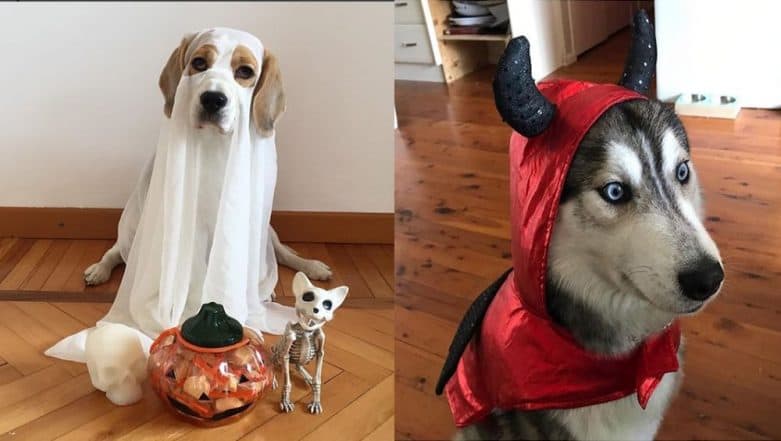 Halloween 2018 is finally almost here. Come October month and your mind doesn't stop thinking what unique you can do with your costume this year. And why just you? What will your dog dress as, is an even more important question! In recent times, dog costumes have become really popular, and rightly so, the delight of dressing up your dog for Halloween, or any other pet for that matter is just beyond smiles. Whether you have a Labrador or Golden Retriever, Bulldog, German Shepherd, Poodle, Terrier, Dachshund, Beagle or a pug, seeing your dog in Halloween costumes like of a Masked Crusader, pumpkin, bat, Lobster, Bug, pirate, Sargent, Banana, Bee costume, etc. is so much fun. Halloween 2018 Costumes: This Dress on Ghosting is a Hit on Social Media!
However, trends keep changing every year and you must keep up with the latest one especially for your furry BFF. Here are a few dog costume ideas that can help you dress your dog up!
Isn't he the cutest spooky?
Want pizza, anyone?
View this post on Instagram
The hero we all want.
Make way for the king of hearts.
This mermaid is what love looks like!
View this post on Instagram
Does this husky look devilious enough to you?
The cutest pirate in the universe!
This is EXACTLY the waffles I want!
If this vikings doesn't make you happy, I don't know what will!
I can't even...
Those were one of the few looks that your dog can don this Halloween. However, you can also share a few past Halloween pictures of your dogs to get featured! Share your favourite Halloween looks in the comments section below.