It is Earth Day 2019 and the search engine giant Google is celebrating in their cute little yet informative way. In keeping with the Earth Day 2019 theme of 'Protect Our Species', the Google Doodle informs us about six endangered organisms across elevations via an interactive slideshow. Earth Day 2019 Google Doodle includes the Wandering Albatross (The widest wingspan of any living bird), Coastal Redwood (The tallest tree in the world), Paedophryne Amauensis (Holds the world record for the smallest frog, and smallest vertebrate) and more. It's one great way to say Happy Earth day 2019! Earth Day 2019 Theme and Date: History and Significance of the Day for Ecological Awareness to 'Protect Our Species'
We are busy celebrating festivals and events on all 365 days. But above all the most important observance is Earth Day. So far (not counting speculated living conditions on Mars), Earth remains the only planet supporting life forms. Yes, the sole reason we get to enjoy all the celebrations and festivities. Every year on April 22, Earth Day is celebrated to create awareness on environmental protection. Earth Day 2019 Date: Theme, History and Significance of the Day for Ecological Awareness.
Doodler Kevin Laughlin has created this beautiful Earth Day doodle with interactive slideshow. It explores six organisms across elevations—along with their earthly superlative! These awe-inspiring but endangered organisms inhabit the planet we call home. These six species are –
1) Wandering Albatross - With the world's widest wingspan, it can soar hundreds of miles without a flap.
2) Coastal Redwood - At 377 feet, the world's tallest tree is about 75 humans high.
3) Paedophryne Amauensis, this is a coin-sized frog and also the world's smallest vertebrate.
4) Amazon Water Lily, among the world's largest aquatic plants. In fact, a small person can sit on it!
5) Coelacanth, at 407-million-years old, it's one of the world's oldest living species (they have been living since the days of dinosaurs.)
6) Deep Cave Springtail are among the deepest-dwelling terrestrial creatures. Earth Day 2019 Greetings: Send These Beautiful Quotes, GIF Images, WhatsApp Stickers and Photos to Pass on Message of Environmental Conservation.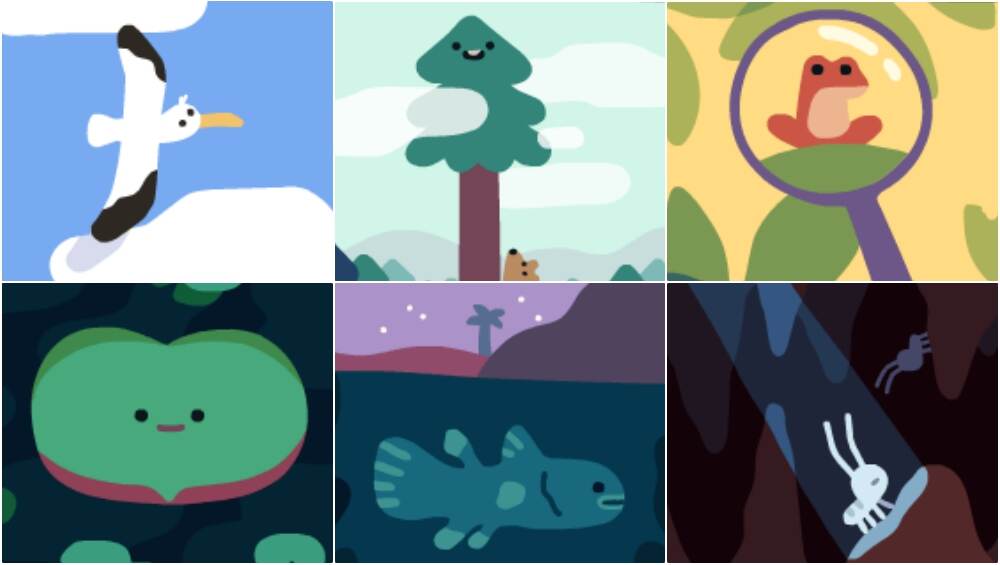 Laughlin has this to say when asked on how did he choose the species to feature in the Earth Day Doodle? He says, "This was the most difficult part of the process! The last thing I wanted to do was feature animals based on their cuteness or how they might appeal in some way to my mammalian sensibilities. We tried to focus on having a good range of organisms from around the globe that all had an extra special unique quality or earthly superlative. (Tallest, smallest, oldest, etc.)" Earth Day 2019 Images & HD Wallpapers for Free Download Online: Wish Happy Earth Day With GIF Greetings & WhatsApp Stickers.
Earth Day 2019 Theme, History & Significance of the Day for Ecological Awareness
Earth Day 2019 Greetings, WhatsApp Pics & Quotes
Earth Day was first celebrated in 1970, and now includes events in more than 193 countries, which are now coordinated globally by the Earth Day Network. In 2016, the landmark Paris Agreement was signed by the United States, China, and some 120 other countries. It is an all-important agreement within the United Nations Framework Convention on Climate Change (UNFCCC), dealing with greenhouse-gas-emissions mitigation, adaptation, and finance. We hope the world leaders and along with every single individual realises the significance of saving the planet, because it's the only one we got for now! Happy Earth Day 2019.
(The above story first appeared on LatestLY on Apr 22, 2019 10:21 AM IST. For more news and updates on politics, world, sports, entertainment and lifestyle, log on to our website latestly.com).