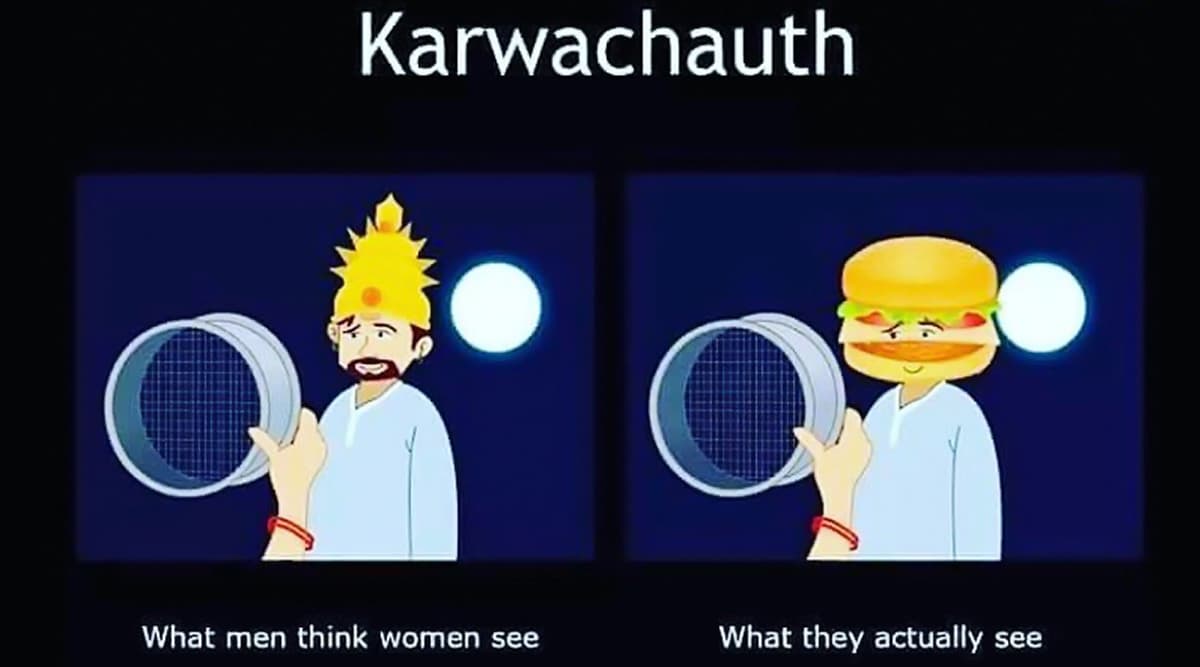 Yay! Time for the most loved festival of Bollywood, Karwa Chauth. Right from DDLJ to Baghban to Kabhi Khushi Kabhi Gham, you will check out the Karva Chauth scene in any of these movies, and you will want to observe the fast of Karwa Chauth immediately (with or without a partner. LOL). Karwa Chauth, in all seriousness, is a festival where the wife fasts for the husband's long life. Women fast without water and wait eagerly for the moon to rise, so that they can see the moon through a seive and then see their husband through the same seive. Quite stressful, isn't it? No Food, no water with this eternal wait for the moon to rise, it is undoubtedly too hard! But fret not, we have you covered. We have got you some funny Karwa Chauth memes and jokes that you can laugh on while you fast on an auspicious day.  You might want to know the Karwa Chauth moon-rising time beforehand to plan your fast accordingly.
In fact, any celebration can be made better with a little bit of humour. I mean, what is life without a few LOLs and ROFL. Well, Karwa Chauth in the movies does seem nothing like reality. So perfect and so beautiful like nobody even cares about the food (really). Moreover, the way they take their first sip of water and food, so dramatic and unimaginable. There are really a lot of things about Karwa Chauth that can be turned into memes, let's take a look at some of them:
Virat Kohli and Anushka Sharma Karwa Chauth
View this post on Instagram
Karwa Chauth Ke Bharose Na Rahe
View this post on Instagram
For The Panipuri Lovers
View this post on Instagram
NOOOO
View this post on Instagram
LOL
View this post on Instagram
Can't Stop Laughing
View this post on Instagram
Uh Oh
View this post on Instagram
ROFL
 

View this post on Instagram
Most of the jokes and memes revolve around the young boyfriends and girlfriends keeping unofficial fasts for their partners, making it all look so serious. Don't you love to see these memes and jokes? But on a serious note, here's a collection of special Karwa Chauth greetings in Hindi, Karwa Chauth images with greetings, which they can send to their husbands. Unmarried girls who are also observing the fast for their boyfriends or fiancés can send these Karwa Chauth images, photos, quotes, and wishes.