Makar Jyothi 2023 is seen on January 14. The first photos of auspicious lighting are out. While the celebration of the Sabarimala Makaravilakku festival falls on the day of Makar Sankranti, the lighting of this lamp will take place on January 14 this year, even as most people celebrate Makar Sankranti on January 15. This is because the Sankranti moment falls on January 14 at 8.57 pm. Makar Jyothi sighting is believed to be a very auspicious occasion that brings good luck and prosperity to all. This is why people who cannot go to the Sabrimala temple for this occasion watch Sabarimala Makara Jyothi Festival live streaming, Makaravilakku 2023 live telecast and look for Sabarimala Makaravilakku 2023 sighting images and wallpapers.
Makaravilakku is one of the biggest festivals observed at the Sabarimala temple. To witness the lighting of this Diya at the moment the sun transitions to Makar Rashi, thousands of devotees visit the famous Sabrimala Ayappa temple. The sighting of the Makravillaku is a beautiful and curious event. However, it is not supernatural. The Makara Jyothi is visible from the Sabrimala temple because of the religious ritual that was practised in the past by the Malayaraya tribe, who are believed to be the descendants of Malayaman Kaari in the forest of Ponnambalamedu. This tradition has been carried forward by the Travancore Devaswom Board (TDB), who light the Diya in the forest, which can be seen near the mountain.
The Makar Jyothi sighting took place on January 14 evening and is believed to bring prosperity and a good look to those who witnessed the sighting. If you missed catching the Sabarimala Makara Jyothi Festival live streaming, Makaravilakku 2023 live telecast, here are the Sabarimala Makaravilakku 2023 sighting images and pictures.
Makaravilakku 2023 First Pics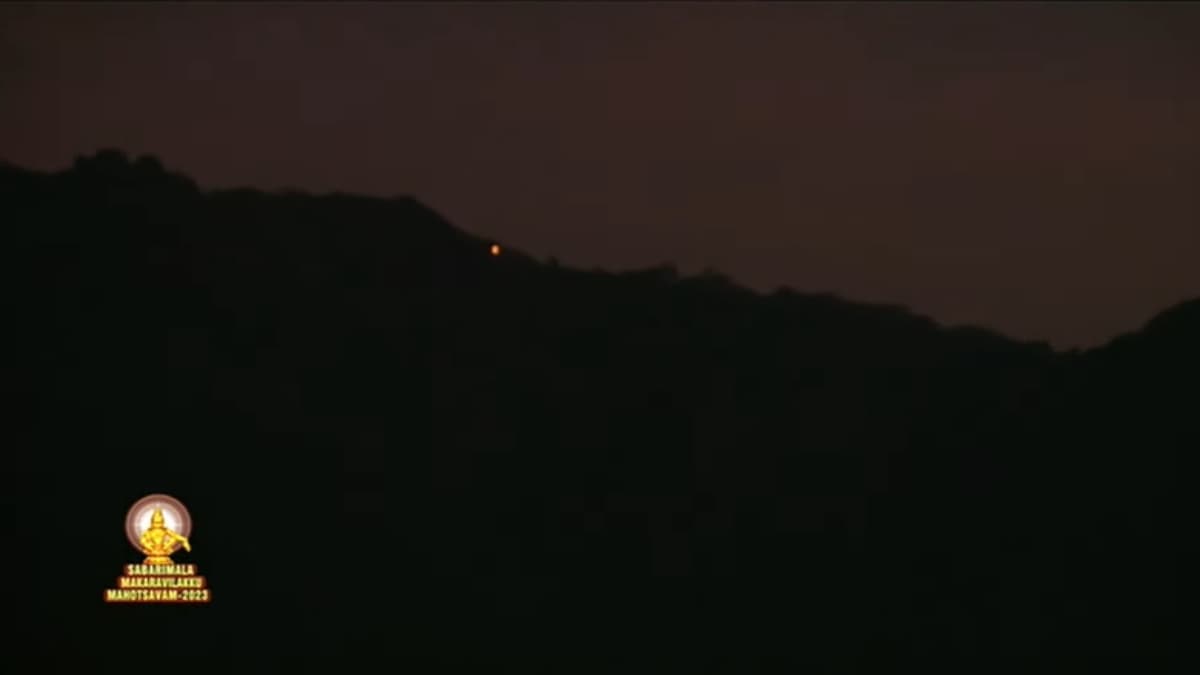 Makaravilakku Festival From The Famous Sabarimala Temple
We hope Makar Jyothi 2023 brings you all the love, light and prosperity you deserve. Happy Makaravilakku!
(The above story first appeared on LatestLY on Jan 14, 2023 06:51 PM IST. For more news and updates on politics, world, sports, entertainment and lifestyle, log on to our website latestly.com).