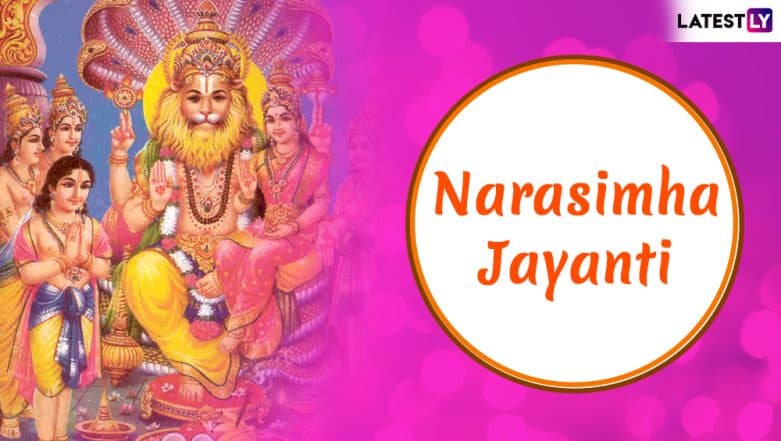 Narasimha Jayanti 2019 is being celebrated today ie March 17. Lord Narasimha who is denoted as a half man and half lion is believed to be the fourth incarnation of Hindu god Lord Vishnu. Narasimha Jayanti also called as Narasimha Chaturdashi falls on the day 14th day of the Shukla Paksh which is the Vaisakh Chaturdashi. This day becomes more auspicious as it is a combination of Vaishakha Shukla Chaturdashi with Swati Nakshatra and weekday Saturday which is considered favourable. Devotees visit the temple of Lord Vishnu and seek his blessings. Some also observe a fast for the day and perform a Narasimha puja. People also exchange greetings and images of Lord Narasimha to pass on their greetings for the auspicious occasion. Matsya Jayanti 2019 Date: Significance & Mythology Related to Celebration of Birth Anniversary of Lord Vishnu's First Incarnation.
Narasimha Jayanti Significance and Observations
Narasimha Jayanti is the day when Lord Vishnu exhibited his Narasimha form to the world. He appeared as a lion-man with the face of a lion and body of a man to kill the demon of Hiranyakashipy. Observing this day is said to remove the adharma (path of wickedness) and follow a dharma (path of righteousness). It is the path towards correct deeds without causing harm to anyone.
It is believed that Lord Narasimha appeared in front of everyone during sunset when it was Chaturdashi. So people perform a puja in the evening hours. A visarjan puja is held on the next morning. Devotees observe a fast for a whole day. Narasimha mantra is recited to please God and seek his blessings.
Narasimha Jayanti Puja Muhurat
According to Drikpanchang, the Narasimha Jayanti Sanyakal Puja Time is from 16:20 to 19:02. It will last for 2 Hours 41 Mins.
Narasimha Jayanti Messages
Thanks to technology, it has become easier to convey messages and greetings over messaging applications and social media. People also exchange Narsimha Jayanti greetings and wishes. We too give you some greetings which you can send to your friends and relatives.
Message reads: Let us celebrate the auspicious occasion of Narasimha Jayanti by surrendering ourselves in the bhakti of Lord Narasimha!!!
Message reads: Dikhave ki duniya se thoda dur rehta hu, isliye Narsimha Bhakti se chur rehta hu.
Message reads: The festive occasion of Narasimha Jayanti will always remind us that doing the right thing always pays off in surprising ways.
Message reads: Before The New Sun Rise, Let Me Enhance Each Of The Rays, With My Heartly Wishes Of Good Luck, Prosperity And Joy For You…. JAI Narsimha!
We hope the above messages and greetings help you to convey your greetings for this auspicious occasion. Wishing you all a happy Narasimha Jayanti!