Worshipping Goddess Durga during Navratri signifies celebrating victory of good over evil. This festival of Navaratri 2018, pay due respect to Goddess Durga and her nine forms. Imbibe the qualities of the Goddess and spread happiness in your environment. Today i.e. October 16 marks the seventh day of the auspicious occasion and the devotees around the country will be dressed in the vibrant festive colour Red. This year, Dusshera will be observed on October 19 i.e. Friday, thus marking the end of the nine-day festival. We have given you major traditional style inspiration from our B-town actresses over the last few days to celebrate the festival. Today, we bring to you our beautiful and famous TV actresses like Hina Khana and Drashti Dhami show you how to look radiant in Red. Navratri 2018 Colours List for Free PDF Download Online: Dates, Day-Wise Nine Colours to Wear During Navdurga Festival With Images and Video!
In Hinduism, the colour Red holds great significance. Goddess Katyayani, known as the warrior Goddess, will be worshipped on day 6 of the Navratri festival. She is believed to be formed out of the anger of Gods to destroy the demon king Mahishasura. The colour Red is associated with her as her favourite flowers are of red colours especially rose. Red also symbolises action and vigour. Hindu woman often wear red on their wedding day. Red also denotes passion, fire, radiance, energy, vigour and willpower. Goddess Durga and her other forms are also adorned with several red elements, from sindoor, red bangles to red dupatta or chunari that shows devotion and a mark of reverence. Read on to know more how our actresses exude passion and brilliance in the colour of love. Navratri 2018 Day 6 Katyayani Puja: Worship the Sixth Form of Goddess Durga With Mantras This Navaratri.
Bollywood Divas in Red Traditional Outfits
1. Hina Khan in Traditional Red Kanjivaram Saree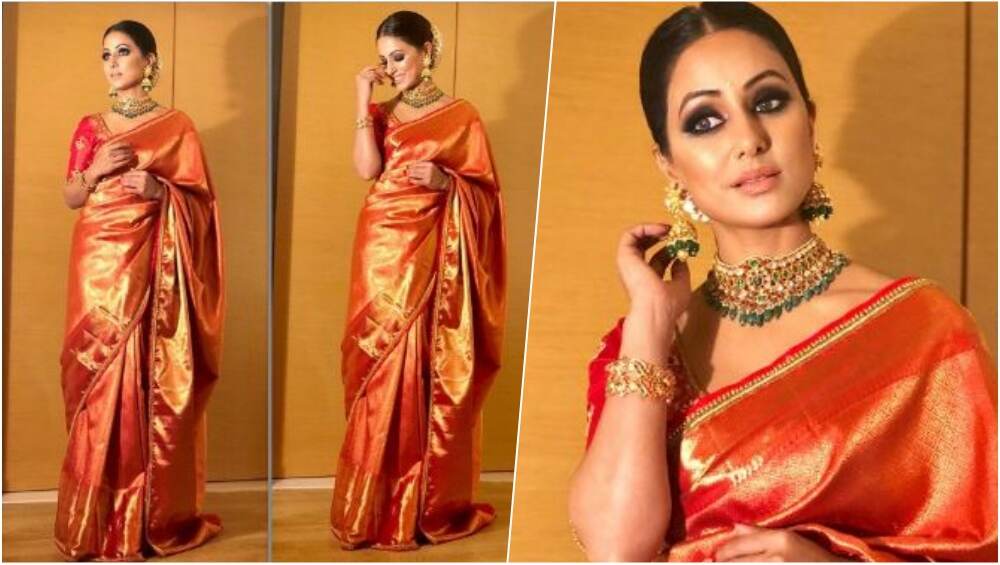 Red is undoubtedly the most popular festive colour which adds further happiness to the occasion. Hina Khan's red kanjivaram saree with embellished blouse is perfect for your next Durga pandal visit. Gajra or mogra flower hair accessory to go with the saree adds for a beautiful element.
2. Aditi Bhatia in Red & Gold Saree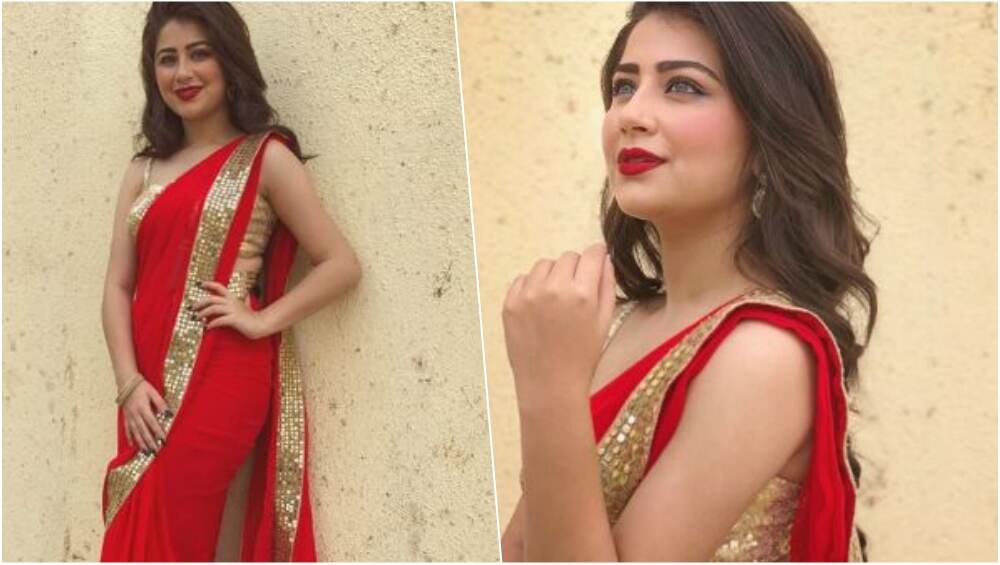 With the passion of Red and the bling of Gold, one can never go wrong with the outfit. Aditi Bhatia looks elegant in red saree with gold borders and sequined blouse. She has completed with her look with a red statement mouth and rosy cheeks.
3. Drashti Dhami in Sindoori Red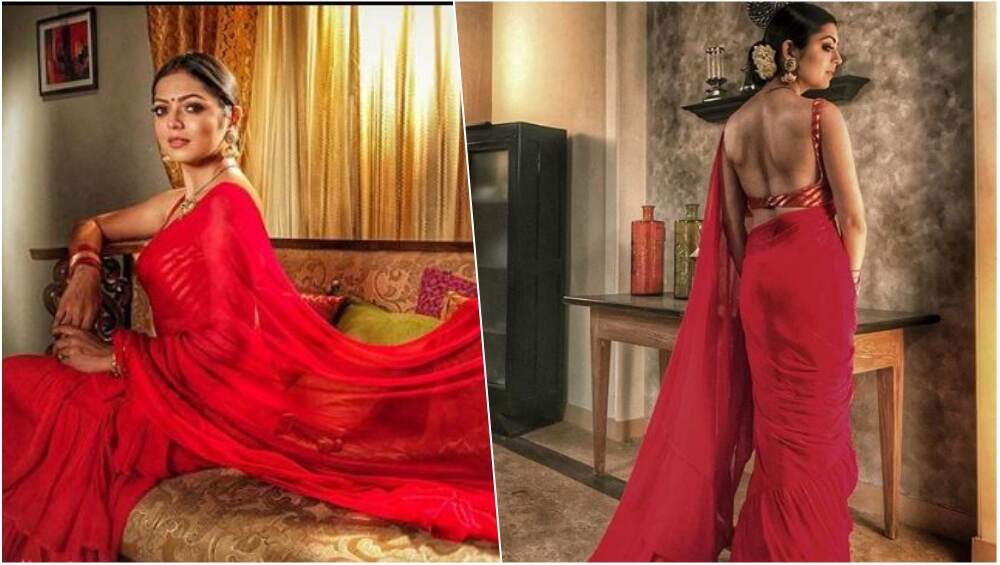 Wearing the perfect sindoori red saree, Drashti is vision for sore eyes. The colour red speaks a lot on its own even if worn plain and simple. It is all about carrying the colour with confidence and one can light up the entire room. You can add the glam quotient by wearing an intense smokey eye makeup.
4. Madhuri Dixit Nene
Madhuri's red saree is simplicity at its best. This Navratri, you can also wear a red bandini outfit to give the Navdurga festival vibes. And a neat bun to style your hair, enhances the look of the saree as it takes away from the distraction of open loose hair.
This Navratri feel the energy and liveliness of the festival by wearing the colour red. If you think red is too eye catching, add an element of the colour to your outfit. You can pair an all-white outfit and a hint of red by wearing a statement dupatta or a traditional jacket. As the festival is coming to an end, re-determine that you will fight the negativities of life and exude positivity in your environment. We at Latestly, wish you and your family Happy Navratri 2018!