The festival of Navratri is celebrated to revere the nine forms of Goddess Durga, and each day is marked by a colour throughout the nine days. We are half way through the festival and today i.e. October 15 will be observed as day 6 of the festival. The sixth day of the festival is dedicated to Maa Katyayani. Goddess Parvati took the form of Goddess Katyayani to destroy demon Mahishasura. She is also known as the most violent form of Goddess Parvati and warrior Goddess. Below we tell you how to do Katyayani puja, mantra and rituals to follow on the sixth day of the festival. Navratri 2018 Day 6 Colour, October 15 – White: Deepika Padukone, Kangana Ranaut and Khushi Kapoor Teach You How to Shine in This Colour.
Story of Goddess Katyayani
According to Hindu mythology there was a great sage named Katya and it was his wish that Maa Durga be born as his daughter. He practiced austere penance for several years to please the Gods. Goddess Durga accepted his request and was born in the ashram of Katyayana. Sage Katyayana was the first one who got the privilege to worship her, hence the name Katyayani. This form of Goddess Durga is also known as a warrior Goddess. Durga Puja 2018 Greetings: Navratri WhatsApp Messages, GIF Images, Facebook Status, Quotes & SMSes to Wish Shubho Pujo on Durgostav.
Iconography
Goddess Katyayani rides on the magnificent lion and is depicted with four hands. Goddess Katyayani carries lotus flower and sword in her left hands and keeps her right hands in Abhaya and Varada Mudras. It is also believed that the planet Brihaspati is governed by Goddess Katyayani. The favourite flower of Goddess Katyayani is red colour flowers specially rose.
Katyayani Mantra and Prarthana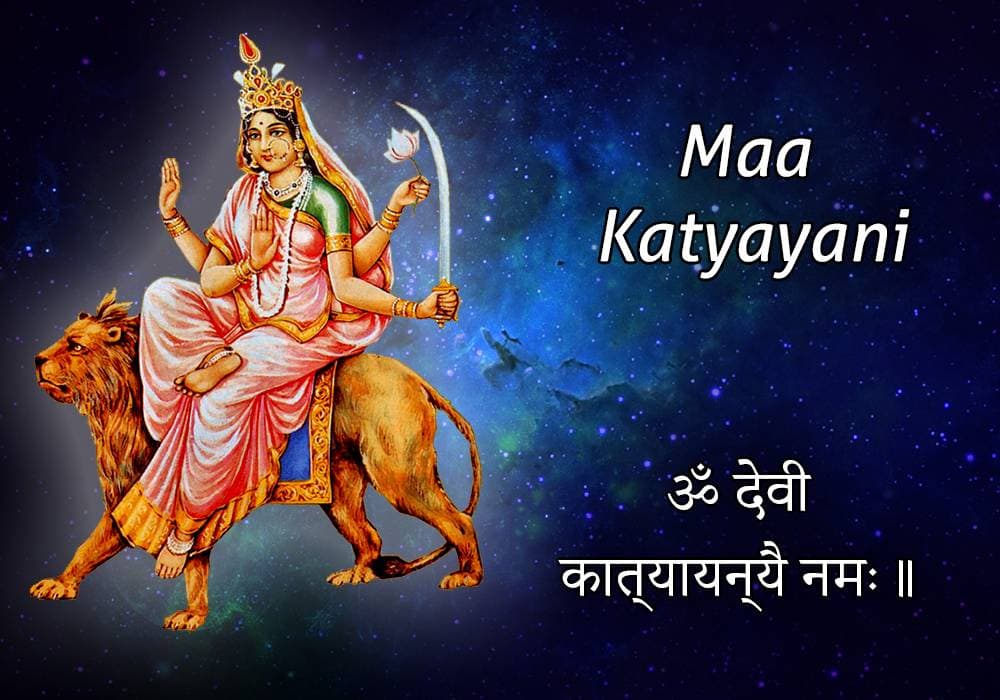 Katyayani Mantra – Om Devi Katyayanyai Namah
Katyayani Prarthana – Chandrahasojjvalakara Shardulavaravahana | Katyayani Shubham Dadyad Devi Danavaghatini ||
Hindu devotees especially women believe that if you make a vow of fasting and worshipping her, she would bless you with the husband you have wished and prayed for. If a woman's marriage is getting delayed due to several reasons, worshipping Maa Katyayani will remove the obstacles that may be causing delays in the marriage. Praying to this form of Goddess Durga will also help you develop strength and to fight all diseases, sorrows and fears. To remove the sins accumulated over several lives, one should worship Maa Katyayani.