Durga Puja begins! Seven days after Mahalaya 2018 falling on October 8, the grand celebrations of Durga Puja kicks off Sunday on October 15 with Maha Sasthi. While Sharad Navratri had started on October 10, Durga Puja celebrations in West Bengal, Bihar and other eastern parts of the country commences a bit later. But importantly, it is Durga Pujo time. People are excited about sending and receiving colourful lovely Durga Puja wishes, messages and greetings. We bring to you Durga Puja Wishes, Quotes, Sms, Messages, Status to wish on Subho Sasthi, Maha Saptami, Durga Ashtami, Maha Navami.
It's festival season in India yet again and celebrations are in full swing. Navratri began on October 10 and will culminate on October 19 with Vijayadashami and Dussehra. Durga Puja like many other Indian festivals represents the victory of good over evil. The nine-day festival of Navratri worships nine forms of Goddess Durga which are Maa Shailputri, Maa Brahmacharini, Maa Chandraghnta, Maa Kushmanda, Maa Skandamata, Maa Katyani, Maa Kalratri, Maa Mahagauri and Maa Siddhdatri.
India being a diverse nation, the festival is celebrated with different traditions and customs across the country. There are several legends and mythology attached to the Hindu festival. One of the prominent stories states that Goddess Parvati took the avatar of Durga Maa and killed Mahishasura after a long battle. Navratri HD Photos & Maa Durga Images for Free Download Online: Happy Navaratri Wallpapers in 1080p & Navadurga GIFs for WhatsApp Greetings.
For Durga Puja, people extend the festival greetings to their friends and family. And as the auspicious day approaches, we have compiled a list of WhatsApp messages wishing  Shubho Pujo you can send your loved ones. People also send Durgostav greetings through SMS and Facebook statuses.
Check out Durga Puja messages below: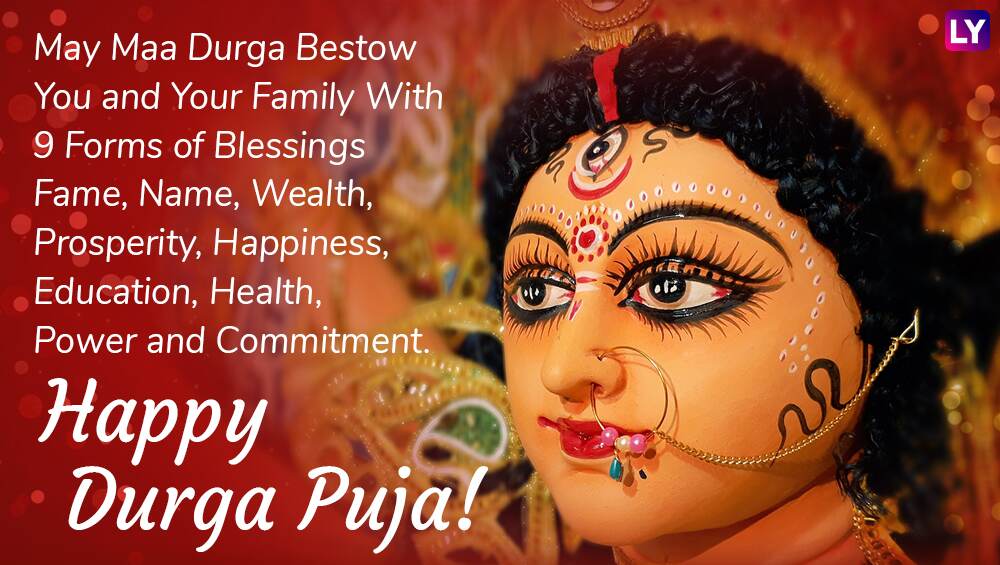 May Maa Durga Bestow You and Your Family With 9 Forms of Blessings, Fame, Name, Wealth, Prosperity, Happiness, Education, Health, Power and Commitment.
Happy Durga Puja GIF
May Maa Bless You With All the Happiness in the World, May You Have the Best Durga Puja Ever.
On This Auspicious Occasion of Durga Puja, I Wish You Are Blessed With Prosperity and Success by Maa Durga. HAPPY DURGA PUJA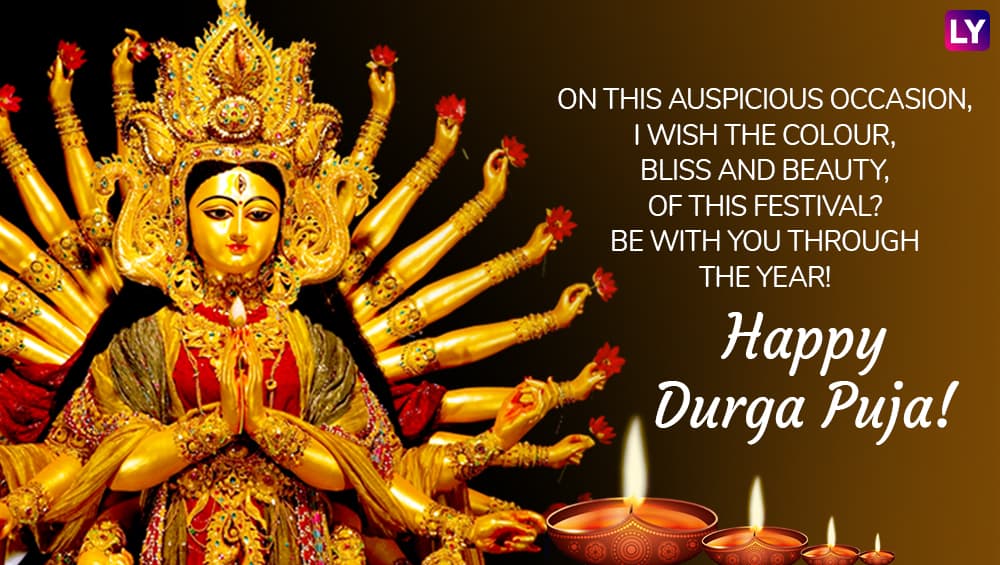 On This Auspicious Occasion, I Wish the Colour, Bliss and Beauty, This Festival? Be With You Through the Year. Happy Durga Puja!
Durga Puja GIF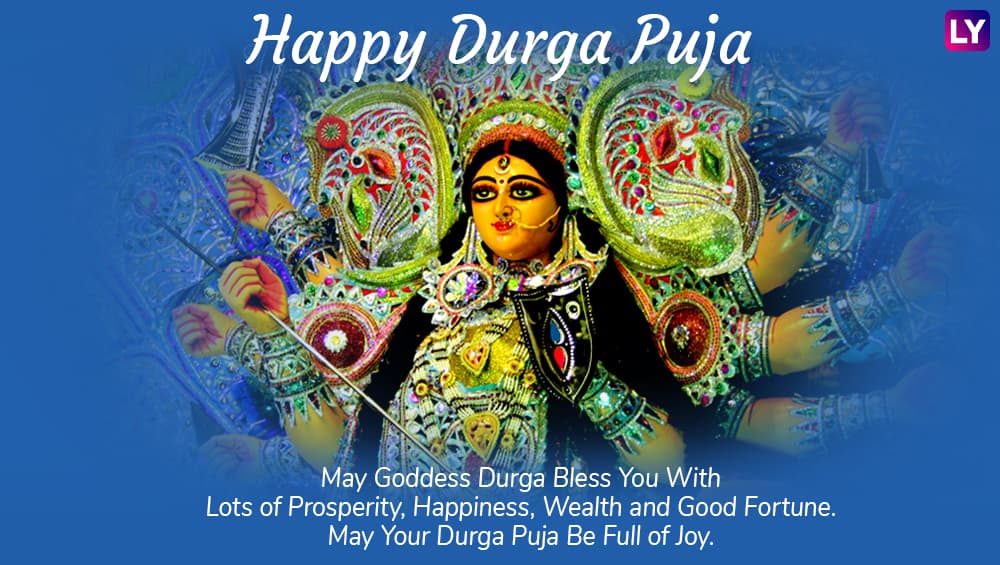 May Goddess Durga Bless You With Lots of Prosperity, Happiness, Wealth and Good Fortune. May Your Durga Puja Be Full of Joy.
Some devotees also fast during the nine days obeisance to the deity and which is the symbol of the victory of good over evil. Delicious food and sweets are also a part of the festivals. On the final day of Durga Puja, people decorate their houses, wear new clothes, and pray to Durga for blessings to overcome hurdles in their life. We wish all our readers a very Happy Durga Puja!