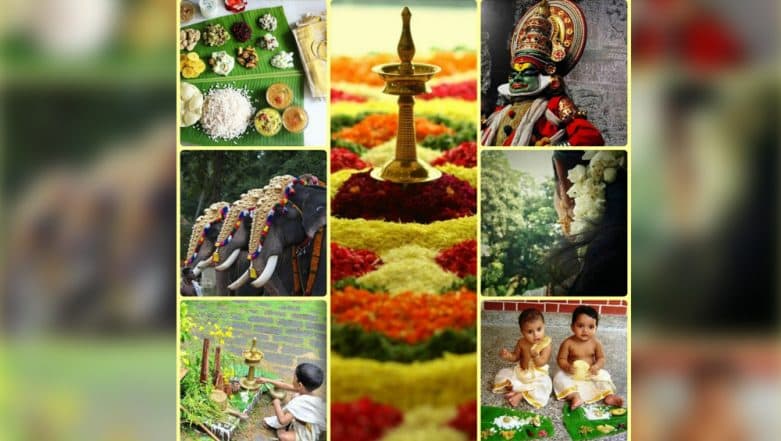 It is about time for Onam, the annual harvest festival of Kerala is celebrated in the month of Chingam as per the Malayalam calendar. The months usually falls in the month of August-September according to the English calendar and therefore this year it will be celebrated from September 1 to 13. People are wishing each other a happy Onam and Atham. Kerala's biggest celebration, Onam is a huge event in the beautiful state. Right from decorated elephants, to boat races, the vibrant Onam festivals include dance, art, music, decorations, rituals and Onam Sadhya, a special meal eaten on that day. The most important day of Onam also known as Thiru Onam will be celebrated on September 11th but the wishes have already begun flooding social media platforms like Twitter, Facebook and Instagram. In Malayalam, Onam is wished as "ഓണം" or "Onasamsakal." Onam 2019 Date: Story, Significance And Celebrations Related to the Harvest Festival of Kerala.
Happy Onam To All
Pic of this season.Happy Onam to all. pic.twitter.com/6kn58LQBP8

— VIRATHINDU (@VIRATHINDU13) September 2, 2019
The Most Colourful Festival
#Atham as the festival of onam begins 🎉🎉 pic.twitter.com/6lot3xDe4R

— ㄒR卂ᐯ卂N匚ㄖR乇 (@Yummy_20002) September 2, 2019
Happy Atham
Happy Onam to those who celebrating. #Atham #Onam2019 pic.twitter.com/PcBuLh3VrK

— Prem prakash (@im_prem07) September 2, 2019
First Day Of Onam
happy first day of Onam to everyone celebrating 💜🌾🌱🌸🌹💖✨ pic.twitter.com/S12ldG6cSA

— golden sum ✨💫 (@Namjumi) September 2, 2019
Atham Wishes
Happy Atham and Happy Vinayak Chathurthi pic.twitter.com/Rl1aMADoKH

— DivyaBinu (@DivyaBinu5) September 2, 2019
The Day Sees Two Celebration: Ganesh Chaturthi and Onam
Its Vinayaka Chathurthi and Atham - beginning of Onam festivities

May Ganapati Bhagavan enrich your life by giving great beginnings and removing obstacles! #GaneshChaturthi & #Atham day wishes for all friends pic.twitter.com/vh5ifHQGah

— Anjali 🇮🇳 (@iamanjooti) September 2, 2019
Let The Celebrations Begin
Happy Atham 🌼#atham #onam pic.twitter.com/XuAU3p56rE

— priya (@priyakrajesh) September 1, 2019
Beautiful
Happy Onam @DiyaMenon6 and @amruthaspeaks pic.twitter.com/TCYso4cQgm

— ritzy💞 (@ritusamanta) September 1, 2019
We wish all of you a happy Onam and Ganesh Chaturthi as well. May the festival colour and lights fill your home with happiness and joy.