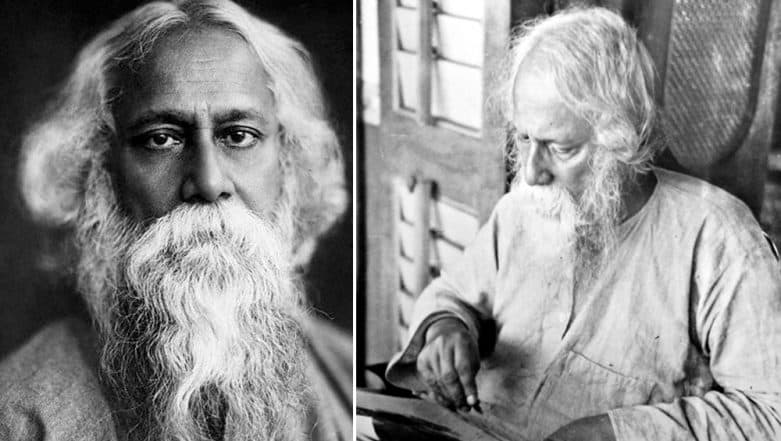 Kolkata, May 7: Rabindranath Tagore, the great Indian poet, statesmen, artist and Asia's first ever Nobel Laureate in Literature (he returned the prize in protest of the Jallianwala Bagh Massacre) was born on this day in the year 1861. Tagore was a multi-faceted artist, who excelled in the arts of painting, poetry and song composition. He is generally regarded as one of the most outstanding minds to have emerged from 20th century India.
Born into an illustrious family, Rabindranath Tagore's father Debendranath Tagore was a religious reformer. Rabindranath Tagore began to write poetry and verses at an early age and was sent to England to pursue his studies, as was the norm in rich families in British India. However, he left his studies incomplete and returned to India, to embark on a remarkable creative journey.
Just like his poems, Rabindranath Tagore gave the world many brilliant quotes which provide us with a glimpse of the great man's understanding of the world.
10 POETIC AND BRILLIANT QUOTES BY RABINDRANATH TAGORE
1. Clouds come floating into my life, no longer to carry rain or usher storm, but to add color to my sunset sky.
2. You can't cross the sea merely by standing and staring at the water.
3. Death is not extinguishing the light; it is only putting out the lamp because the dawn has come.
4. Faith is the bird that feels the light when the dawn is still dark.
5. Let your life lightly dance on the edges of Time like dew on the tip of a leaf.
6. The butterfly counts not months but moments, and has time enough.
7. A mind all logic is like a knife all blade. It makes the hand bleed that uses it.
8. I slept and dreamt that life was joy. I awoke and saw that life was service. I acted and behold, service was joy.
9. Don't limit a child to your own learning, for he was born in another time.
10. Love does not claim possession, but gives freedom.
Given above are just a few quotes by Rabindranath Tagore which nonetheless provide the readers with an introduction into the large thinking canvas of the great artist that Tagore was. He went on to write more than 2000 songs which have become a cultural treasure store for Bengalis all over the world. Tagore also founded the experimental center of learning called the "Shantiniketan" which means the Abode of Peace. The center continuous to be a great place of learning and has been nurturing artists for generations. Rabindranath Tagore's contributions to the development of the Indian mind and World literature are endless and LatestLY pays its tribute to the great artist and cultural icon on his 158th birth anniversary.