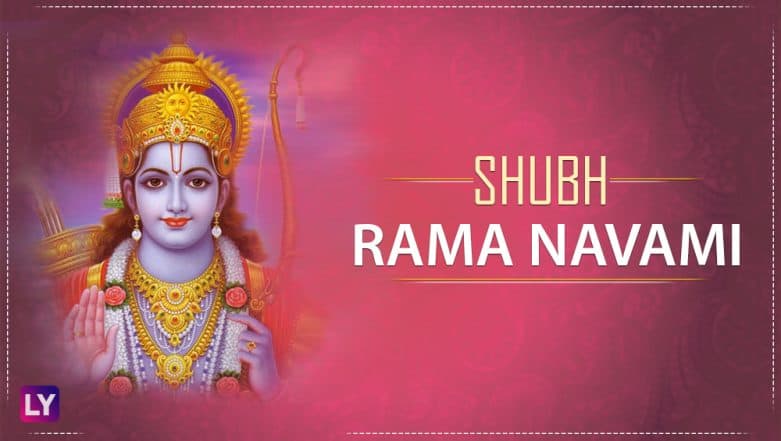 One of the most famous Hindu festivals celebrated across India is Ram Navami, the auspicious day marking the birth anniversary of Shri Ram. According to Hindu mythology, Lord Ram was the seventh avatar of Lord Vishnu, one of the Hindu Trinity of Gods (other two being Lord Shiva and Lord Brahma.) Rama Navami is a part of spring festival Chaitra Navratri as Rama was born to Maa Kaushalya and Raja Dasharatha in Ayodhya on the ninth day of the bright half (Shukla Paksha). Ram Navami 2018 date falls on Sunday, March 25. Being one of the most significant and popular Hindu deities, the celebrations and festivities on Ram Navami are done on a grand scale. Be prepared to send and receive tons of WhatsApp messages and greetings wishing Happy Ram Navami 2018 or Ram Navmi Ki Hardik Shubhkamnaye!
We have posted a collection of warm and religious Ram Navami messages in Hindi along with beautiful images of Lord Rama to celebrate the birthday of Hindu God Ram. These wishes, quotes, GIF images and harmonious mantras can be sent as greetings on WhatsApp, Facebook and SMS or be set as status and even WhatsApp display picture (DP).
Ram Navami concludes the nine-day long festival of Chaitra Navratri, which began on March 18, last Sunday. A big occasion for the millions of Shri Rama followers not just in India but all across the globe. The word Rama is a combination of words "Ra" which in Sanskrit means "That Which is Radiant" and "Ma" stands for "Myself". The word means – "That which shines forth within me, is Rama. That which is radiant in every particle of the Being is Rama." Such is the charisma of the almighty powerful being who left all comforts of Vaikunthdham or Vishnuloka and took birth as a human to curb the growing evil on the planet. He came to establish Dharma or righteousness on earth.
Celebrations on Ram Navami festival will see a majority of devotees observe fast on an auspicious day. They will venerate the Hindu god either by establishing his idol at home or visit temple. From following rituals (puja vidhi) to chanting Jai Shri Ram mantras and participate in singing kirtans, one also indulges in listening to stories of Lord Rama, from his childhood to killing Ravana, the demon king of Lanka to finally becoming the King of Ayodhya and establishing Ram Rajya. Here's a list of most heart-warming lines and mantras praising Rama that you can send it as wishes and greetings on the occasion of Ram Navami.
WhatsApp Message Reads: Ram Ji Ki Jyoti Se Noor Milta Hai, Sabke Dilo Ko Shurur Milta Hai, Jo Bhi Jata Hai Ram Ji Ke Dwar, Kuch Na Kuch Jarur Milta Hai. Ram Navmi Ki Hardik Shubhkamnaye.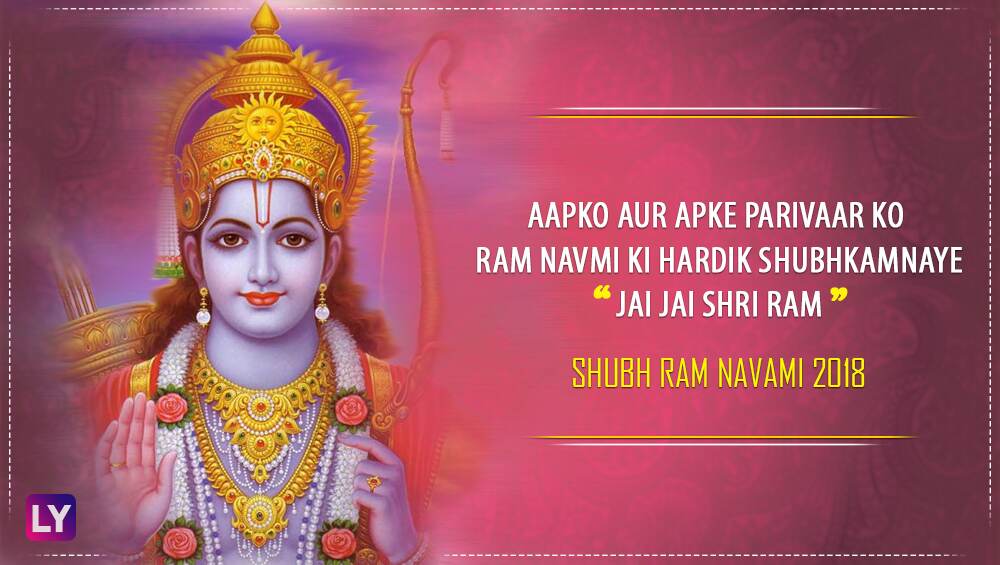 WhatsApp Message Reads: Aapko Aur Apke Parivaar Ko, Ram Navmi Ki Hardik Shubhkamnaye, "Jai Jai Shri Ram". Shubh Ram Navami 2018.
WhatsApp Message Reads: बलवान तुम सबसे महान तुम, भक्तों को देते वरदान तुम, गुणवान तुम हनुमान तुम, मंज़िल को करते आसान तुम जेय श्री राम.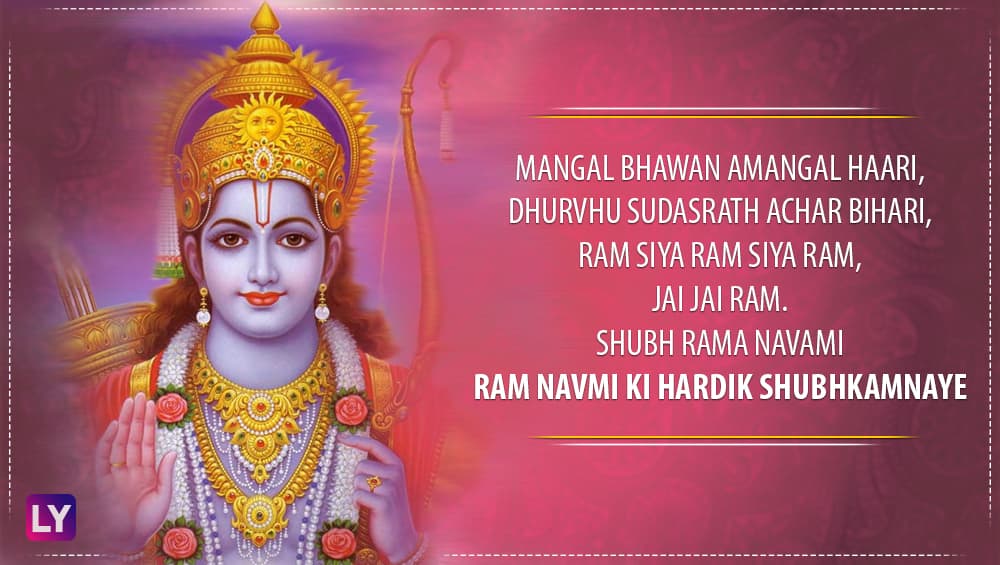 WhatsApp Message Reads: Mangal Bhawan Amangal Haari, Dhurvhu sudasrath achar bihari, Ram Siya Ram Siya Ram,
Jai Jai Ram. Shubh Rama Navami. Ram Navmi Ki Hardik Shubhkamnaye.
WhatsApp Message Reads: समंदर मे भी पत्थर डूबते नही, सच के रंग धोने से कभी छूट-ते नही, दूसरों की मदद करने से जो चूकते नही, रामजी ऐसे बन्दो को, आशीर्वाद देना भूलते नही.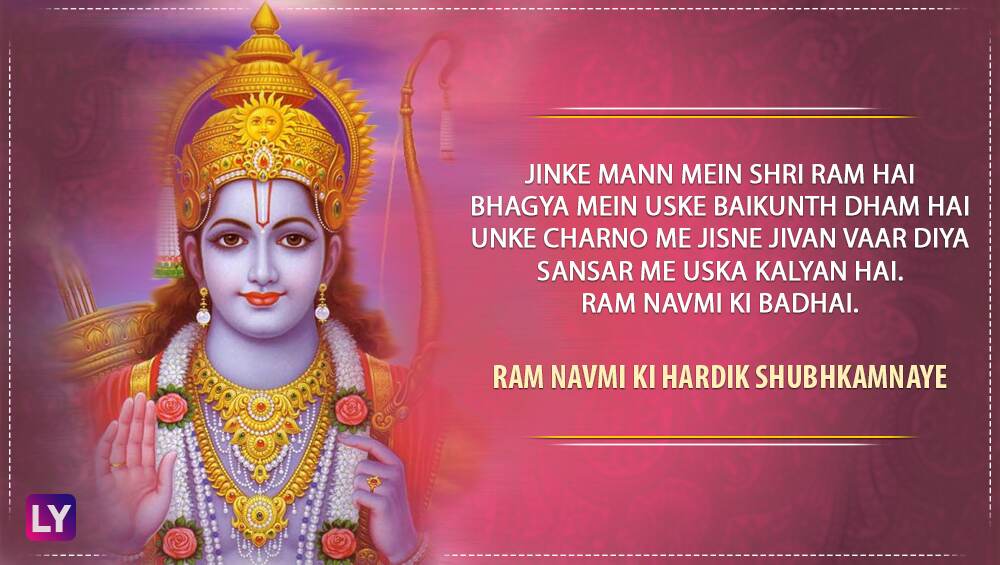 WhatsApp Message Reads: Jinke Mann Mein Shri Ram Hai, Bhagya Mein Uske Baikunth Dham Hai, Unke Charno Me Jisne Jivan Vaar Diya, Sansar Me Uska Kalyan Hai. Ram Navmi Ki Badhai. Ram Navmi Ki Hardik Shubhkamnaye.
WhatsApp Message Reads: राम जी की ज्योति से नूर मिलता है, सब के दिलों को शुरूर मिलता है जो भी जाता है राम जी के दरबार, उसे कुछ ना कुछ ज़रूर मिलता है.
WhatsApp Message Reads: Gunwan Tum Balwan Tum, Bhakton Ko Dete Ho Vardan Tum, Bhagwan Tum Hanuman Tum, Mushkil Ko Kardete Aasan Tum
Jai Shri Ram. Ram Navmi Ki Hardik Shubhkamnaye
WhatsApp Message Reads: आज राम प्रभु का जन्‍म हुआ, आज हम सब बड़े पावन हुए, आज होगी खुशियों की बौछार, ऐसा है राम नवमी का त्योहार.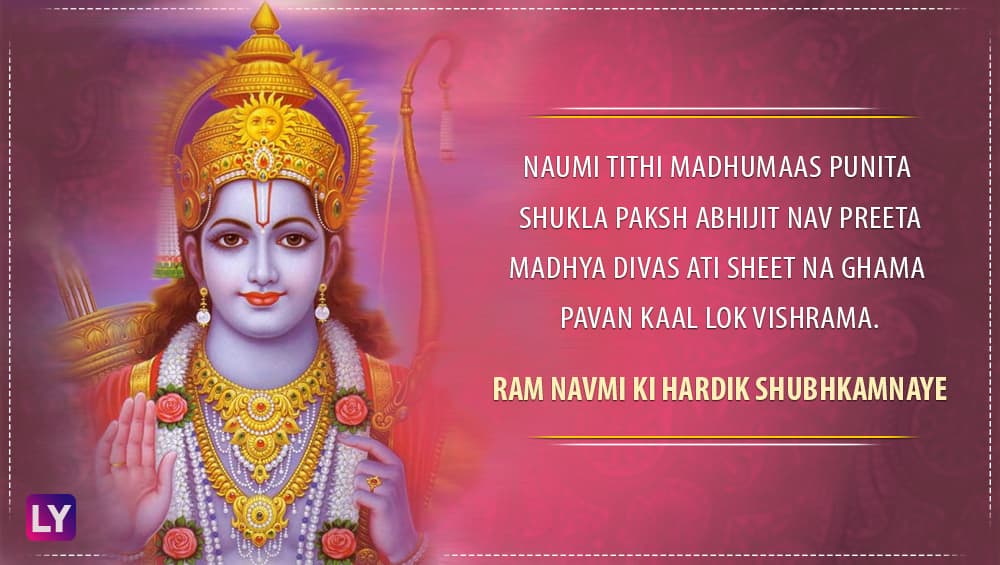 WhatsApp Message Reads: Naumi Tithi Madhumaas Punita, Shukla Paksh Abhijit Nav Preeta, Madhya Divas ati Sheet Na Ghama, Pavan Kaal Lok Vishrama. Ram Navmi Ki Hardik Shubhkamnaye.
We hope the above collection consisting of both messages and images of Lord Rama is helpful in wishing your near and dear ones a very Happy Ram Navami 2018. The day also marks the celebrations of Mahagauri Puja, as well as Siddhidhatri Puja for Ashtami and Navami muhurat, falls on the same date this year. Wishing all you folks a happy and blessed Ram Navami.