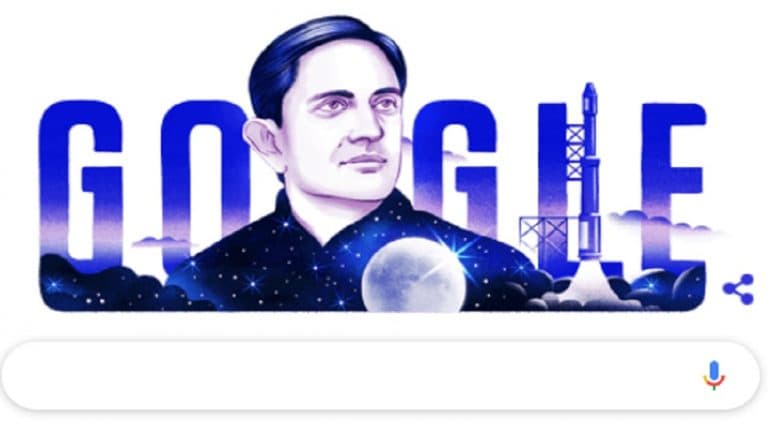 New Delhi, August 12: Vikram Sarabhai, widely known as "father of India's space programme", has been honoured on his 100th birth anniversary with a doodle by Google. The search engine giant changed its landing page in memory of the late scientist, who was the first head of the Indian Space Research Organisation (ISRO).
Born on August 12, 1919 in Ahmedabad, Sarabhai went on to study abroad in Cambridge, only to return to his nation and deepen independent India's scientific temperament. Several institutions, which contributed in the nation's scientific achievements, were founded by him. ISRO to Celebrate Centenary of Space Pioneer Vikram Sarabhai
The list includes Physical Research Laboratory (PRL), Indian Institute of Management (IIM), Community Science Centre, Darpan Academy for Performing Arts, Vikram Sarabhai Space Centre, Thiruvananthapuram Space Applications Centre, Faster Breeder Test Reactor (FBTR), Kalpakkam Variable Energy Cyclotron Project, Calcutta  Electronics Corporation of India Limited (ECIL) and Hyderabad Uranium Corporation of India Limited (UCIL).
ISRO, which has added several feathers to India's space arsenal cap, has described Sarabhai as a "great institution builder and established or helped to establish a large number of institutions in diverse fields".
"Sarabhai was a creator and cultivator of institutions and PRL was the first step in that direction," the space body further added.
After immensely contributing in the scientific realm for the nation, Sarabhai suffered a shock demise at the age of 52. It was the night of December 30, 1971, when he breathed his last at the Halcyon Castle in Thiruvananthapuram, after suffering a cardiac arrest.