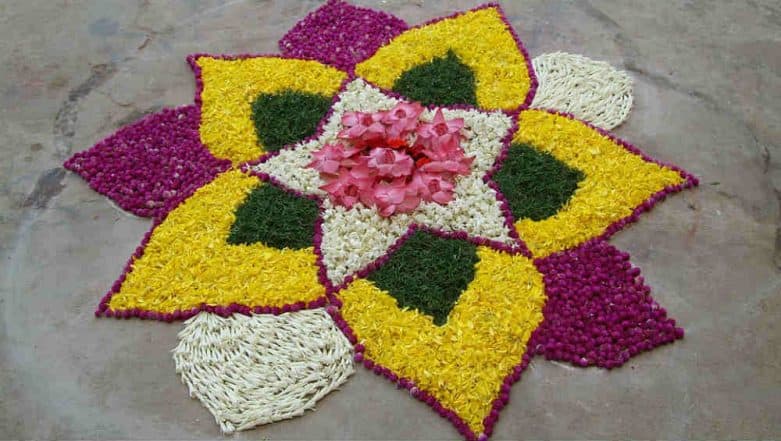 Vishu is the Malayalam new year celebrated by people of Kerala. The day falls on April 14 this year and Malayalees adorn themselves to the flavours of the state in their traditional style. Malayalee Hindus worship Lord Vishnu or Lord Krishna and visit temples on Vishu in the morning. The feast or sadya and flower arrangement or pookalam include part of Vishu festivities.
Flowers of different colours and shapes are arranged in beautiful designs outside houses in Kerala. People with lack of space living in cities, make the Vishu rangoli inside their house. Kolams or white rangoli designs made of rice flour are also done in some parts of Kerala.
Marigolds, rose petals, jasmine, small green cut grass are used in making of a pookalam. Various designs are created with these flowers. People also place a Nilavilakku or oil lamp in the centre of the flower arrangement.
Here is a simple and quick flower rangoli you can try at home this Vishu:
Kanikonna or golden shower flowers constitutes an important part of the celebrations. It is one among the many auspicious items kept in a Vishukkani. A day before the celebrations people arrange kanikonna flowers, fruits, vegetables, grains, gold jewellery, silver coins, mirrors, lamps etc inside a metal vessel and keep it in front on a Lord Vishnu idol. People wake up in the morning with closed eyes and open only once in front of the auspicious decoration.
Vishu represents the celebration of the spring equinox. It is observed on the first day of the month called Medam, first solar month. The day signifies the transition of the sun into the Medam Rashi. Elder people in the family give money to the younger ones in the house on this day which is called Vishukkaineetam. People prepare sweets, distribute it among relatives neighbours and friends. People wear new clothes on this day and wish others 'Happy Vishu'.