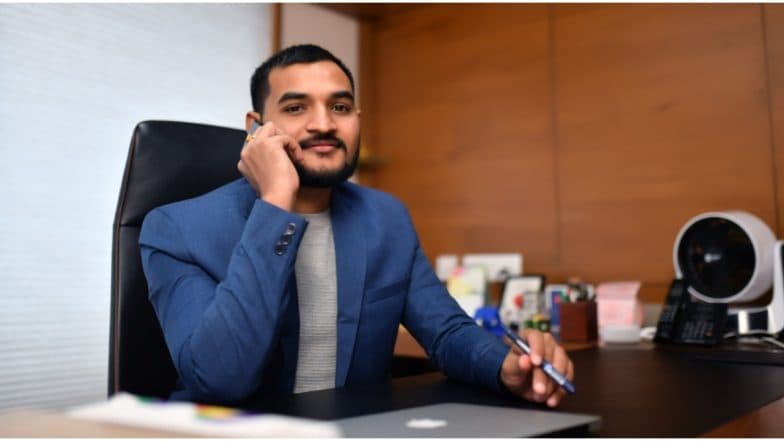 Every story begins with a single word, and every journey begins with a step. There's no limit to where the story might end, just like there are no boundaries to a journey. The story and journey of what began as a simple page back in 2015 is leaving an inspiring mark on every social media website. Scrawled Stories, founded by Krunal Patel, is one such remarkable platform that is recognized by its 3 million followers.
The main concept behind Scrawled Stories was developed by Krunal, who gave up his settled business stream to pursue his passion for stories. He wanted to create a platform where others could display their work and love for words, and the readers would enjoy reading it. Scrawled Stories page has a lot of
musings and micro-tales that are relatable to a huge audience.
The page was originally created for Krunal's own write-ups, but after receiving submissions from his followers, he chose to risk a different route. And that risk paid off marvellously well!
Today, every post on the page goes viral almost rapidly. The 4,000+ posts are spread over major media platforms and have covered an interesting range of topics. Though they are known for their relatable tales, the brand has also indulged in long-form stories, open letters and listicles.
Krunal Patel, originally from Ahmedabad, has spoken about how stories need to be recognized in this world. He believes that each one has a story in their minds and lives, but never really get to the point where it is out there. Scrawled was initiated for this such reason.
Businesses like Red Chillies Entertainment, OYO Rooms, Brand Factory, Engage Deo, Bank Bazaar, and even international influencer Gary Vaynerchuk, are a few to be named that have had successful collaborations with Scrawled Stories. Without too much disclosure, Scrawled Stories is still in the eye of many more commercial brands, so watch out for more interesting collaborations on their page.
Each collaborated post that goes up on the page ranges around 70,000 INR, while month-long or annual collabs serve a six or seven-figure amount. With high scale success, the Scrawled Stories platform is now moving onto the launch of their app which
is due on November 2019. The app will be one of the first to feature the status of submitted entries on the writer's app profile. Word is that even the audience will be able to select and read-only what they prefer based on their interests.
The app is said to be available on App Store as well as Play Store on iOS and Android platforms. Scrawled Stories received about 6,000 followers and about 4,000-5,000 submissions a day through their User Generated Content model from more than hundreds of thousands of writers all around the globe.
Krunal knew he was doing something right and moved ahead in the same direction. And with the onset of the app, the Scrawled team is prepared to ace their numbers once again.
"The thought behind creating a platform where everyone could come together as one and share their passion for writing has been a dream journey. And it continues to evolve with passing time. We are always looking out for stories that can enthral an audience, so if you have the words then bring them to us!" says Krunal.
The team members at Scrawled Stories are passionate writers themselves, and contribute greatly to the success of the page. Krunal, along with his team, are stepping ahead to make sure Scrawled Stories grows bigger than ever.
The main aim revolves around thriving Scrawled amongst all media houses. "It's been an unbelievable journey. I never imagined we'd get to where we are, and that just motivates me to keep going ahead." – Krunal Patel. Just so readers and writers have a flawless scroll on their socials, pages like Scrawled work harder each
day to deliver. Rome wasn't built in a day, and so we can only hope for the greatest in the coming months and years for Scrawled Stories.