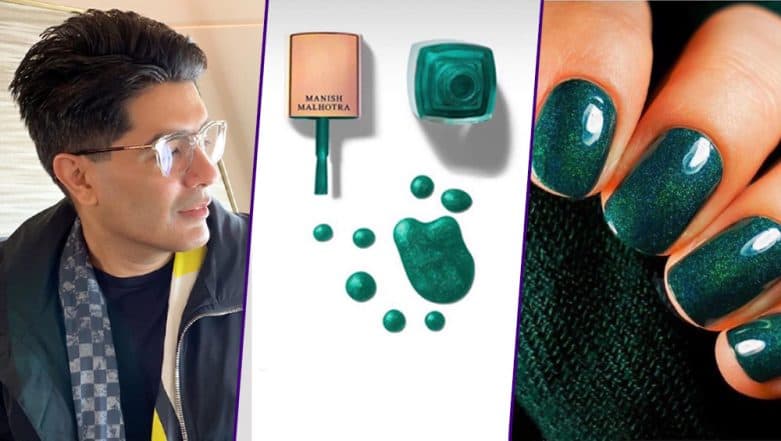 Manish Malhotra and MYGLAMM collab are facing some heat by customers, after a nail polish shade sold by the brand does not match the colour advertised in the campaigns. The colour and the exact same picture have been found on a search page of Google and the image belongs to Shutterstock. People have called out the brand on an Instagram page which exposed the brand and Manish Malhotra collab. The account posted the image and left the comment section open for beauty junkies for discussion. Best And Worst Dressed Over The Weekend: Bipasha Basu, Shibani Dandekar, Esha Gupta Weren't All That Stunning!
The caption of the post states, in under eight minutes and counting, about 2100 people reported the shade advertised by the company does not resemble the picture in the campaign. In fact, the shade can be found when searched for "green nails". The image is owned by Shutterstock and a Shutterstock image was used for the marketing of the product instead of taking pictures of the products. People seemed upset in the comment and said he should just stick to making clothes. People are finding this situation rather hilarious and waiting for the brand to let some "intern" take the blame, just like every other brand that goofs up. Sonam Kapoor, Sonakshi Sinha and Mrunal Thakur Baffle us With Their Fashion Choices This Week - View Pics.
The Post Where It Was Revealed
This is not the first time a brand has used random images for their own benefit. YouTubers like Tati Westbrook, Nikkitutorials and Sophdoesnails have made videos on random ads using clips from their videos for selling their products. When in reality, these influencers had no idea about the brand that used their content. These influencers had warned their audience to not trust any random Facebook or Instagram ad featuring them. But what about legit brands and celebrity collabs?