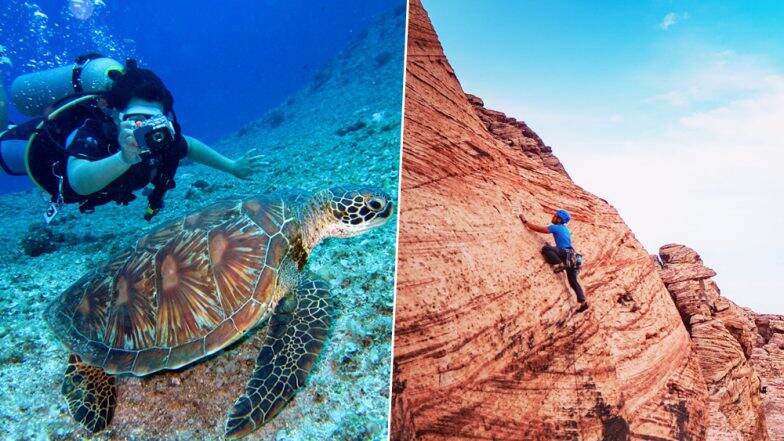 A travel trend that began a few years ago has increasingly become quite popular among travellers. Known as 'last chance travel' or 'last chance tourism', the concept was expected to bring a major shift in the travel industry. Just like the self-explanatory term suggests, 'last chance tourism' is about travelling to a place that may get wiped out, primarily due to climate change. There are innumerable tourist destinations around the world that are terribly affected by the irreversible effects of global warming. Some of the popular ones in the list include The Great Barrier Reef in Australia, the Amazon forest cover located mostly in South America, Russia's snowy the Yamal Peninsula, Japan's ice monsters, Maldives, Alps and Alaska. Planning a Trip to Thailand? Clicking Pictures on This Phuket Beach Could Land You in Jail or Even Death Sentence!
While the travel industry believes 'last chance tourism' is the big boost it rightly deserves, environmentalists, experts and nature lovers do not agree. In the modern age, with 'affluent' Instagram users letting rest of the social media users envy the oh-so-beautiful world out, the novelty and excitement of seeing a place for the first time are mostly lost. To explore the unexplored has been the trend and has only seen a steep spike in recent years. In the process, Instagram throws open doors to places which need to be protected, is endangered, threatened or to simply put, places where humans are not welcomed. 'Last chance tourism' is a tour of the places that may soon be wiped of the planet due to the ever-increasing global warming, caused directly by human intervention. 4 Truths That Make Us Wonder Whether The Earth Will Survive 50 Years From Now.
The travel concept can be debated well from both sides.
Pros
A heavy propagation of the idea would bring along a large influx of visitors to the places which may not exist 10 years from now. Positive thinkers believe the money generated from the flow of tourists can be used to conserve the place. It would also create awareness about how human activities have directly affected tourist locations. The method can be used to educate people in a better way on climate change and its effects on the environment, probably helping raise a generate that would treat nature in a better way. It would also help the local economy. Travel Tip Of The Week: 5 Ways in Which You Can be A Responsible Traveller.
Cons
While these places will become popular, they may not be able to handle overtourism. Many popular tourist locations around the world have either shut down or maintained a cap on the number on everyday visitors due to its effects on vulnerable land. Iceland temporarily closed one of its popular tourist attraction, the canyon of Fjaorargljufur, due to environmental damage caused by overtourism. In the process, social media which already has a great influence on people's choices of holiday destinations, will become the deciding factor. People will end up with a terrible quest for unknown places and end in 'sacred' locations where humans are uninvited. And there will be an increase in the number of people who feel less worthy simply because they cannot afford these budgets. And while managing to highlight the issue, we may destroy them a little faster than expected. Dead Bodies Appear on Mt Everest; Climate Change Cause Melting Glaciers, Exposing Corpses of Unfortunate Climbers.
The notion of 'last chance travel' sprouted following a 2016 study on the Great Barrier Reef, where researchers found that 70% of the visitors had travelled a lot to see the world's largest coral reef system "before it's gone". Overtourism not just affects the land, but meddles with the indigenous cultures and things unique to the region. While 'last chance travellers' would be more environmentally conscious, these fragile destinations can be affected by pollution and put more pressure on them.