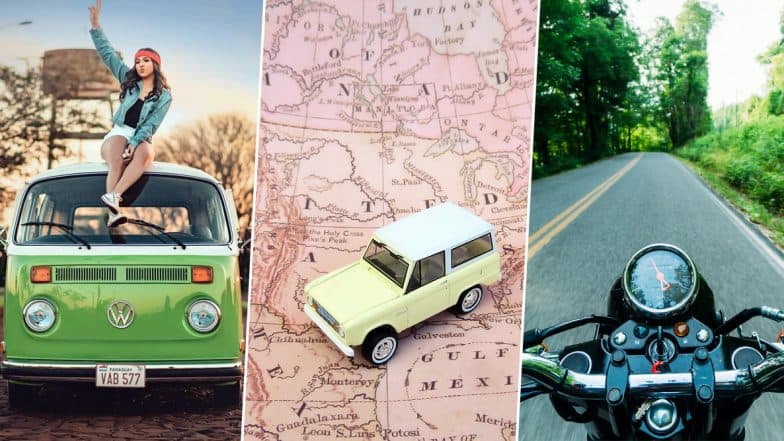 Road trips amount for one of the best memories. It's full of fun, adventure and a lot of wrong turns. But, there's nothing like feeling the breeze in your hair and grooving to your favourite song with your favourite bunch of people. Road tripping is liberating in a lot of ways and at the same time involves risks if you are well prepared. While weather and season play a major role in road trips, there are some basic things we need to carry for long drives. If your trip extends for more than a day, you need to think about everything that will help you enjoy while on the move. 15 Simple Hacks To Make Sure You Travel Like a Pro!
Road trips are the best way to explore a place. And if you are someone who doesn't believe in conventional ways, then road tripping is clearly meant for you. Your epic adventure trip is completely the way you plan it, so you need to have control of your time, speed and destination. While things you can accommodate on a bike trip are quite different from what is required on a car trip, we would still suggest you make a list of things, so that the basic essentials are always with you. Here, we bring you things you need to pack for your next road trip. Plan a Stress-free Vacation by Keeping These Basic Things in Mind.
GPS
While we all have Google Maps on our phones, do a double-check that the app is doing fine. It will help you reach your location without having stop thousand times asking for directions
Food And Water
If you are going by car, make space for big water bottles and don't drink it all at a go, because you will end up having to use the washroom every now and then. Pack light food which will help you move around without feeling a heavy tummy. Carry enough snacks and energy bars to much on, in the between. 5 Ways in Which You Can be A Responsible Traveller.
Spare Tire
Make sure you carry a spare tire in case you end up with a flat one. Ensure you also have tools required to change it, because in remote locations you may not find garages. Check that your kit contains jumper cables, gloves and ropes.
Toiletries And Medication
If you are travelling through places where hotels or departmental stores are not present, make sure you carry the below-mentioned items. While for those going on a day trip may not require it, travellers planning on days-long journey, must have these things. Some of the most important things include towels, face wash, tissue, toilet paper, deodorant, sanitary pad and sunglasses.  For emergency situations, it is advisable to carry disinfectants. Also carry basic medication in case of problems like indigestion, high or low BP or a rise in body temperature. And if you are someone with motion sickness, make sure to carry a lemon or anything citrus. Sniffing lemon can stop the pukish feeling and make you feel better. Travelling Alone? Things To Keep in Mind Before a Solo Trip.
While these are some of the important things you must carry on road trips, you can bring in some fun elements also on the go. Can take along travel games, speakers, a book, portable WiFi and good cameras. Road trips often let you explore better as you can stop in between and stare at the sky or maybe ride through service road because it has a better canopy. Being packed in a proper way will ensure you a hassle-free time and let you enjoy the ride. We wish you a happy road tripping!