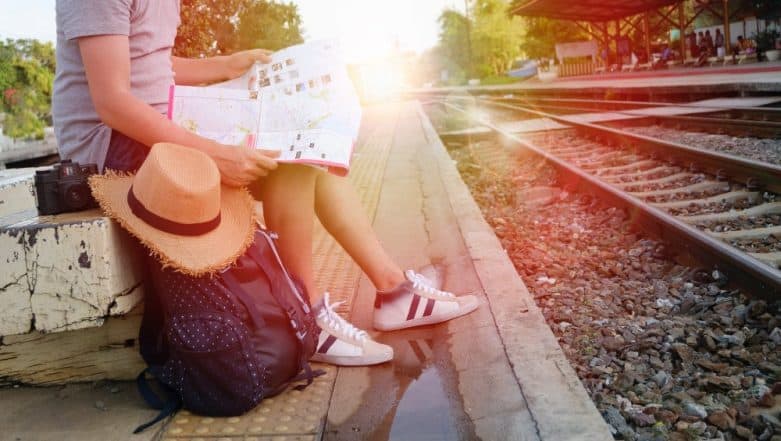 Travelling, exploring different places and getting new experiences is a hobby of almost every single person. The world is too vast to explore all together and some of you who are ardent travellers would be spending considerable amount of time to plan your vacations. While planning and executing your journey is important, you should also be ready for some unexpected stressors. It need not be too serious, but in today's time even roaming with a not charged phone is a stressful thing. Simple things like your clothes getting wet to losing your way in an unknown place, can ruin your experience of some places. But for all the tiny and unexpected things that we all at some point can face on a vacation, we give you some travelling hacks. These are simple solutions to problems that might not occur, but it is always better to know what can be done in such a situation. Travel Tip of The Week: Plan a Stress-free Vacation by Keeping These Basic Things in Mind.
15 Simple Travel Hacks That Will Make Your Vacation Enjoyable
1. Plan in advance. While unplanned trips may have their own joyful experiences, it is always better to know the destination and where exactly you are going to stay before you step out. It is safe and you don't have to worry about it while you are on your way.
2. Book flights in incognito mode. You will get a slightly cheaper rate. Also, try and book your flights on Tuesdays, airlines have the best deals on this day of the week. Travel Tip Of The Week: 5 Ways in Which You Can be A Responsible Traveller.
3. Roll your clothes while packing instead of neatly folding them. This is one of the best tricks to save space and stuff more things in your small suitcase. Your innerwear, socks, handkerchiefs can be fitted in pockets and sleeves of your other clothes too.
4. Carry dark clothes. It just ensures that if you are on long journeys, they hide the dirt and stains better. Avoid whites. But while heading for nature trails, ensure you have clothes matching the environment you are going to be in.
5. Keep a scanned copy of all your identification documents in your phone, where you can access it even if there is no network. You can save them in your phone gallery instead of emails. You never know when you will be asked for it. Travelling Alone? Things To Keep in Mind Before a Solo Trip.
6. Always keep a pen and notepad with you. With everything switching to the digital medium, it is still better to have a notepad handy to scribble on. If you are asked to fill out a form, you'd rather have a pen handy instead of asking others around.
7. If your clothes haven't dried up or unexpectedly gotten wet, always have a plastic bag to keep them. And to ensure they don't stink, put the hotel soap bar in the bag.
8. Keep cash in places other than your wallet. Make a roll of notes and stuff them in empty bottles or chap-stick tubes. It is a brilliant way of hiding your money. No one is going to aim for your shampoo bottles or chap-stick, but your wallet is an obvious target to steal. Wayanad to Shillong, 6 Hill Stations in India That You Should Visit to Feel The Chill This Summer.
9. Download Google Translate for offline use if you are headed to a new country. You may not always find someone to translate especially in the local remote areas.
10. Always keep your toiletry kit packed.  You must have a separate set of toothbrush, paste, face wash, moisturiser, shampoo etc ready so you can just put in your bag and not worry about the small but most important stuff. 8 Travel Essentials That You Must Carry in Your Backpack.
11. If the room you are staying at doesn't have many charging points, you are going to end up fighting with your mates to take the point. Most rooms do have a TV these days and if you check at the back, there is a USB slot. So charge your phone through the TV.
12. Wherever you find an ATM, get cash withdrawn for your further travel. Not all places may have an ATM and sometimes you may get no network to do online transactions.
13. Whether you are travelling solo or in a group, if you are travelling to a completely new place, then before you begin, save the phone numbers of the local tourist services. You can go out exploring on your own but in case of emergency, you need to know how to reach back.  So go and figure out a few reliable tourist operation services in the area and take their numbers.
14. Go local as much as you can. Instead of choosing fancy dining places, go to local eateries. They will not just save you money but also give you a lovely experience. Interact with the locals, know about their way of life, form connections.
15.  Don't forget to leave your reviews and feedback at the places you visit. Your reviews can help a lot of others to visit the place. Give recommendations on various travel sites. This is a good way of earning rewards and discounts.
These are some of the easy and simple hacks that you all should know and keep in mind. Travel smart and you will enjoy the trip better. Keep this list handy and don't forget to share with us some travel hacks that you've been adopting on your journeys. Happy travelling, folks!