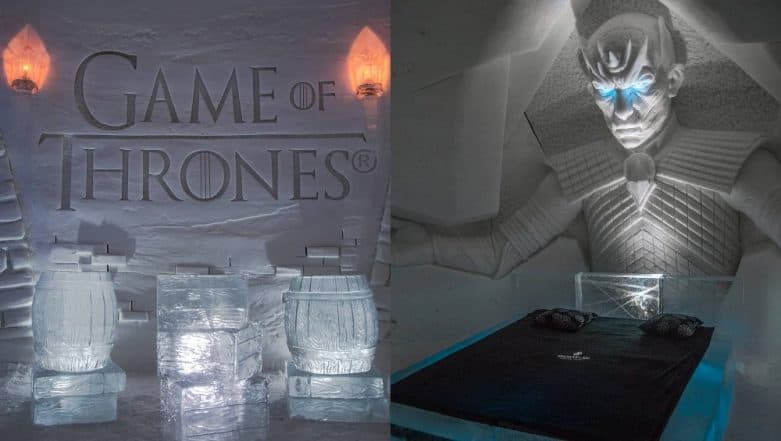 Game of Thrones fans, you are in for a treat! Fans, your vagabond is going to get a nice and sweet upgrade as Finland has teamed up with HBO Nordic to present their second GoT-centric hotel! Lapland Hotels' SnowVillage located in Finland has collaborated with HBO Nordic to come up with their second partnership of a fantasy-space which is located 120 miles above the Arctic Circle.
As per Hypebeast.com, the hotel is utilizing over 45,000 cubic meters of snow and 400,000 kilos of natural ice to complete the design. Detailed sculptures of Game of Thrones characters including a life-size Iron Throne with swords, the Night King placed at the head of the bed, a White Walker emerging from the wall with glowing blue eyes, etc are some of the highlights of the hotel.
Game of Thrones-themed hotel
A video tour of the hotel 
As for the customers to survive the frigid temperature inside the hotel, SnowVillage is offering hot berry juices and a thermal fleece-lined sleeping bags. The temperature is somewhere between -2 degrees Celsius and -5 degrees Celsius. Considering how the conditions in the hotel are so chilly, the management recommends that the guests limit their stay to one-night so as to avoid being frozen to death.
A look at the rooms in the hotel
All made out of real ice
Another video of the bar and restaurant 
They also have warmer rooms and cabins for their guests. The hotel offers a sweet entertainment segment for the guests, an ice bar, a frosty restaurant and dragon ice slides. The hallways are lined with pristine sculptures from Russian, Latvian, Polish and Ukrainian artists. The Game of Thrones-inspired hotel runs until April 8 in line with the weather permission. A standard double room starts at approximately $270 USD while the snow suites start at $360 USD.