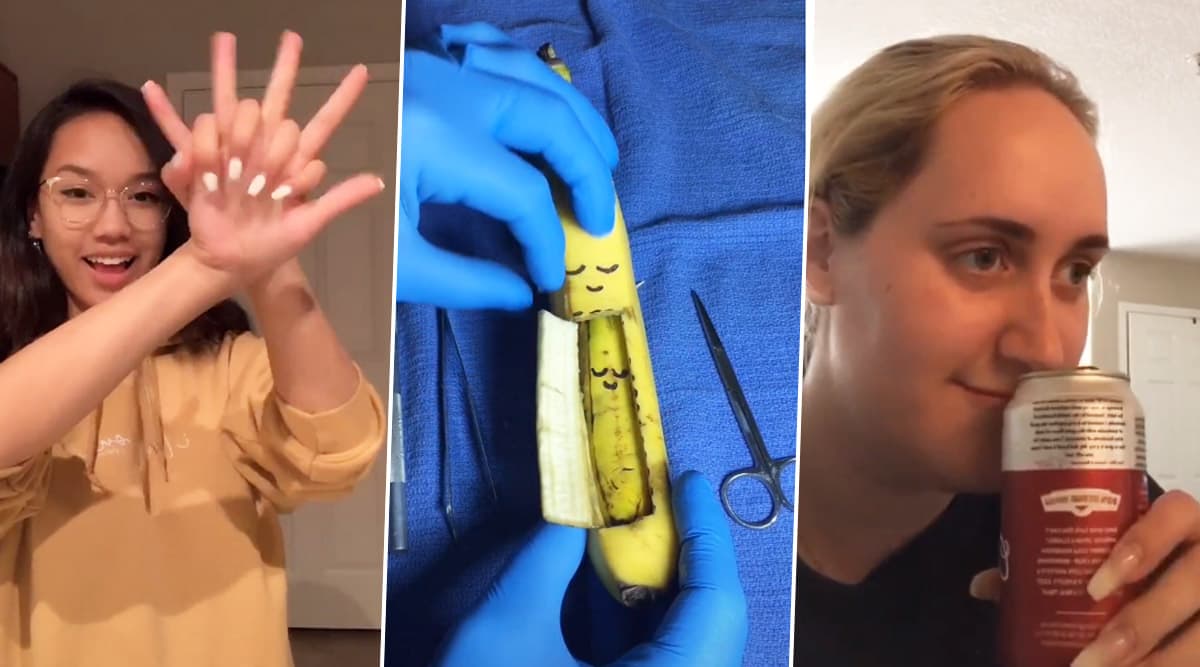 The internet generation as they rightly call us, we keep switching from one app to another. Earlier it was Facebook and Twitter, now more and more people are active on Snapchat and Instagram comparatively. Another addition among all of these apps this year is TikTok. The short video making application got everyone hooked, with the kind of silly to funny videos that are made here. TikTok indeed saw a boom in social media space with more and more people making videos and starting trends. TikTok Challenges also came along, be it something really silly like colouring your hair or just trying out a dance step. As the year of 2019 comes to an end, we look at the top 10 viral videos on TikTok this year. TikTok Users Mark End of the Decade Looking Back at the Joyous Viral Moments Which Captivated the Internet in Last 10 Years (Watch Videos).
TikTok saw some of the craziest to silliest videos, some of them so cringeworthy, that you'd want to just get off the app. But again they were so bad that they were good! And the application became more popular with such content. Some people included their pets in TikToks for more appeal. As we near the end of 2019, let us look at the 10 TikTok videos that went crazy viral on not only, TikTok alone but other social media applications too. Indian Village TikTok Videos Are Actually Good Examples of How The App Could Be Used (Watch Funny Clips).
David Dobrik's Science Experiment
Creators David Dobrik and Nick Uhas' created an unreal elephant toothpaste experiment which saw huge foam emerging out of a chemical reaction. The video has close to 18 million views.
The Crazy Hand Trick
A girl's play of hands serving an optical illusion of sorts confused the viewers so much! While the video got over a million views on TikTok, it went more viral on Twitter.
Cat Dancing on Mr Sandman
A video of a cat just peeking on a nine-camera split screen of The 1954 hit song, Mr Sandman started a viral challenge. The #MrSandmanChallenge had everyone show their pets dancing on the hit song.
Brick Maker and His Daughter
The father-daughter duo singing the iconic song "I Love You Daddy" melted the hearts of everyone online.
Man Taking a Swing
The internet loves optical illusions and this man playing on a swing got everyone figuring out, where was he facing. The video when shared on Twitter got over 17 million views.
Banana Pregnancy
This TikTok user showed off his creativity of cutting fruits, showing a banana having a little baby! After this video went viral, he made the same content with other fruits.
Kombucha Review
The mix of reactions of this girl trying Kombucha for the first time, made her an overnight sensation. She even became a format of memes with her variety of expression in the short clip.
Swimming Pool Fail
A girl busted a very big swimming pool and all the water moved like it would cause a flood.
Magician Imitating Harry Potter
A magician's trick of trying to fly on a broomstick like Harry Potter blew people's minds! TikTok Video of Magician Zach King Flying On a Broomstick Like Harry Potter is Making Internet Go Crazy!
Girl Killing Flying Cockroach
A girl's attempt at killing a cockroach, that too a flying one has over 5 million views! It's a funny video but will creep you out if you hate insects.
TikTok has seen a variety of content like fitness and recipe videos, dance challenges, safety tips to something really stupid! And you cannot even predict what goes viral. There are many more videos which have been gone crazy viral and that list can go on and on! For now, let us brace for more such videos on TikTok in 2020!