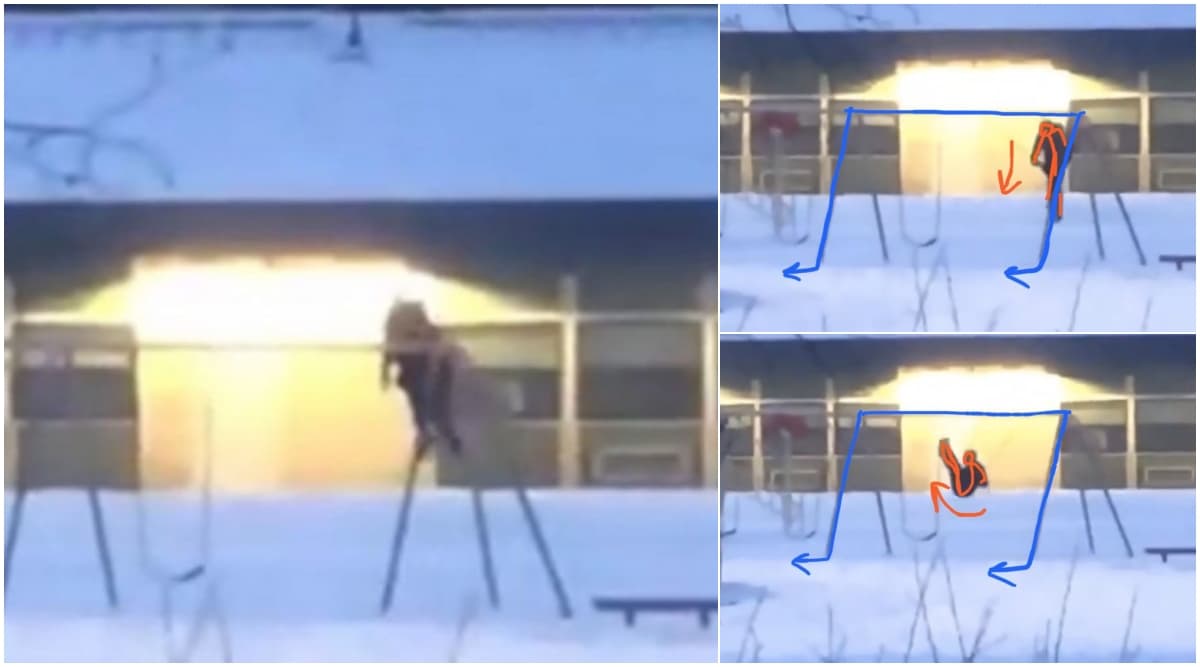 These days you cannot really figure what goes viral on the internet. Now a TikTok video of a man playing on a swing has confused netizens about which side is he facing. The TikTok video is barely 10 seconds long but has got over 8 million views on Twitter as more and more people try to figure out which side is the man facing. Shared by one Twitter user, it soon got everyone giving their own explanations and theories to determine which side he is facing. At first glance, it does look like he is facing towards the building but several people are saying he faces the camera. It has become an optical illusion with netizens drawing diagrams and markings to show which side he is facing. TikTok Video of Magician Zach King Flying On a Broomstick Like Harry Potter is Making Internet Go Crazy!
The TikTok video was shared on Twitter by a user named Ana. In the caption, the person asked which side is the person facing. In fact, the background voices in the video are also debating on which side is the man facing. The video soon blew up on Twitter, crossing 8 million views and people offering their explanations. Optical Illusion Hand Trick Is the New Viral Challenge on TikTok and People Are Really Confused About How to Do It! Check Videos.
Check The Viral TikTok Video of Man on a Swing:
Im losing my mind can someone tell me which way he's facing pic.twitter.com/gIvIDzRkOd

— Ana (@esnycuddles) December 21, 2019
Looking at the direction of his legs, it looks like he is facing the wall, doesn't it? But no, he is actually facing the camera. Read on to know the alternative explanation of him facing towards camera.
How Can He Pass-Through The Bar?
He's definitely not facing the building because his body can't just go through the bar like that pic.twitter.com/2dau0UKLh2

— Ana (@esnycuddles) December 21, 2019
Are People Trolling Each Other?
I feel like everyone who's saying "facing the building" is trolling us 🤔

— ✿ 𝐫𝐢𝐝𝐚 is seeing l&h (@fankslove) December 22, 2019
A Pictoral Explanation
I literally thought the same thing until I saw these pictures pic.twitter.com/39vNntZJ5F

— Ana (@esnycuddles) December 22, 2019
Is it Clear to You?
Its literally so clear hes facing the camera how can you even think hes facing the building are you dumb

— code mongraal #ad 🍀 (@Mongraal) December 22, 2019
How to See This Frame
for people confused, here's two ways to see the same frame! pic.twitter.com/ZDUQosrCpc

— Jimmy 🖌 GOOP (@jimmyeatsbread) December 22, 2019
y'all it's really this simple...look at the angle of the front of the swing, and look at the direction they're swinging in...they're facing the CAMERA 😭 pic.twitter.com/mAMp4qXQM5

— 𝑣𝑖𝑐 ☽ (@groovekji) December 22, 2019
Is it clear to you now? If not, then have a look at it again. This clip has really confused the internet and more and more people want to know how is this possible. Have you been able to figure out the answer?