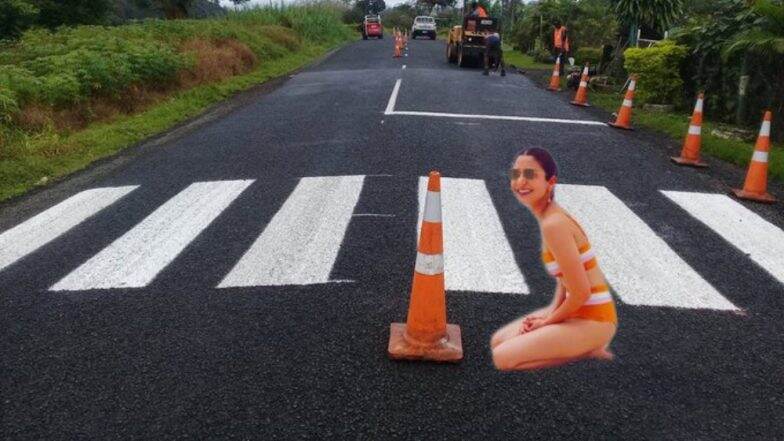 Anushka Sharma stunned everyone with her gorgeous picture from West Indies after she shared it on Instagram on August 19 and even started trending for it on Twitter. The Zero actress shared the beautiful picture with a caption saying, "Sun-kissed and blessed" as she stole everyone's hearts with her gorgeous smile. Even as fans appreciated the actress' beautiful picture, social media is a funny place and for every little thing that is available on the internet, there's always a chance of it becoming a meme. As for Anushka Sharma, she's been a favourite of netizens when it comes to making meme-content, who can forget the still from Sui Dhaaga featuring her that was photoshopped at the most hilarious places. Anushka Sharma's Hot Bikini Pic Has Husband Virat Kohli Swooning Over Her and So Will You!
Anushka's bikini picture too was declared meme-worthy by netizens after they came up with some hilarious memes on it. From finding her bikini's resemblance to the VLC Player logo to the stoppage signs at highways, Twitter is currently filled with memes based on her picture. Some even found a way of photoshopping Anushka's picture in the midst of London's Abbey Road that is famed for the Beatles picture. Check out the some of the funniest memes we found on the internet featuring this picture of Anushka. Anushka Sharma Asks What is Signal For Four During IND vs SL Cricket Match in CWC 2019, Netizens Say 'Aise Kaise Chalega Didi' With Funny Memes
When Anushka Sharma Became the VLC Update:
VLC player new update 🔥🔥🔥 #AnushkaSharma pic.twitter.com/AsbwPtQFNB

— Ravi Ranjan (@imReyanshP) August 19, 2019
Anushka Sharma Turns into the WIP Sign
Work in progress. RT when you found #AnushkaSharma pic.twitter.com/5PCdOuH3t2

— Saumen🇮🇳 (@isaumen) August 19, 2019
Because Anushka Sharma is Everywhere:
Anushka is everywhere 😂😂😂 pic.twitter.com/MCyK6gVpD8

— Pranjul Sharma (@Pranjultweet) August 19, 2019
Anushka Sharma's Parvati Bani Poo Moment:
Pic 1 : Actress in Star Plus Serial

Pic 2 : Actress in Real Life pic.twitter.com/UfL8gM1wFH

— it's_me_.DK._🙃 (@_branded_kamina) August 19, 2019
Why are Ex-Girlfriends Hotter Post Break-Up?
When she is your Girlfriend

Vs

When she becomes your Ex#AnushkaSharma pic.twitter.com/OPlAFKhN3m

— भैंस की आंख 👁️ (@Khalnayakk__) August 19, 2019
Expectation Vs Reality!
What you think

about girls

What actually

they are#AnushkaSharma pic.twitter.com/KvW7Npy9zL

— भैंस की आंख 👁️ (@Khalnayakk__) August 19, 2019
Anushka Sharma Starred in Finding Nemo as Nemo:
#AnushkaSharma almost same pic.twitter.com/BtJaTHOCRP

— AkhilT_T (@akhilt_t) August 19, 2019
Who knew Anushka Sharma's harmless pretty picture could become one of the most hilarious meme on internet today. We hope you enjoyed seeing some of the most hilarious memes on the actress' picture and if you happen to come across any more, do tag us in the comments.