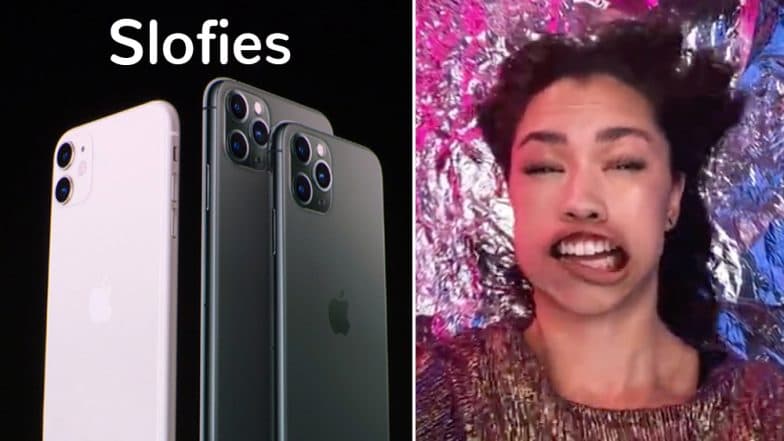 Apple never fails to amaze its fans. The tech giant just launched iPhone 11, and hilarious memes and jokes surfaced on the internet, faster than you could take a 'slofie'. On Tuesday's event at California, Apple highlighted the new iPhone's ability to take slo-mo selfie videos with the phone's front-facing camera. It seems the price was not enough for the company to get trolled! The concept of Slofies clearly failed to impress social media, and it did not take much time for them to come up with funny Slo-Mo selfies jokes and memes. These hilarious reactions on Apple's iPhone 11 new feature are cracking up the internet, and we can so relate to it.
During its launch, Apple announced a number of new camera lenses and feature for its new iPhone 11. Among all of them 'slofies' got enough attention, but not in the way, the tech company might have expected. Twitter is roasting Apple for the new term and even with the idea. Some say that they have no plans ever to use the term. While others are pointing out the same feature that other companies have already launched, such as Samsung. Slofies have not even escaped into the real world yet, and Twitter users are already sick of the term. Let us check out the hilarious iPhone 11 slofies memes and jokes surfacing online. Apple iPhone 11, iPhone 11 Pro & Apple iPhone 11 Pro Max Launched; Prices, Pre-Order Date, Features & Specifications. 
Brace Up Yourself To Take Some Slofies! No?
Ughhj stop making #Slofies happen it's never gonna happen haha #AppleEvent pic.twitter.com/r34A4ePsGS

— ZuperNash⚡ (@zupernash) September 10, 2019
Mostly, Yeah!
Isn't a #slofies just the slow motion video effect all iPhones have??? Or am I just thinking in broke? pic.twitter.com/L2Ew5GgCjp

— Damn Jackie, I cant control the weather (@bhadbitch97) September 11, 2019
Check Your Samsung Smartphone Too! You Never No
I've always had this slow mo feature on samsung but I never played with it until I saw apples #slofies trending lol I'm addicted for the day pic.twitter.com/yKipJ9uJsb

— 🍒 OFFICIAL ʟɛ.ʟօ 18+ | 🇬🇺🇺🇸🇵🇭 (@leloxmgf) September 11, 2019
Making Everyone!
Apple says #slofies

Me: pic.twitter.com/sjb7T7cPKn

— Soham Naskar (@SohamNaskar) September 11, 2019
This is How the Outcome Exactly Is
Say Hello to #Slofies pic.twitter.com/z8NkMJrIAf

— slofies (@slowfies) September 10, 2019
At its California event, Apple touted its new iPhone 11 dual-camera smartphone as having the "highest quality video ever in a smartphone." The company showed a whole video during the launch, dedicated to the 'exciting' ability to take slofies. For true slo-mo selfie believers, the iPhone 11 will cost USD 699 (Rs 50,228 approx.) and will be available for pre-order on September 13, 2019. Ready to take some slofies?