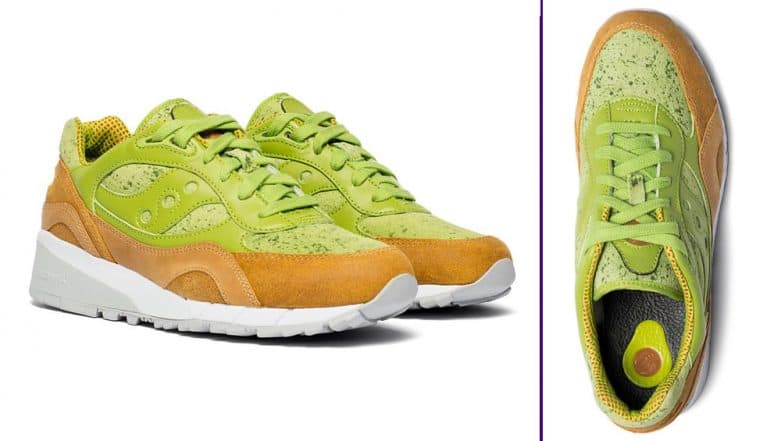 There is a special connection between millennials and avocados, the former cannot live without the later. After smearing the fruit into almost everything they eat, with avocado toast being the popular one, the cool peeps are going to wear the fruit inspired shoes. Yes! Saucony, an American manufacturer is selling avocado toast-inspired sneaker for men at USD 130 (Rs 9,250).
The product description reads on the retailer's website reads, "Holy Saucomole! It's everything you avo-wanted, even if the guac is extra." Men's Shadow 6000 Avocado Toast sneakers have been manufactured using "toast-ed" leather, "smashed avocado textured" suede, and a lining made to look like it is sprinkled with red pepper flakes. The sole and tongue of the shoe have avocado designs on it which looks quite real, perfectly made to be a foodie's footwear. Fast-Food and Fashion, a New Trend? Sneakers Partners with Food Chains.
Check out the avocado-inspired sneakers here:
@SauconyOrigs @saucony y'all better check this kick out. The devil is in the detail pic.twitter.com/MFIbMTxKQN

— Oracle🕊 (@KingsMyne_) February 27, 2019
While is it mainly being advertised as men's footwear, Saucony has a link of their website which converts men's sizes into women's sizes also.
Now wear your avocado!
Saucony's shoes are sure to make you the topic of discussion while jogging. They have come up with food inspired footwear previously too. In 2018, the manufacturers sold Dunkin' Donuts-inspired sneakers saying they were "celebrating the roots of both companies and the ties to both a rich running and Boston tradition". Last year, Pizza Hut had come up with high-top sneakers which order pizza. But this time, you will soon get the chance to buy your own pair. The shoes which are paired with the owner's smartphone has a button on its tongue which can be pressed to place a pizza order.