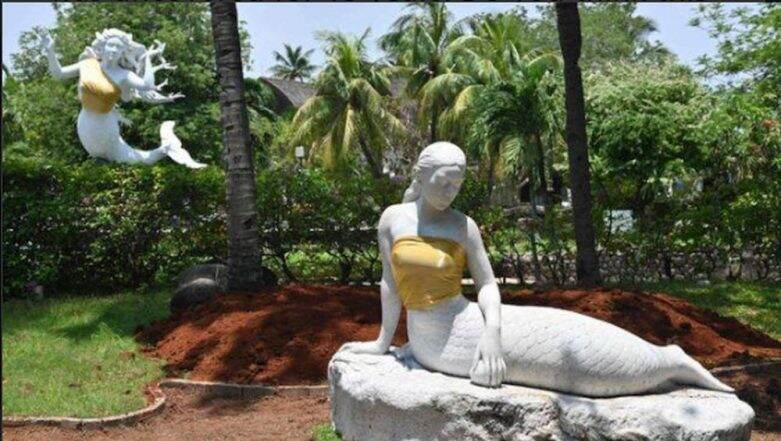 In a bizarre incident, a pair of bare-breasted mermaid statues at an Indonesian theme park were covered up with golden clothes to respect 'Eastern values'. The pictures of the covered mermaid statues are going viral creating mixed reactions from people. Nude statues of women have been used for decor purposes since ages, and some of them are a considered great pieces of art as well; however, this decision of covering up bare boobs of mermaid statues in Indonesia has been called "a matter of perception" as per reports by AFP. Japan to Celebrate Sakura Day Early This Year? Cherry Blossom 2019 Blooms in Tokyo & People Can't Keep Calm (View Beautiful Pics.)
It has been years that the nude statues have been on display at Jakarta's Ancol Dreamland; however, the action of adorning the statues with the new accessory has been executed as per a recent policy change. The bosses of the Park have also decided to move the figures to a more secluded area because people kept pulling the coverings down as per reports by AFP.
COVER UP CONTROVERSY... A theme park in Indonesia is covering up exposed areas on topless mermaid statues... art that previously was uncovered for 15 years. Do you think this is unnecessary censorship? Should nude art in public places be covered up? pic.twitter.com/dO69al8MhB

— Haley Bianco (@HaleyBianco) March 26, 2019
Take a look at the video:
Ancol Dreamland spokeswoman Rika Lestari said to AFP: "There was no pressure from any group.' She had earlier said to an Indonesian newspaper: "We're Eastern people, we have Eastern culture, so what was inappropriate we made it more appropriate. It's just a matter of perception, because what we've done was the best for us. It's a good thing, so why not."
The decision has been subject to a mixed reaction with some people also mocking the decision. Indonesia has a significant Muslim majority with conservative social values.